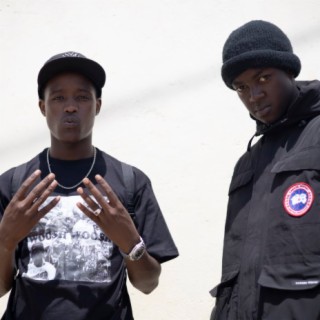 BURUKLYN BOYZ
Current #5,810

All Time #6,374

Buruklyn Boyz is Nairobi's hottest drill crew outta Buruklyn (Buru Buru). Its members include Mr Right, Ajay, Luizy, Young Louie and Dencho. The drill sub-genre has penetrated its way into the Kenyan music industry with new artists sprouting while notable rappers are diving into the pool to boast of their capability, switching from traditional 808s to drill beats.

Originating from Southside Chicago and the UK - Kenyan artists are not only jumping on the beat but murdering the newest genre in town. Many of Buruklyn Boyz Songs became very popular and trendy on social media in line with a great number of streaming and downloads on Boomplay.

Career
The Kwani Ni Kesho tag liners representing Buruburu or as they say Tano Nane (58), Buruklyn Boyz is a product of Buruklyn Records who are rising in the underground hip-hop scene.

Being in the game since 2020, their latest release "Nairobi" has been a head bop that's enabled them to earn a spot in music conversations around town. The group might still be underground but that doesn't stop them from producing the best and coming off as big cats who have been in the game for a couple of years.

The group has two main faces, Ajay who is the C.E.O and also a rapper, and Mr.Right. True to their word the boys are representing Eastlands to the maximum capacity making their hood proud as the Eastside has always had a heavy influence in Kenyan hip-hop. Aesthetically making Nairobi look like the UK the rappers are constantly seen in dark colors blue and black which are heavily associated with the Crip Gangs and throwing around gangsta signs that immediately makes you wanna hear more from them.

Their biggest hits so far include Nairobi, Piga Lean, Durag na Slice, Walevi and Billie Jean. Since then, Mr. Right and Ajay have gone on to build up a loyal fan-base that is growing with each passing day. Their latest single, Nairobi, looks set to become their biggest hit yet. Expected to be the first of many after they wowed audiences in 2020 with a range of exciting, authentic bangers.

From lyrical flows on Kalamu to vibes and party tunes such as Walevi, the group proved that they can do it all. Mr. Right, in particular, has become a fan favorite thanks to a slew of releases and impeccable rhymes. Expect more bangers from the Buruklyn Boyz, who despite being practically fresh out of high school are doing it with the best of them.

Achievements
For an uprising drill group, well Buruklyb Boys has sure made it in the industry after they were featured in enormous British music outlet GRM Daily as one of the best drillers globally to watch out for, this is such an opportunity both for their career and life.

Follow Boomplay and keep up-to-date with the latest songs of Buruklyn Boyz and information.

Buruklyn Boys Latest Songs
• Piga Lean
• Nairobi
• Durag Na Slice
• Walevi
• Billie Jean
• Tano Nane
• Location 58
• Dream Ya Kutoka Kwa Block
• Bad Boyz Club
• Ki Dejavu
• Goodmorning Africa
• Bae
• East Ama West
• Walevi
• Slide

Among many more singles and collaborations.Buruklyn Boyz Songs are included in Boomplay music playlists. Search, stream, and download Buruklyn Boyz Songs, his latest singles and albums in MP3 only on the Boomplay platform for free....more

Country : Kenya
Listen to BURUKLYN BOYZ's new songs including "Dream Ya Kutoka Kwa Block ft. Ajay & Mr right", "Corns (Freestyle) ft. Ajay", "Piga Lean ft. Mr right" and many more. Enjoy BURUKLYN BOYZ's latest songs and explore the BURUKLYN BOYZ's new music albums. If you want to download BURUKLYN BOYZ songs MP3, use the Boomplay App to download the BURUKLYN BOYZ songs for free. Discover BURUKLYN BOYZ's latest songs, popular songs, trending songs all on Boomplay.
Buruklyn Boyz is Nairobi's hottest drill crew outta Buruklyn (Buru Buru). Its members include Mr Right, Ajay, Luizy, Young Louie and Dencho. The drill sub-genre has penetrated its way into the Kenyan music industry with new artists sprouting while notable rappers are diving into the pool to boast of their capability, switching from traditional 808s to drill beats.

Originating from Southside Chicago and the UK - Kenyan artists are not only jumping on the beat but murdering the newest genre in town. Many of Buruklyn Boyz Songs became very popular and trendy on social media in line with a great number of streaming and downloads on Boomplay.

Career
The Kwani Ni Kesho tag liners representing Buruburu or as they say Tano Nane (58), Buruklyn Boyz is a product of Buruklyn Records who are rising in the underground hip-hop scene.

Being in the game since 2020, their latest release "Nairobi" has been a head bop that's enabled them to earn a spot in music conversations around town. The group might still be underground but that doesn't stop them from producing the best and coming off as big cats who have been in the game for a couple of years.

The group has two main faces, Ajay who is the C.E.O and also a rapper, and Mr.Right. True to their word the boys are representing Eastlands to the maximum capacity making their hood proud as the Eastside has always had a heavy influence in Kenyan hip-hop. Aesthetically making Nairobi look like the UK the rappers are constantly seen in dark colors blue and black which are heavily associated with the Crip Gangs and throwing around gangsta signs that immediately makes you wanna hear more from them.

Their biggest hits so far include Nairobi, Piga Lean, Durag na Slice, Walevi and Billie Jean. Since then, Mr. Right and Ajay have gone on to build up a loyal fan-base that is growing with each passing day. Their latest single, Nairobi, looks set to become their biggest hit yet. Expected to be the first of many after they wowed audiences in 2020 with a range of exciting, authentic bangers.

From lyrical flows on Kalamu to vibes and party tunes such as Walevi, the group proved that they can do it all. Mr. Right, in particular, has become a fan favorite thanks to a slew of releases and impeccable rhymes. Expect more bangers from the Buruklyn Boyz, who despite being practically fresh out of high school are doing it with the best of them.

Achievements
For an uprising drill group, well Buruklyb Boys has sure made it in the industry after they were featured in enormous British music outlet GRM Daily as one of the best drillers globally to watch out for, this is such an opportunity both for their career and life.

Follow Boomplay and keep up-to-date with the latest songs of Buruklyn Boyz and information.

Buruklyn Boys Latest Songs
• Piga Lean
• Nairobi
• Durag Na Slice
• Walevi
• Billie Jean
• Tano Nane
• Location 58
• Dream Ya Kutoka Kwa Block
• Bad Boyz Club
• Ki Dejavu
• Goodmorning Africa
• Bae
• East Ama West
• Walevi
• Slide

Among many more singles and collaborations.Buruklyn Boyz Songs are included in Boomplay music playlists. Search, stream, and download Buruklyn Boyz Songs, his latest singles and albums in MP3 only on the Boomplay platform for free.
New Comments(
31

)