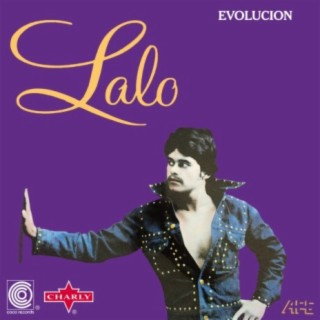 Lalo Rodríguez
Current #5,107

All Time #9,260

b. Ubaldo Rodríguez, 16 May 1958, Puerto Rico. In 1970, 12-year-old Rodríguez joined the band Tempo Moderno and sang with them until 1974. He made his album debut at the age of 16 as lead singer on Eddie Palmieri's Sun Of Latin Music (1974), the first Latin album to win a Grammy Award. It included his composition 'Deseo Salvaje'. He also appeared on Palmieri's Unfinished Masterpiece (1976), which won another Grammy. In 1976, he shared lead vocals on Tommy Olivencia's Introducing Lalo Rodríguez & Simon Pérez. Lalo was special guest artist on Machito's Grammy-nominated Fireworks (1977), on which he sang lead (on four tracks), chorus and provided three powerful but sensitive compositions. He sang his composition 'Alianza De Generales' on the Puerto Rico All Stars' Los Profesionales (1977) and sang 'Oyelo Que Te Conviene' ('Listen, It's Convenient' - which he originally performed on Unfinished Masterpiece) on the Puerto Rico All Stars' 1979 tribute album to Eddie Palmieri. Rodríguez made his solo debut in 1980 with Simplemente Lalo, which contained five self-penned songs. The album was produced by Frank Ferrer for his Tierrazo Records label. Ferrer formed the band Puerto Rico 2010 in the 70s. He renamed them Puerto Rico 2013 and released Puerto Rico 2013 and Band'alla in 1989, both with lead vocalist Van Lester. In 1985, Lalo co-produced and wrote all the tracks on El Niño, El Hombre, El Soñador, El Loco.


In 1988 he jumped on the salsa romántica bandwagon and achieved massive success with the chart-topping album Un Nuevo Despertar on the TH-Rodven label, it was still riding high in the Billboard salsa Top 10 in mid-1989. The track 'Ven Devórame Otra Vez' (Come And Devour Me Again) was a smash hit during the summer of 1988. Lalo and Eddie Santiago, another leading romantic salsa star, were special attractions at the 1988 annual New York Salsa Festival - a traditional gathering of the year's best artists at Madison Square Garden. In 1990, Rodríguez was involved in music industry press speculation about multinational labels poaching top salsa romántica stars. Mid-year it was reported that he had renewed his contract for five more albums with TH-Rodven - the company that had successfully promoted him in Spain - but later in the year he handed over the previously independently distributed, Una Voz Para Escuchar, to the major label Capitol / EMI Latin for release....more

Country/Region : Guatemala
Songs

(10)

Albums

(1)

Playlists

(0)

Similar Artists

(10)
Listen to Lalo Rodríguez's new songs including "Devórame Otra Vez", "Despues de hacer el Amor", "Esta Noche Dormire Contigo" and many more. Enjoy Lalo Rodríguez's latest songs and explore the Lalo Rodríguez's new music albums. If you want to download Lalo Rodríguez songs MP3, use the Boomplay App to download the Lalo Rodríguez songs for free. Discover Lalo Rodríguez's latest songs, popular songs, trending songs all on Boomplay.
b. Ubaldo Rodríguez, 16 May 1958, Puerto Rico. In 1970, 12-year-old Rodríguez joined the band Tempo Moderno and sang with them until 1974. He made his album debut at the age of 16 as lead singer on Eddie Palmieri's Sun Of Latin Music (1974), the first Latin album to win a Grammy Award. It included his composition 'Deseo Salvaje'. He also appeared on Palmieri's Unfinished Masterpiece (1976), which won another Grammy. In 1976, he shared lead vocals on Tommy Olivencia's Introducing Lalo Rodríguez & Simon Pérez. Lalo was special guest artist on Machito's Grammy-nominated Fireworks (1977), on which he sang lead (on four tracks), chorus and provided three powerful but sensitive compositions. He sang his composition 'Alianza De Generales' on the Puerto Rico All Stars' Los Profesionales (1977) and sang 'Oyelo Que Te Conviene' ('Listen, It's Convenient' - which he originally performed on Unfinished Masterpiece) on the Puerto Rico All Stars' 1979 tribute album to Eddie Palmieri. Rodríguez made his solo debut in 1980 with Simplemente Lalo, which contained five self-penned songs. The album was produced by Frank Ferrer for his Tierrazo Records label. Ferrer formed the band Puerto Rico 2010 in the 70s. He renamed them Puerto Rico 2013 and released Puerto Rico 2013 and Band'alla in 1989, both with lead vocalist Van Lester. In 1985, Lalo co-produced and wrote all the tracks on El Niño, El Hombre, El Soñador, El Loco.


In 1988 he jumped on the salsa romántica bandwagon and achieved massive success with the chart-topping album Un Nuevo Despertar on the TH-Rodven label, it was still riding high in the Billboard salsa Top 10 in mid-1989. The track 'Ven Devórame Otra Vez' (Come And Devour Me Again) was a smash hit during the summer of 1988. Lalo and Eddie Santiago, another leading romantic salsa star, were special attractions at the 1988 annual New York Salsa Festival - a traditional gathering of the year's best artists at Madison Square Garden. In 1990, Rodríguez was involved in music industry press speculation about multinational labels poaching top salsa romántica stars. Mid-year it was reported that he had renewed his contract for five more albums with TH-Rodven - the company that had successfully promoted him in Spain - but later in the year he handed over the previously independently distributed, Una Voz Para Escuchar, to the major label Capitol / EMI Latin for release.
New Comments(
0

)

What do you think of this artist?