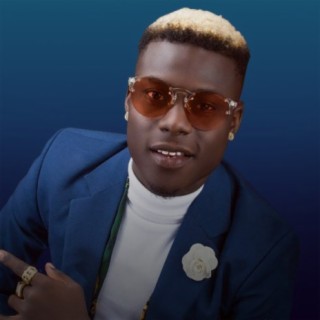 Junior Boy
Current #6,282

All Time #2,679

Ephraim Bababo who is professionally known as Junior Boy is a Nigerian singer and songwriter. He was born on the 23rd of September, 1995, and hails from Lagos State. Many Junior Boy songs become very popular and trendy online with a great number of streaming and downloads on Boomplay.

The singer who grew up in a broken home was born into a family of four. He was born & raised in Ebute Meta, Lagos, where he was raised and had his Primary and part of his Secondary education before he moved to Agege, where he completed his Secondary Education.

Career:
Growing up in a broke and broken home wasn't easy for Junior boy as this had an impact on his career. His parents separated while he was still young and he had insufficient funds to chase his dreams.

Before venturing into music, Junior Boy took on footballing as a career but had to drop it as it wasn't doing and due to his love for music. In order to get noticed and to advertise his talent, Junior Boy performed in most shows in Agege for free. He dropped the record "Money" as a struggling artist and the song did really well as he increased his fanbase and relevancy. Still in the spirit and the hype of the record "Money", Junior Boy went on to release "Irapada", a song whose performance exceeded his expectation.

The song caught the attention of veteran Nigerian singer, 9ice who offered to be on the remix and the remix promoted the song and Junior Boy's career even further.

Junior eventually landed a management deal with Swerve Innercity and they helped him shoot the music video for the 'Irapada' remix featuring 9ice and the video was directed by Unlimited LA.

He secured a record deal worth millions of Naira in 2017 with Obimzy Records and since then it has been growth on every side for the talented singer.

Follow Boomplay and keep up-to-date with the latest Junior Boy songs and information.

Achievement
Junior Boy was nominated for the 'Rookie of The Year' alongside Peruzzi, Air Boy, and Teni, and Teni took the award home. He was also nominated for 'Artist of The Year' at the Top Naija Music Awards.

Junior Boy Singles:
• Money ft. Naira Marley
• Bombay (feat. CDQ)
• My Prayer
• One Milli (Wande Coal Iskaba Refix)
• Irapada (feat. 9ice)
• Fear God (feat. Oritse Femi)

With more than 1.7m stream Junior Boy was one of the top which he had so many release such as
• Halfway out https://www.boomplaymusic.com/share/album/33666411
• Sin no more https://www.boomplaymusic.com/share/album/21368085
• Unblocked https://www.boomplaymusic.com/share/album/13449919

And also has a very interesting and wonderful playlist check it out below with the link to boomplay: https://www.boomplaymusic.com/share/playlist/14190833

Junior Boy is rumored to have gathered a whooping estimated net worth of $100,000 putting him among the top-rated young artist in the Nigeria Entertainment Industry.

You can follow Junior Boy on Instagram @JuniorBoy_Official

Junior Boy was also reported single after many dates from girls but he was still single and was no record of baby mama his personal lifestyle was just simply and also hoping to became more popular as most artists.

Junior Boy songs are included in Boomplay music playlists. Search to stream and download Junior Boy songs MP3/ single/ albums on the platform....more

Country/Region : Nigeria
Songs

(23)

Albums

(12)

Playlists

(3)
1

2

3

4

5

6

7

8

9

10

11

12

13

14

15

16

17

18

19

20

21

22

23
Listen to Junior Boy's new songs including "Money ft. Naira Marley", "Irapada 2.0 ft. 9ice", "Unlocked" and many more. Enjoy Junior Boy's latest songs and explore the Junior Boy's new music albums. If you want to download Junior Boy songs MP3, use the Boomplay App to download the Junior Boy songs for free. Discover Junior Boy's latest songs, popular songs, trending songs all on Boomplay.
Ephraim Bababo who is professionally known as Junior Boy is a Nigerian singer and songwriter. He was born on the 23rd of September, 1995, and hails from Lagos State. Many Junior Boy songs become very popular and trendy online with a great number of streaming and downloads on Boomplay.

The singer who grew up in a broken home was born into a family of four. He was born & raised in Ebute Meta, Lagos, where he was raised and had his Primary and part of his Secondary education before he moved to Agege, where he completed his Secondary Education.

Career:
Growing up in a broke and broken home wasn't easy for Junior boy as this had an impact on his career. His parents separated while he was still young and he had insufficient funds to chase his dreams.

Before venturing into music, Junior Boy took on footballing as a career but had to drop it as it wasn't doing and due to his love for music. In order to get noticed and to advertise his talent, Junior Boy performed in most shows in Agege for free. He dropped the record "Money" as a struggling artist and the song did really well as he increased his fanbase and relevancy. Still in the spirit and the hype of the record "Money", Junior Boy went on to release "Irapada", a song whose performance exceeded his expectation.

The song caught the attention of veteran Nigerian singer, 9ice who offered to be on the remix and the remix promoted the song and Junior Boy's career even further.

Junior eventually landed a management deal with Swerve Innercity and they helped him shoot the music video for the 'Irapada' remix featuring 9ice and the video was directed by Unlimited LA.

He secured a record deal worth millions of Naira in 2017 with Obimzy Records and since then it has been growth on every side for the talented singer.

Follow Boomplay and keep up-to-date with the latest Junior Boy songs and information.

Achievement
Junior Boy was nominated for the 'Rookie of The Year' alongside Peruzzi, Air Boy, and Teni, and Teni took the award home. He was also nominated for 'Artist of The Year' at the Top Naija Music Awards.

Junior Boy Singles:
• Money ft. Naira Marley
• Bombay (feat. CDQ)
• My Prayer
• One Milli (Wande Coal Iskaba Refix)
• Irapada (feat. 9ice)
• Fear God (feat. Oritse Femi)

With more than 1.7m stream Junior Boy was one of the top which he had so many release such as
• Halfway out https://www.boomplaymusic.com/share/album/33666411
• Sin no more https://www.boomplaymusic.com/share/album/21368085
• Unblocked https://www.boomplaymusic.com/share/album/13449919

And also has a very interesting and wonderful playlist check it out below with the link to boomplay: https://www.boomplaymusic.com/share/playlist/14190833

Junior Boy is rumored to have gathered a whooping estimated net worth of $100,000 putting him among the top-rated young artist in the Nigeria Entertainment Industry.

You can follow Junior Boy on Instagram @JuniorBoy_Official

Junior Boy was also reported single after many dates from girls but he was still single and was no record of baby mama his personal lifestyle was just simply and also hoping to became more popular as most artists.

Junior Boy songs are included in Boomplay music playlists. Search to stream and download Junior Boy songs MP3/ single/ albums on the platform.
New Comments(
17

)