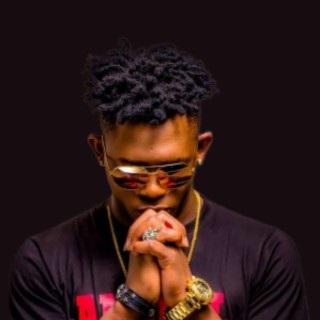 Tenor
Current #1,059

All Time #918

Tenor Ebanflang, real name Thierry Mengoumou Ayia (born April 11, 1998) in Yaoundé, is a Cameroonian rapper. Born in Yaoundé in 1998, Ténor began his studies in Yaoundé, which he later left for the city of Bertoua where he spent a few years before returning to Yaoundé, where he finished his primary cycle with the obtaining of his Certificate of Primary studies at Saint Vincent Palloti school in Nkol-eton.

In 2009, he began his secondary studies at the Collège de la Retraite and obtained his first cycle studies certificate (BEPC) at the Père Monti Catholic college.

He then decided to continue in technical education and in 2015 obtained his Probatoire in commercial action and communication at the Lycée Technique d' Edéa. Due to the success of his musical career, he decided to put a break on his studies in 2016, when he was in Terminale class without having been able to obtain his baccalaureate.

Many Tenor songs, like Salauds, become very popular and trendy online with a great number of streaming and downloads on Boomplay.

Career
He began his musical career in 2014, and became known on the national and international scene in 2016 thanks to the success of his title Do le Dab. He is designated by the television channel Trace TV as the phenomenon of African rap. It evolved under the international label Universal Africa of November 2017 until May 2020 where he joined Def Jam Africa.

The Tenor's musical career began in 2014 when he was 16 years old. This year, he released his first title, a freestyle titled Cameroonian. Her first single Alelouyah was released in 2015, but it is Do le Dab released in 2016 that make him known to the general public. In 2016, he joined the War Machine label, with which he released the title Do le Dab, which met with great success. This title allows him to be nominated for the 2016 edition of Canal 2'Or in the categories revelation of the year and popular song. He does not win any prizes, but marks this edition thanks to the first lady of Cameroon Chantal Biya, who dances to his song and performs a historic dab.

In May 2017, after a year of collaboration, he left the War Machine label. He evolved for a few months as an independent artist, until November 2017, where he joined the Universal Music Africa label. He signed with the international label for 2 albums and thus became the first Cameroonian and Central African artist to join the African branch of the record company Universal Music. He thus joined other big names in African music such as the Ivorians Kiff No Beat and DJ Arafat.

Achievements
In 2016, his song "Do le Dab"was nominated for the 2016 edition of Canal 2'Or in the revelation of the year and popular song categories.

In 2017, his songs Kaba Ngondo and Bad Things won him 3 prizes at the Balafon Music Awards, that of Revelation of the year, Artist of the year and Best clip of the year.

On July 15, 2021, Tenor was involved in an accident that resulted in the death of a 22-year-old girl. Tenor is being prosecuted for manslaughter.

Tenor is presently engaged to marry Ivorian comedian Eunice Zunon. He also has a child.A

Follow Boomplay and keep up-to-date with the latest Tenor songs and information.

Tenor Songs and Albums
• Do le Dab
• Kaba Ngondo
• Bad Things
• Nnum Ngui (Album)
• Le ventre (Album)

Tenor songs are included in Boomplay music playlists. Search to stream and download Tenor songs MP3/ single/ albums on the platform....more

Country/Region : Cameroon
Songs

(26)

Albums

(23)

Playlists

(0)

Videos and More
1

2

3

4

5

6

7

8

9

10

11

12

13

14

15

16

17

18

19

20

21

22

23

24

25

26
Listen to Tenor's new songs including "Labyrinth", "Copy Paste", "Auf ein Blatt" and many more. Enjoy Tenor's latest songs and explore the Tenor's new music albums. If you want to download Tenor songs MP3, use the Boomplay App to download the Tenor songs for free. Discover Tenor's latest songs, popular songs, trending songs all on Boomplay.
Tenor Ebanflang, real name Thierry Mengoumou Ayia (born April 11, 1998) in Yaoundé, is a Cameroonian rapper. Born in Yaoundé in 1998, Ténor began his studies in Yaoundé, which he later left for the city of Bertoua where he spent a few years before returning to Yaoundé, where he finished his primary cycle with the obtaining of his Certificate of Primary studies at Saint Vincent Palloti school in Nkol-eton.

In 2009, he began his secondary studies at the Collège de la Retraite and obtained his first cycle studies certificate (BEPC) at the Père Monti Catholic college.

He then decided to continue in technical education and in 2015 obtained his Probatoire in commercial action and communication at the Lycée Technique d' Edéa. Due to the success of his musical career, he decided to put a break on his studies in 2016, when he was in Terminale class without having been able to obtain his baccalaureate.

Many Tenor songs, like Salauds, become very popular and trendy online with a great number of streaming and downloads on Boomplay.

Career
He began his musical career in 2014, and became known on the national and international scene in 2016 thanks to the success of his title Do le Dab. He is designated by the television channel Trace TV as the phenomenon of African rap. It evolved under the international label Universal Africa of November 2017 until May 2020 where he joined Def Jam Africa.

The Tenor's musical career began in 2014 when he was 16 years old. This year, he released his first title, a freestyle titled Cameroonian. Her first single Alelouyah was released in 2015, but it is Do le Dab released in 2016 that make him known to the general public. In 2016, he joined the War Machine label, with which he released the title Do le Dab, which met with great success. This title allows him to be nominated for the 2016 edition of Canal 2'Or in the categories revelation of the year and popular song. He does not win any prizes, but marks this edition thanks to the first lady of Cameroon Chantal Biya, who dances to his song and performs a historic dab.

In May 2017, after a year of collaboration, he left the War Machine label. He evolved for a few months as an independent artist, until November 2017, where he joined the Universal Music Africa label. He signed with the international label for 2 albums and thus became the first Cameroonian and Central African artist to join the African branch of the record company Universal Music. He thus joined other big names in African music such as the Ivorians Kiff No Beat and DJ Arafat.

Achievements
In 2016, his song "Do le Dab"was nominated for the 2016 edition of Canal 2'Or in the revelation of the year and popular song categories.

In 2017, his songs Kaba Ngondo and Bad Things won him 3 prizes at the Balafon Music Awards, that of Revelation of the year, Artist of the year and Best clip of the year.

On July 15, 2021, Tenor was involved in an accident that resulted in the death of a 22-year-old girl. Tenor is being prosecuted for manslaughter.

Tenor is presently engaged to marry Ivorian comedian Eunice Zunon. He also has a child.A

Follow Boomplay and keep up-to-date with the latest Tenor songs and information.

Tenor Songs and Albums
• Do le Dab
• Kaba Ngondo
• Bad Things
• Nnum Ngui (Album)
• Le ventre (Album)

Tenor songs are included in Boomplay music playlists. Search to stream and download Tenor songs MP3/ single/ albums on the platform.
New Comments(
32

)
FAQs about Tenor
Where is Tenor from?
He is from Cameroon.
What are the latest songs of Tenor?
The latest songs of Tenor are Labyrinth, Dieu merci and Fluch und Segen.
What are the best songs of Tenor?
The best songs of Tenor are Salazar, Lo Bebe (Club Mix Version) and Mami Wata ft. Innoss'B.
What are the best albums of Tenor?
The best albums of Tenor are Terre mère, Lo Bebe (Club Mix Version) and Mami Wata.
How to download songs of Tenor?
You can download songs of Tenor from Boomplay App for free.
Firstly, install Boomplay app on your mobile phone.
Secondly, navigate to the song you would like to download.
Thirdly, Tap on More > Download.