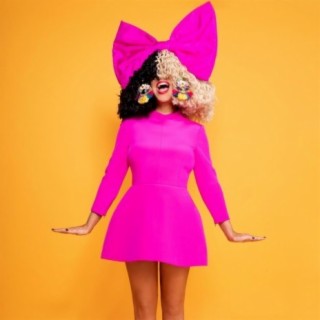 Sia
Current #520

All Time #808

Sia Kate Isobelle Furler simply known as Sia is an Australian singer, songwriter, voice actress and director born on December 18, 1975 in Adelaide, South Australia. Her father, Phil Colson, is a musician, and her mother, Loene Furler, is an art lecturer. She attended Adelaide High School.

In the mid-1990s, Sia started a career as a singer in the local acid jazz band 'Crisp'.
Sia collaborated with the band and contributed vocals to their album Word and the Deal (1996) and EP Delirium (1997).
In 1997 Crisp disbanded.

After Crisp disbanded, Sia moved to London, where she performed as a background vocalist for British band Jamiroquai.

In 23 December 1997 Sia released her debut studio album, 'OnlySee', on Flavored Records, in Australia. The album sold about 1,200 copies.

In 2001, she released her second solo album, 'Healing Is Difficult', which blends retro jazz and soul music and lyrically discusses Sia's dealing with the death of her first love affair.

In 2004, Sia released her third studio album, 'Color the Small One'.
The album employs a mixture of acoustic instruments and electronic backing to her material. The album spawned four singles, including "Don't Bring Me Down" and "Breathe Me", the latter of which charted in the United Kingdom, Denmark and France.

Dissatisfied with Color the Small One's poor marketing and the album's struggle to connect with a mainstream audience, Sia relocated to New York City in 2005. During that time, "Breathe Me" appeared in the final scene of the U.S. HBO television series Six Feet Under, which helped increase Sia's fame in the United States.

On 29 January 2016 Sia released her seventh studio album 'This Is Acting' under Inertia, Monkey Puzzle and RCA Records.

In February 2021 Sia's ninth album, 'Music - Songs from and Inspired by the Motion Picture', was released in connection with the release of her film, "Music".

Sia also plans to release her tenth album, 'Reasonable Woman', in 2021....more

Country/Region : Australia
Listen to Sia's new songs including and many more. Enjoy Sia's latest songs and explore the Sia's new music albums. If you want to download Sia songs MP3, use the Boomplay App to download the Sia songs for free. Discover Sia's latest songs, popular songs, trending songs all on Boomplay.
Sia Kate Isobelle Furler simply known as Sia is an Australian singer, songwriter, voice actress and director born on December 18, 1975 in Adelaide, South Australia. Her father, Phil Colson, is a musician, and her mother, Loene Furler, is an art lecturer. She attended Adelaide High School.

In the mid-1990s, Sia started a career as a singer in the local acid jazz band 'Crisp'.
Sia collaborated with the band and contributed vocals to their album Word and the Deal (1996) and EP Delirium (1997).
In 1997 Crisp disbanded.

After Crisp disbanded, Sia moved to London, where she performed as a background vocalist for British band Jamiroquai.

In 23 December 1997 Sia released her debut studio album, 'OnlySee', on Flavored Records, in Australia. The album sold about 1,200 copies.

In 2001, she released her second solo album, 'Healing Is Difficult', which blends retro jazz and soul music and lyrically discusses Sia's dealing with the death of her first love affair.

In 2004, Sia released her third studio album, 'Color the Small One'.
The album employs a mixture of acoustic instruments and electronic backing to her material. The album spawned four singles, including "Don't Bring Me Down" and "Breathe Me", the latter of which charted in the United Kingdom, Denmark and France.

Dissatisfied with Color the Small One's poor marketing and the album's struggle to connect with a mainstream audience, Sia relocated to New York City in 2005. During that time, "Breathe Me" appeared in the final scene of the U.S. HBO television series Six Feet Under, which helped increase Sia's fame in the United States.

On 29 January 2016 Sia released her seventh studio album 'This Is Acting' under Inertia, Monkey Puzzle and RCA Records.

In February 2021 Sia's ninth album, 'Music - Songs from and Inspired by the Motion Picture', was released in connection with the release of her film, "Music".

Sia also plans to release her tenth album, 'Reasonable Woman', in 2021.
New Comments(
189

)