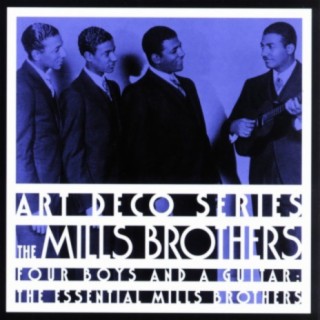 The Mills Brothers
Current #99k+

All Time #72.1k

An astonishing vocal group that grew into one of the longest-lasting oldies acts in American popular music, the Mills Brothers quickly moved from novelty wonders to pop successes and continued amazing audiences for decades. Originally billed as "Four Boys and a Guitar," the group's early records came complete with a note assuring listeners that the only musical instrument they were hearing was a guitar. The caution was understandable, since the Mills Brothers were so proficient at re-creating trumpets, trombones, and saxophones with only their voices that early singles like "Tiger Rag" and "St. Louis Blues" sounded closer to a hot Dixieland combo than a vocal group. And even after the novelty wore off, the group's intricate harmonies continued charming audiences for decades.

The four brothers were all born in Piqua, OH -- John, Jr. in 1910, Herbert in 1912, Harry in 1913, and Donald in 1915. Their father owned a barber shop and founded a barbershop quartet as well, called the Four Kings of Harmony. His sons obviously learned their close harmonies first-hand, and began performing around the area. At one show, Harry Mills forgot his kazoo -- the group's usual accompaniment -- and ended up trying to emulate the instrument by cupping his hand over his mouth. The brothers were surprised to hear the sound of a trumpet proceeding from Harry's mouth, so they began to work the novelty into their act, with John taking tuba, Donald trombone, and Herbert a second trumpet. The act was perfect for vaudeville, and the Mills Brothers also began broadcasting over a Cincinnati radio station during the late '20s...more

Country : United States
Songs

(3)

Albums

(0)

Playlists

(0)
Listen to The Mills Brothers's new songs including "Fairy Tales ft. Ella Fitzgerald", "Is My Baby out for No Good? I'll String Along with You ft. Dick Powell", "You Always Hurt The One You Love" and many more. Enjoy The Mills Brothers's latest songs and explore the The Mills Brothers's new music albums. If you want to download The Mills Brothers songs MP3, use the Boomplay App to download the The Mills Brothers songs for free. Discover The Mills Brothers's latest songs, popular songs, trending songs all on Boomplay.
An astonishing vocal group that grew into one of the longest-lasting oldies acts in American popular music, the Mills Brothers quickly moved from novelty wonders to pop successes and continued amazing audiences for decades. Originally billed as "Four Boys and a Guitar," the group's early records came complete with a note assuring listeners that the only musical instrument they were hearing was a guitar. The caution was understandable, since the Mills Brothers were so proficient at re-creating trumpets, trombones, and saxophones with only their voices that early singles like "Tiger Rag" and "St. Louis Blues" sounded closer to a hot Dixieland combo than a vocal group. And even after the novelty wore off, the group's intricate harmonies continued charming audiences for decades.

The four brothers were all born in Piqua, OH -- John, Jr. in 1910, Herbert in 1912, Harry in 1913, and Donald in 1915. Their father owned a barber shop and founded a barbershop quartet as well, called the Four Kings of Harmony. His sons obviously learned their close harmonies first-hand, and began performing around the area. At one show, Harry Mills forgot his kazoo -- the group's usual accompaniment -- and ended up trying to emulate the instrument by cupping his hand over his mouth. The brothers were surprised to hear the sound of a trumpet proceeding from Harry's mouth, so they began to work the novelty into their act, with John taking tuba, Donald trombone, and Herbert a second trumpet. The act was perfect for vaudeville, and the Mills Brothers also began broadcasting over a Cincinnati radio station during the late '20s
New Comments(
0

)

What do you think of this artist?