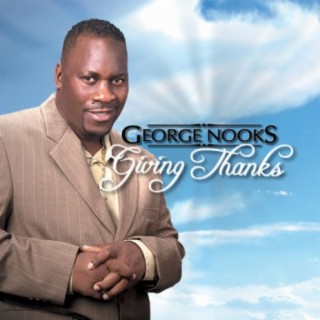 George Nooks
Current #0

All Time #18.1k

b. George Nooks, c.1958, Jamaica, West Indies. Initially a DJ appearing on discomix hits for Joe Gibbs Record Globe, in 1978 Nooks featured as Prince Mohammed on the remake of Dennis Brown's 'Money In My Pocket'. The b-side, 'Cool Runnings', was co-written with George and Errol Thompson and showed Nooks giving an exceptional performance. He also featured alongside Brown on 'How Could I Leave', identified as George Knooks (sic), the name under which he also recorded for Prince Tony Robinson on his hit 'Light Up Your Spliff'. Nooks' distinctive style was soon gracing releases for other producers, including Alvin 'GG' Ranglin's 'Hallelujah I Love Her So'. Nooks' success led to sessions with Bunny Riley, resulting in 'People Are You Ready', which was remarkably similar to Tapper Zukie's chant-and-response hit 'Oh Lord', and Nooks subsequently released his debut album, which included 'Fat John Tom', 'Great Sounds Ska' and 'Natty Going Back To Africa'. The increasing violence in Kingston influenced Nooks, now recording under his real name, to record as a singer with his interpretation of Little Roy's 'Tribal War', and the follow-up single, Errol Dunkley's 'Darling Ooh'. Nooks continued to concentrate on his singing career and with Donovan Germain released 'We're In This Love Together', which crossed over into the mainstream, almost reaching the UK pop chart. Other releases include 'Time For Love', 'My Heart Is Gone', 'Be Your Lover', 'Rocking Time' and 'Freedom Blues'. In the 90s Nooks continued to release the occasional song, notably 'No One Else Will Do', which when played as a dub plate was mistaken for a Dennis Brown tune. Examples of Nooks' work surfaced on the Acid Jazz Records roots offshoot.

...more

Country/Region : Jamaica
Songs

(104)

Albums

(14)

Playlists

(2)
1

2

3

4

5

6

7

8

9

10

11

12

13

14

15

16

17

18

19

20

21

22

23

24

25

26

27

28

29

30

31

32

33

34

35

36

37

38

39

40

41

42

43

44

45

46

47

48

49

50

51

52

53

54

55

56

57

58

59

60

61

62

63

64

65

66

67

68

69

70

71

72

73

74

75

76

77

78

79

80

81

82

83

84

85

86

87

88

89

90

91

92

93

94

95

96

97

98

99

100
Listen to George Nooks's new songs including "I Must Tell Jesus", "Ride Out Your Storm", "Nobody Greater" and many more. Enjoy George Nooks's latest songs and explore the George Nooks's new music albums. If you want to download George Nooks songs MP3, use the Boomplay App to download the George Nooks songs for free. Discover George Nooks's latest songs, popular songs, trending songs all on Boomplay.
b. George Nooks, c.1958, Jamaica, West Indies. Initially a DJ appearing on discomix hits for Joe Gibbs Record Globe, in 1978 Nooks featured as Prince Mohammed on the remake of Dennis Brown's 'Money In My Pocket'. The b-side, 'Cool Runnings', was co-written with George and Errol Thompson and showed Nooks giving an exceptional performance. He also featured alongside Brown on 'How Could I Leave', identified as George Knooks (sic), the name under which he also recorded for Prince Tony Robinson on his hit 'Light Up Your Spliff'. Nooks' distinctive style was soon gracing releases for other producers, including Alvin 'GG' Ranglin's 'Hallelujah I Love Her So'. Nooks' success led to sessions with Bunny Riley, resulting in 'People Are You Ready', which was remarkably similar to Tapper Zukie's chant-and-response hit 'Oh Lord', and Nooks subsequently released his debut album, which included 'Fat John Tom', 'Great Sounds Ska' and 'Natty Going Back To Africa'. The increasing violence in Kingston influenced Nooks, now recording under his real name, to record as a singer with his interpretation of Little Roy's 'Tribal War', and the follow-up single, Errol Dunkley's 'Darling Ooh'. Nooks continued to concentrate on his singing career and with Donovan Germain released 'We're In This Love Together', which crossed over into the mainstream, almost reaching the UK pop chart. Other releases include 'Time For Love', 'My Heart Is Gone', 'Be Your Lover', 'Rocking Time' and 'Freedom Blues'. In the 90s Nooks continued to release the occasional song, notably 'No One Else Will Do', which when played as a dub plate was mistaken for a Dennis Brown tune. Examples of Nooks' work surfaced on the Acid Jazz Records roots offshoot.
New Comments(
0

)

What do you think of this artist?
FAQs about George Nooks
Where is George Nooks from?
He is from Jamaica.
What are the latest songs of George Nooks?
The latest songs of George Nooks are Musical Sweetness, Road Block and Get Myself Together ft. Ras Myhrdak & Mixing Finga.
What are the best songs of George Nooks?
The best songs of George Nooks are Rest Your Love On Me, God Will Take Care and How Great Thou Art.
What are the best albums of George Nooks?
The best albums of George Nooks are Giving Thanks, A Dennis Brown Tribute and Extended Ride Out Your Storm.
How to download songs of George Nooks?
You can download songs of George Nooks from Boomplay App for free.
Firstly, install Boomplay app on your mobile phone.
Secondly, navigate to the song you would like to download.
Thirdly, Tap on More > Download.