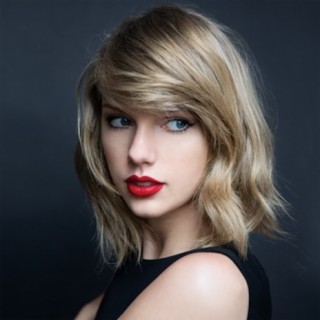 Taylor Swift
Current #859

All Time #524

Taylor Alison Swift is an American singer-songwriter born on December 13, 1989 at the Reading Hospital in West Reading, Pennsylvania. She was named after singer-songwriter James Taylor.

One of Swift's earliest musical memories is listening to her maternal grandmother, Marjorie Finlay, sing in church. As a child, she enjoyed Disney film soundtracks. Swift has said she owes her confidence to her mother, who helped her prepare for class presentations as a child.

Taylor Swift was drawn to the storytelling aspect of country music, and was introduced to the genre listening to "the great female country artists of the '90s" —Shania Twain, Faith Hill, and the Dixie Chicks. "Twain, both as a songwriter and performer, was her biggest musical influence.

Taylor Swift has also been influenced by various pop and rock artists.
She lists Paul McCartney, Bruce Springsteen, Bryan Adams, Emmylou Harris, Kris Kristofferson, and Carly Simon as her career role models.

Taylor Swift's music, in different points of her discography, has been described as pop, synth-pop, country, country pop, rock, folk, alternative, and indie. Her works have incorporated R&B, EDM, hip hop and trap as well.

Taylor Swift has won 11 Grammy Awards throughout her successful music career. She is the first and only woman solo artist to win the Grammy for Album Of The Year thrice for her solo recordings. She won the award for 2009 for Fearless, again for 2015 for 1989 and, most recently, for 2020 for Folklore....more

Country/Region : United States
Listen to Taylor Swift's new songs including and many more. Enjoy Taylor Swift's latest songs and explore the Taylor Swift's new music albums. If you want to download Taylor Swift songs MP3, use the Boomplay App to download the Taylor Swift songs for free. Discover Taylor Swift's latest songs, popular songs, trending songs all on Boomplay.
Taylor Alison Swift is an American singer-songwriter born on December 13, 1989 at the Reading Hospital in West Reading, Pennsylvania. She was named after singer-songwriter James Taylor.

One of Swift's earliest musical memories is listening to her maternal grandmother, Marjorie Finlay, sing in church. As a child, she enjoyed Disney film soundtracks. Swift has said she owes her confidence to her mother, who helped her prepare for class presentations as a child.

Taylor Swift was drawn to the storytelling aspect of country music, and was introduced to the genre listening to "the great female country artists of the '90s" —Shania Twain, Faith Hill, and the Dixie Chicks. "Twain, both as a songwriter and performer, was her biggest musical influence.

Taylor Swift has also been influenced by various pop and rock artists.
She lists Paul McCartney, Bruce Springsteen, Bryan Adams, Emmylou Harris, Kris Kristofferson, and Carly Simon as her career role models.

Taylor Swift's music, in different points of her discography, has been described as pop, synth-pop, country, country pop, rock, folk, alternative, and indie. Her works have incorporated R&B, EDM, hip hop and trap as well.

Taylor Swift has won 11 Grammy Awards throughout her successful music career. She is the first and only woman solo artist to win the Grammy for Album Of The Year thrice for her solo recordings. She won the award for 2009 for Fearless, again for 2015 for 1989 and, most recently, for 2020 for Folklore.
FAQs about Taylor Swift
Where is Taylor Swift from?
She is from United States.