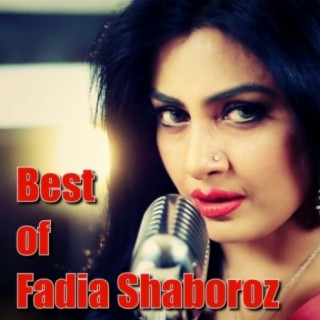 Fadia Shaboroz
Current #4,460

All Time #605

Shaboroz was born in Pakistan but currently an U.K. based singer. Many Fadia Shaboroz songs become very popular and trendy online with a great number of streaming and downloads on Boomplay.

"Singing had always been her passion. When the videos of her singing 'Heer' and 'Aatish Dil Di' (a track which she wrote by herself) went viral, Yousaf Salahuddin contacted her to be a part of PTV's 'Virsa Heritage'.

Career.
So she came to Pakistan where she performed 'O Wanjli Walirda' and 'Kiya Hai Ju Piyar' with Ali Abbas during the show," Shaboroz said, while talking exclusively to Daily Times.

This talented artist is not your regular cover singer: she writes poetry and composes a majority of her songs which have already gone viral and cemented a place in the hearts of her fans.

"I've written my own poetry with 'Aatish Dil Di' and 'Megha Barse'," she said.

She says her ability to sing was recognised by a few of her teachers at school who nurtured and encouraged her, with Shaboroz ultimately winning singing and naat competitions in school.

"She started her singing career professionally in 2012 when she had the opportunity to perform at the celebration ceremony of the Diamond Jubilee of Her Majesty the Queen as the first ever British Pakistani artist at the Palace of West Minister in the presence of Lords, MPs and Ministers of Her Majesty's Government," she recalls.

Follow Boomplay and keep up-to-date with the latest Fadia Shaboroz songs and information.

Achievement.
She has also performed on several other prestigious occasions like the August 14 Flag Bearing Ceremony with the UK and Pakistan's high officials.

"In UK, I've been working with different communities as a councillor." she said

Shaboroz is not just a poetess and a singer. She is a rights campaigner and advocates human and women's rights.

She considers herself a versatile singer who enjoys singing qawwali and ghazal.

"Sange Mar Mar" and "Rashke Qamar" are two of the recent covers that she sung and praises her video director Asif Masood and his team as well as her personal make-up artist Pooja Waheed without whom she thinks her tracks could not have been highlighted effectively in visuals.

"Currently, I'm busy with a few new projects and also special tributes for our Pakistani legends," she said.

"She just want to be a loyal artist. I want to work hard and make my own place in this field with dignity and make my country proud," she says, making her ambitions clear.

Here is the link to one of her biggest album which is (Dil Vich) : https://www.boomplaymusic.com/share/album/10552850

Others albums are:
• Bullet
• Maza Agya
• Teri Galiyan

There are a number of musicians, Shaboroz looks up to and gains inspiration from. "I am inspired by many artists, especially Noor Jahan, Naheed Akhtar, Mahnaz, Nayyara Noor, Reshma, Nazia Hassan, Ghulam Ali, Mehdi Hassan, Abida Parveen, Farida Khanum, Sajjad Ali and Lata Mangeshkar."

Fadia Shaboroz songs are included in Boomplay music playlists. Search to stream and download Fadia Shaboroz songs MP3/ single/ albums on the platform....more

Country/Region : Pakistan
Songs

(0)

Albums

(0)

Playlists

(0)
Listen to Fadia Shaboroz's new songs including and many more. Enjoy Fadia Shaboroz's latest songs and explore the Fadia Shaboroz's new music albums. If you want to download Fadia Shaboroz songs MP3, use the Boomplay App to download the Fadia Shaboroz songs for free. Discover Fadia Shaboroz's latest songs, popular songs, trending songs all on Boomplay.
Shaboroz was born in Pakistan but currently an U.K. based singer. Many Fadia Shaboroz songs become very popular and trendy online with a great number of streaming and downloads on Boomplay.

"Singing had always been her passion. When the videos of her singing 'Heer' and 'Aatish Dil Di' (a track which she wrote by herself) went viral, Yousaf Salahuddin contacted her to be a part of PTV's 'Virsa Heritage'.

Career.
So she came to Pakistan where she performed 'O Wanjli Walirda' and 'Kiya Hai Ju Piyar' with Ali Abbas during the show," Shaboroz said, while talking exclusively to Daily Times.

This talented artist is not your regular cover singer: she writes poetry and composes a majority of her songs which have already gone viral and cemented a place in the hearts of her fans.

"I've written my own poetry with 'Aatish Dil Di' and 'Megha Barse'," she said.

She says her ability to sing was recognised by a few of her teachers at school who nurtured and encouraged her, with Shaboroz ultimately winning singing and naat competitions in school.

"She started her singing career professionally in 2012 when she had the opportunity to perform at the celebration ceremony of the Diamond Jubilee of Her Majesty the Queen as the first ever British Pakistani artist at the Palace of West Minister in the presence of Lords, MPs and Ministers of Her Majesty's Government," she recalls.

Follow Boomplay and keep up-to-date with the latest Fadia Shaboroz songs and information.

Achievement.
She has also performed on several other prestigious occasions like the August 14 Flag Bearing Ceremony with the UK and Pakistan's high officials.

"In UK, I've been working with different communities as a councillor." she said

Shaboroz is not just a poetess and a singer. She is a rights campaigner and advocates human and women's rights.

She considers herself a versatile singer who enjoys singing qawwali and ghazal.

"Sange Mar Mar" and "Rashke Qamar" are two of the recent covers that she sung and praises her video director Asif Masood and his team as well as her personal make-up artist Pooja Waheed without whom she thinks her tracks could not have been highlighted effectively in visuals.

"Currently, I'm busy with a few new projects and also special tributes for our Pakistani legends," she said.

"She just want to be a loyal artist. I want to work hard and make my own place in this field with dignity and make my country proud," she says, making her ambitions clear.

Here is the link to one of her biggest album which is (Dil Vich) : https://www.boomplaymusic.com/share/album/10552850

Others albums are:
• Bullet
• Maza Agya
• Teri Galiyan

There are a number of musicians, Shaboroz looks up to and gains inspiration from. "I am inspired by many artists, especially Noor Jahan, Naheed Akhtar, Mahnaz, Nayyara Noor, Reshma, Nazia Hassan, Ghulam Ali, Mehdi Hassan, Abida Parveen, Farida Khanum, Sajjad Ali and Lata Mangeshkar."

Fadia Shaboroz songs are included in Boomplay music playlists. Search to stream and download Fadia Shaboroz songs MP3/ single/ albums on the platform.
New Comments(
14

)