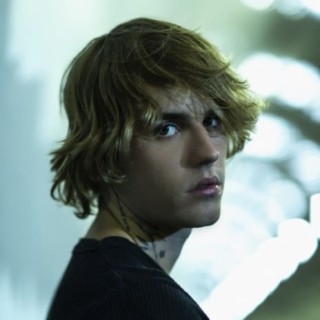 Justin Bieber
Current #44

All Time #25

Justin Bieber, in full Justin Drew Bieber, (born March 1, 1994, London, Ontario, Canada), Canadian singer and teen idol whose fresh-faced good looks and appealing pop songs sparked a global craze beginning in 2009. Bieber was raised by a single mother in Stratford, Ontario, Canada, and as a child he learned to play the drums, the piano, the guitar, and the trumpet. In 2007 he participated in a local singing competition, placing second.

In May 2009 Bieber unveiled his first single, the buoyant puppy-love song "One Time," and six months later he released the seven-track EP My World, composed mainly of glossy R&B-influenced pop. which debuted at number one on the Billboard album chart. Its lead single, the yearningly heartfelt "Baby"—featuring a guest appearance from rapper Ludacris—reached the top five of Billboard's singles chart, and several other tracks landed in the Top 40. As Bieber entered adulthood, his celebrity often overshadowed his music. His romantic relationships (with Selena Gomez, among others) and his occasional skirmishes with the law brought him considerable tabloid attention.

In March 19 2021 Bieber released is sixth studio album which includes Guest appearances in the album are from Khalid, Chance the Rapper, the Kid Laroi, Dominic Fike, Daniel Caesar, Giveon, Beam, Burna Boy, and Benny Blanco, as well as Lil Uzi Vert, Jaden, Quavo, DaBaby, and Tori Kelly on the deluxe edition. Justin Bieber's single "Peaches", featuring Caesar and Giveon, entered atop the Hot 100, marking Bieber's seventh number-one single in the US and fourth to debut at the summit. Justice debuted atop the charts of ten countries, including the U.S. Billboard 200, "Peaches" and Justice held the number one spots simultaneously, making Bieber the third act ever to achieve the feat. The album of Justin Bieber was certified platinum by the Recording Industry Association of America (RIAA)....more

Country/Region : Canada
Listen to Justin Bieber's new songs including "Sorry (Mixed)", and many more. Enjoy Justin Bieber's latest songs and explore the Justin Bieber's new music albums. If you want to download Justin Bieber songs MP3, use the Boomplay App to download the Justin Bieber songs for free. Discover Justin Bieber's latest songs, popular songs, trending songs all on Boomplay.
Justin Bieber, in full Justin Drew Bieber, (born March 1, 1994, London, Ontario, Canada), Canadian singer and teen idol whose fresh-faced good looks and appealing pop songs sparked a global craze beginning in 2009. Bieber was raised by a single mother in Stratford, Ontario, Canada, and as a child he learned to play the drums, the piano, the guitar, and the trumpet. In 2007 he participated in a local singing competition, placing second.

In May 2009 Bieber unveiled his first single, the buoyant puppy-love song "One Time," and six months later he released the seven-track EP My World, composed mainly of glossy R&B-influenced pop. which debuted at number one on the Billboard album chart. Its lead single, the yearningly heartfelt "Baby"—featuring a guest appearance from rapper Ludacris—reached the top five of Billboard's singles chart, and several other tracks landed in the Top 40. As Bieber entered adulthood, his celebrity often overshadowed his music. His romantic relationships (with Selena Gomez, among others) and his occasional skirmishes with the law brought him considerable tabloid attention.

In March 19 2021 Bieber released is sixth studio album which includes Guest appearances in the album are from Khalid, Chance the Rapper, the Kid Laroi, Dominic Fike, Daniel Caesar, Giveon, Beam, Burna Boy, and Benny Blanco, as well as Lil Uzi Vert, Jaden, Quavo, DaBaby, and Tori Kelly on the deluxe edition. Justin Bieber's single "Peaches", featuring Caesar and Giveon, entered atop the Hot 100, marking Bieber's seventh number-one single in the US and fourth to debut at the summit. Justice debuted atop the charts of ten countries, including the U.S. Billboard 200, "Peaches" and Justice held the number one spots simultaneously, making Bieber the third act ever to achieve the feat. The album of Justin Bieber was certified platinum by the Recording Industry Association of America (RIAA).
FAQs about Justin Bieber
Where is Justin Bieber from?
He is from Canada.
What are the latest songs of Justin Bieber?
The latest song of Justin Bieber is Cello Suite No. 1 in G Major, BWV 1007: I. Prélude.
What are the best songs of Justin Bieber?
The best songs of Justin Bieber are Ghost, Intentions ft. Quavo and Loved By You ft. Burna Boy.
What are the best albums of Justin Bieber?
The best albums of Justin Bieber are Justice (The Complete Edition), Justice and Changes.
How to download songs of Justin Bieber?
You can download songs of Justin Bieber from Boomplay App for free.
Firstly, install Boomplay app on your mobile phone.
Secondly, navigate to the song you would like to download.
Thirdly, Tap on More > Download.