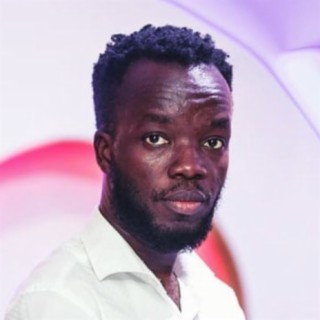 Akwaboah
Current #4,047

All Time #1,657

Gladstorm Kwabena Akwaboah Jnr., known by his stage name Akwaboah Jnr, is a Ghanaian singer-songwriter and producer from Mampong Beposo. Many Akwaboah songs become very popular and trendy online with a great number of streaming and downloads on Boomplay.

He wrote "Daa Ke Daa" for Becca and "Ayeyi Ndwom" for DSP Kofi Sarpong. Both songs won their respective artistes' awards at the 2010 Ghana Music Awards, with Akwaboah subsequently being adjudged the "Song Writer for the Year" for "Daa Ke Daa".

CAREER AND ACHIEVEMENTS
Akwaboah, who is a master keyboardist, has played for a lot of local and international artistes including Hugh Masekela and John Legend, and has assisted several musicians to make it big in the industry.

The talented singer-songwriter and producer Akwaboah was signed unto Sarkcess music, a record label owned by BET Award winner Sarkodie. Akwaboah also produced and co-wrote BET Award winner Sarkodie's fourth album "Mary".

Having hailed from a family of musicians, Akwaboah jr started his music career in his early teenage years. however, he first made headlines in 2009 when the songs that he had written Ayeyi Ndwom for DSP Kofi Sarpong and Daa Ke Daa for Becca won their respective artiste awards at the 2010 Ghana Music Awards.

In the same year, Akwaboah jr won the songwriter of the year award for the Daa Ke Daa song. Aside being a song writer, Akwaboah also serves as a judge on a popular Kid's program dubbed "Nsromma". Being a master keyboardist, Akwaboah jr has had the honor of playing for both local and international artistes such as John Legend.
Albums:
Matters of the Heart (2018)

Akwaboah songs are included in Boomplay music playlists. Search to stream and download Akwaboah songs MP3/ single/ albums on the platform.

Follow Boomplay and keep up-to-date with the latest Akwaboah songs and information....more

Country/Region : Ghana
Listen to Akwaboah's new songs including and many more. Enjoy Akwaboah's latest songs and explore the Akwaboah's new music albums. If you want to download Akwaboah songs MP3, use the Boomplay App to download the Akwaboah songs for free. Discover Akwaboah's latest songs, popular songs, trending songs all on Boomplay.
Gladstorm Kwabena Akwaboah Jnr., known by his stage name Akwaboah Jnr, is a Ghanaian singer-songwriter and producer from Mampong Beposo. Many Akwaboah songs become very popular and trendy online with a great number of streaming and downloads on Boomplay.

He wrote "Daa Ke Daa" for Becca and "Ayeyi Ndwom" for DSP Kofi Sarpong. Both songs won their respective artistes' awards at the 2010 Ghana Music Awards, with Akwaboah subsequently being adjudged the "Song Writer for the Year" for "Daa Ke Daa".

CAREER AND ACHIEVEMENTS
Akwaboah, who is a master keyboardist, has played for a lot of local and international artistes including Hugh Masekela and John Legend, and has assisted several musicians to make it big in the industry.

The talented singer-songwriter and producer Akwaboah was signed unto Sarkcess music, a record label owned by BET Award winner Sarkodie. Akwaboah also produced and co-wrote BET Award winner Sarkodie's fourth album "Mary".

Having hailed from a family of musicians, Akwaboah jr started his music career in his early teenage years. however, he first made headlines in 2009 when the songs that he had written Ayeyi Ndwom for DSP Kofi Sarpong and Daa Ke Daa for Becca won their respective artiste awards at the 2010 Ghana Music Awards.

In the same year, Akwaboah jr won the songwriter of the year award for the Daa Ke Daa song. Aside being a song writer, Akwaboah also serves as a judge on a popular Kid's program dubbed "Nsromma". Being a master keyboardist, Akwaboah jr has had the honor of playing for both local and international artistes such as John Legend.
Albums:
Matters of the Heart (2018)

Akwaboah songs are included in Boomplay music playlists. Search to stream and download Akwaboah songs MP3/ single/ albums on the platform.

Follow Boomplay and keep up-to-date with the latest Akwaboah songs and information.
New Comments(
102

)
FAQs about Akwaboah
Where is Akwaboah from?
He is from Ghana.
What are the latest songs of Akwaboah?
The latest songs of Akwaboah are Christian Atsu Tribute (Ride On), Face 2 Face and My Darling ft. Kwabena Kwabena.
What are the best songs of Akwaboah?
The best songs of Akwaboah are Obiaa ft. Cina Soul, Posti Me and Wo Pɛ W'adeɛ Ayɛ.
What are the best albums of Akwaboah?
The best albums of Akwaboah are Lighthouse EP, Matters of the Heart and Posti Me.