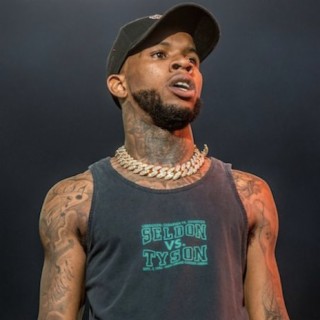 Tory Lanez
Current #597

All Time #738

Daystar Shemuel Shua Peterson (born July 27, 1992), known professionally as Tory Lanez, is a Canadian rapper, singer-songwriter, and record producer. Tory Lanez received initial recognition from the mixtape Conflicts of My Soul: The 416 Story, released in August 2013. In 2015,

Tory Lanez signed to record producer Benny Blanco's Mad Love Records through Interscope Records. Tory Lanez's debut studio album, I Told You (2016), included the singles, "Say It" and "Luv", which peaked at number 23 and 19 on the Billboard Hot 100 respectively. In 2018, Tory Lanez released his second and third studio albums, Memories Don't Die and Love Me Now?. His fourth studio album Chixtape 5 (2019) peaked at number 2 on the US Billboard 200. In 2020, Tory Lanez released his fifth studio album Daystar, which debuted at number 10 on the Billboard 200 and featured controversial responses to the allegations of him shooting fellow rapper Megan Thee Stallion earlier that year.

Tory Lanez has won and been nominated for many awards and accolades. He received a Grammy Award nomination for his song "LUV" as well as four Juno Awards. Download and listen to Tory Lanez on Boomplay....more

Boom ID : 101502151 Country : Canada Gender : Male
Listen to Tory Lanez's new songs including "Temperature Rising", and many more. Enjoy Tory Lanez's latest songs and explore the Tory Lanez's new music albums. If you want to download Tory Lanez songs MP3, use the Boomplay App to download the Tory Lanez songs for free. Discover Tory Lanez's latest songs, popular songs, trending songs all on Boomplay.
Daystar Shemuel Shua Peterson (born July 27, 1992), known professionally as Tory Lanez, is a Canadian rapper, singer-songwriter, and record producer. Tory Lanez received initial recognition from the mixtape Conflicts of My Soul: The 416 Story, released in August 2013. In 2015,

Tory Lanez signed to record producer Benny Blanco's Mad Love Records through Interscope Records. Tory Lanez's debut studio album, I Told You (2016), included the singles, "Say It" and "Luv", which peaked at number 23 and 19 on the Billboard Hot 100 respectively. In 2018, Tory Lanez released his second and third studio albums, Memories Don't Die and Love Me Now?. His fourth studio album Chixtape 5 (2019) peaked at number 2 on the US Billboard 200. In 2020, Tory Lanez released his fifth studio album Daystar, which debuted at number 10 on the Billboard 200 and featured controversial responses to the allegations of him shooting fellow rapper Megan Thee Stallion earlier that year.

Tory Lanez has won and been nominated for many awards and accolades. He received a Grammy Award nomination for his song "LUV" as well as four Juno Awards. Download and listen to Tory Lanez on Boomplay.
New Comments(
66

)