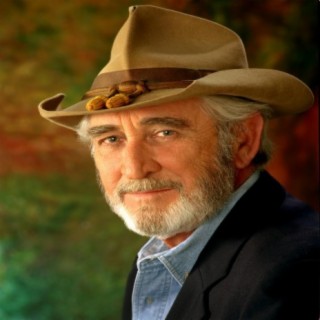 Don Williams
Current #536

All Time #257

Donald Ray Williams (May 27, 1939 – September 8, 2017) was an American country singer, songwriter, and 2010 inductee to the Country Music Hall of Fame. He began his solo career in 1971, singing popular ballads and amassing 17 number one country hits.

His straightforward yet smooth bass-baritone voice, soft tones, and imposing build earned him the nickname "The Gentle Giant". In 1975, Williams starred in a movie with Burt Reynolds and Jerry Reed called W.W. and the Dixie Dancekings. Williams has had a strong influence over a variety of recording artists of different genres.

In 2010, the Country Music Association inducted Don Williams into the Country Music Hall of Fame.

Don Williams was among hundreds of artists whose material was destroyed in the 2008 Universal Studios fire.

His first single with ABC/Dot, "I Wouldn't Want to Live If You Didn't Love Me," became a number one hit, and was the first of a string of top ten hits he had between 1974 and 1991. Only four of his 46 singles did not make it to the Top Ten.

"I Believe in You", written by Roger Cook and Sam Hogin, was Williams' eleventh number one on the country chart. It was his only Top 40 chart entry in the U.S., where it peaked at number 24. It was also hit in Australia, New Zealand and Europe.

Williams had some minor roles in Burt Reynolds movies. In 1975, Williams appeared as a member of the Dixie Dancekings band in the movie, W.W. and the Dixie Dancekings, alongside Reynolds. Williams also appeared as himself in the Universal Pictures movie, Smokey and the Bandit II, in which he also played a number of songs.

Williams married Joy Janene Bucher in April 1960. They had two children.

On September 8, 2017, Don Williams died in Mobile, Alabama, due to emphysema.

Download and Listen to Don Williams songs on Boomplay....more

Country/Region : United States
Songs

(17)

Albums

(2)

Playlists

(2)
1

2

3

4

5

6

7

8

9

10

11

12

13

14

15

16

17
Listen to Don Williams's new songs including "Long Walk", "Ordinary Day", "In My Life" and many more. Enjoy Don Williams's latest songs and explore the Don Williams's new music albums. If you want to download Don Williams songs MP3, use the Boomplay App to download the Don Williams songs for free. Discover Don Williams's latest songs, popular songs, trending songs all on Boomplay.
Donald Ray Williams (May 27, 1939 – September 8, 2017) was an American country singer, songwriter, and 2010 inductee to the Country Music Hall of Fame. He began his solo career in 1971, singing popular ballads and amassing 17 number one country hits.

His straightforward yet smooth bass-baritone voice, soft tones, and imposing build earned him the nickname "The Gentle Giant". In 1975, Williams starred in a movie with Burt Reynolds and Jerry Reed called W.W. and the Dixie Dancekings. Williams has had a strong influence over a variety of recording artists of different genres.

In 2010, the Country Music Association inducted Don Williams into the Country Music Hall of Fame.

Don Williams was among hundreds of artists whose material was destroyed in the 2008 Universal Studios fire.

His first single with ABC/Dot, "I Wouldn't Want to Live If You Didn't Love Me," became a number one hit, and was the first of a string of top ten hits he had between 1974 and 1991. Only four of his 46 singles did not make it to the Top Ten.

"I Believe in You", written by Roger Cook and Sam Hogin, was Williams' eleventh number one on the country chart. It was his only Top 40 chart entry in the U.S., where it peaked at number 24. It was also hit in Australia, New Zealand and Europe.

Williams had some minor roles in Burt Reynolds movies. In 1975, Williams appeared as a member of the Dixie Dancekings band in the movie, W.W. and the Dixie Dancekings, alongside Reynolds. Williams also appeared as himself in the Universal Pictures movie, Smokey and the Bandit II, in which he also played a number of songs.

Williams married Joy Janene Bucher in April 1960. They had two children.

On September 8, 2017, Don Williams died in Mobile, Alabama, due to emphysema.

Download and Listen to Don Williams songs on Boomplay.
FAQs about Don Williams
Where is Don Williams from?
He is from United States.
How to download songs of Don Williams?
You can download songs of Don Williams from Boomplay App for free.
Firstly, install Boomplay app on your mobile phone.
Secondly, navigate to the song you would like to download.
Thirdly, Tap on More > Download.