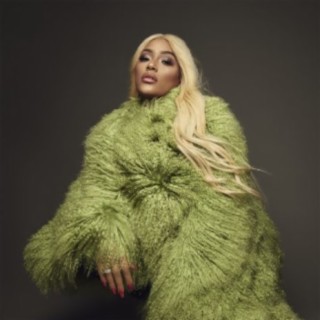 Stefflon Don
Current #1,598

All Time #2,717

Stephanie Victoria Allen born 14th December 1991 in the United Kingdom in Birmingham. She is professionally known as Stefflon Don is an outstanding British rapper, singer, and songwriter. Many of Stefflon Don songs become very popular and trendy online with a great number of streaming and downloads on Boomplay. She is apparently a Jamaican descendant.

Stefflon Don rose to stardom shortly after her single, Hurtin' Me. The spanking single was released featuring music star, French Montana. The hit single became one of her songs which made it to number 7 on the UK singles chart.She is a dancehall and rap artist who switches between dancehall and rap with ease and confidence. She came to the limelight in the year 2015 and has featured top prominent stars which led to her becoming more popular.

She has also featured American superstar, Lil baby. She moved to a place called Rotterdam, a Dutch country when she was five which made her understand Dutch fluently. She later returned to Britain to study in a school in London.

Career
Stefflon Don's relocation to the Netherlands when she was five years old has been termed as one of her great experiences musically. Her family remaining in Netherland for nine years before moving to East London when she was 14 added an experience to her life. As she grew older, she discovered herself as a musician, she decided to pursue music as a career. In the year 2015, she covered Wretch 32's Six Words and another named, Section Boys' Lock Arff.

The featuring brought progress to her career which also opened doors to a host of great feature collaborations with top artists in the world. She featured the likes of Lethai B, Snekabo, Giggs, and co. while on her way up. Stefflon Don while very much hard-working in her profession released her mixtape titled, Real Ting. The mixtape gained attractions with over one million views on YouTube which amounted to Record labels and top deals for her.

In order to progress to the next phase of her career, she needed a backing deal, so she signed a recording and management deal with entertainment powerhouse record label, Universal Music in the year 2017.

The mouth-watering deal was one of the deals which gave her the opportunity to work with Lil Yachty and Drake. As an open door was made possible for her career, she was featured in the chart-topping single, Boasty which also had the likes of Wiley, Sean Paul, and Idris Elba.

Her single, Hurtin' Me which highlighted French Montana gained 40 million views in 4 months.

Follow Boomplay and keep up to date with the latest Stefflon Don songs and information.

Stefflon Don Songs
She has released albums and songs which includes
• Hurtin Me – The Ep
• Real Ting
• Secure
• Move
• Don Walk
• Can't Let You Go (featuring Rema & Tiwa Savage)

Stefflon Don songs are included in Boomplay music playlists. Search to stream and download Stefflon Don songs MP3/ single/ albums on the platform....more

Country/Region : United Kingdom
Listen to Stefflon Don's new songs including "Toxic Love ft. Midas the Jagaban", "What's Poppin (Mixed) ft. Bnxn", and many more. Enjoy Stefflon Don's latest songs and explore the Stefflon Don's new music albums. If you want to download Stefflon Don songs MP3, use the Boomplay App to download the Stefflon Don songs for free. Discover Stefflon Don's latest songs, popular songs, trending songs all on Boomplay.
Stephanie Victoria Allen born 14th December 1991 in the United Kingdom in Birmingham. She is professionally known as Stefflon Don is an outstanding British rapper, singer, and songwriter. Many of Stefflon Don songs become very popular and trendy online with a great number of streaming and downloads on Boomplay. She is apparently a Jamaican descendant.

Stefflon Don rose to stardom shortly after her single, Hurtin' Me. The spanking single was released featuring music star, French Montana. The hit single became one of her songs which made it to number 7 on the UK singles chart.She is a dancehall and rap artist who switches between dancehall and rap with ease and confidence. She came to the limelight in the year 2015 and has featured top prominent stars which led to her becoming more popular.

She has also featured American superstar, Lil baby. She moved to a place called Rotterdam, a Dutch country when she was five which made her understand Dutch fluently. She later returned to Britain to study in a school in London.

Career
Stefflon Don's relocation to the Netherlands when she was five years old has been termed as one of her great experiences musically. Her family remaining in Netherland for nine years before moving to East London when she was 14 added an experience to her life. As she grew older, she discovered herself as a musician, she decided to pursue music as a career. In the year 2015, she covered Wretch 32's Six Words and another named, Section Boys' Lock Arff.

The featuring brought progress to her career which also opened doors to a host of great feature collaborations with top artists in the world. She featured the likes of Lethai B, Snekabo, Giggs, and co. while on her way up. Stefflon Don while very much hard-working in her profession released her mixtape titled, Real Ting. The mixtape gained attractions with over one million views on YouTube which amounted to Record labels and top deals for her.

In order to progress to the next phase of her career, she needed a backing deal, so she signed a recording and management deal with entertainment powerhouse record label, Universal Music in the year 2017.

The mouth-watering deal was one of the deals which gave her the opportunity to work with Lil Yachty and Drake. As an open door was made possible for her career, she was featured in the chart-topping single, Boasty which also had the likes of Wiley, Sean Paul, and Idris Elba.

Her single, Hurtin' Me which highlighted French Montana gained 40 million views in 4 months.

Follow Boomplay and keep up to date with the latest Stefflon Don songs and information.

Stefflon Don Songs
She has released albums and songs which includes
• Hurtin Me – The Ep
• Real Ting
• Secure
• Move
• Don Walk
• Can't Let You Go (featuring Rema & Tiwa Savage)

Stefflon Don songs are included in Boomplay music playlists. Search to stream and download Stefflon Don songs MP3/ single/ albums on the platform.
New Comments(
28

)
FAQs about Stefflon Don
Where is Stefflon Don from?
She is from United Kingdom.
How to download songs of Stefflon Don?
You can download songs of Stefflon Don from Boomplay App for free.
Firstly, install Boomplay app on your mobile phone.
Secondly, navigate to the song you would like to download.
Thirdly, Tap on More > Download.