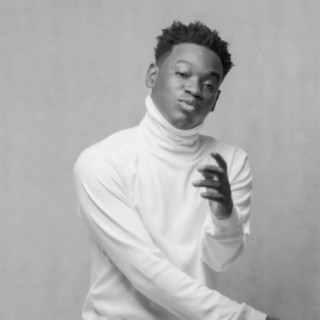 Koo Ntakra
Current #33.1k

All Time #30.5k

Born Isaac Akuffo, stage name Koo Ntakra, is a Ghanaian Rap/HipHop, Hiplife and Afrobeat artist, rapping in his native language of Akuapem, considered to many as one of the multifaceted young rappers due to his versatility in the music circles.He is considered one of the major proponents of 'Akuapem Rap'.

Koo Ntakra soared into the lime light after being crowned the WINNER of the annual MTN Hitmaker Reality TV music contest, beating over thousands who entered the competition in 2013.

Koo Ntakra released his debut studio album titled 'AKUABA (Priceless) in November 2014. The nineteen (19) track album was a blend of different genres, from Rap & Hip-hop , Hip life, Afrobeat, Highlife to Dancehall proving his versatility. Songs on the album including 'Move Back' and 'Taking Over' received international recognition by featuring on several American Hip hop blogs.
His hard work through his maiden album saw him gain nominations for Ghana's most prestigious music awards, the Ghana Music Awards in the 2015 'Unsung category' and later in the same year choked another nomination in the Africa Youth Choice Award in the 'Most Promising Artist' category.
In 2016, he was selected among other twelve finalist across the globe to perform at the Midem Festival in France, in the Midem Artist Accelerator program.
He released his 2nd Album titled 'KOK' in 2017, and went on to win both the Rapper & Artist of the year Award, at the Eastern Music Awards.
 Bookings: +233244939112...more

Country/Region : Ghana
Songs

(51)

Albums

(28)

Playlists

(0)
1

2

3

4

5

6

7

8

9

10

11

12

13

14

15

16

17

18

19

20

21

22

23

24

25

26

27

28

29

30

31

32

33

34

35

36

37

38

39

40

41

42

43

44

45

46

47

48

49

50

51
Listen to Koo Ntakra's new songs including "Obia Maame Ada ft. Kasapa", "Fud Up", "Wonnya ft. Amerado" and many more. Enjoy Koo Ntakra's latest songs and explore the Koo Ntakra's new music albums. If you want to download Koo Ntakra songs MP3, use the Boomplay App to download the Koo Ntakra songs for free. Discover Koo Ntakra's latest songs, popular songs, trending songs all on Boomplay.
Born Isaac Akuffo, stage name Koo Ntakra, is a Ghanaian Rap/HipHop, Hiplife and Afrobeat artist, rapping in his native language of Akuapem, considered to many as one of the multifaceted young rappers due to his versatility in the music circles.He is considered one of the major proponents of 'Akuapem Rap'.

Koo Ntakra soared into the lime light after being crowned the WINNER of the annual MTN Hitmaker Reality TV music contest, beating over thousands who entered the competition in 2013.

Koo Ntakra released his debut studio album titled 'AKUABA (Priceless) in November 2014. The nineteen (19) track album was a blend of different genres, from Rap & Hip-hop , Hip life, Afrobeat, Highlife to Dancehall proving his versatility. Songs on the album including 'Move Back' and 'Taking Over' received international recognition by featuring on several American Hip hop blogs.
His hard work through his maiden album saw him gain nominations for Ghana's most prestigious music awards, the Ghana Music Awards in the 2015 'Unsung category' and later in the same year choked another nomination in the Africa Youth Choice Award in the 'Most Promising Artist' category.
In 2016, he was selected among other twelve finalist across the globe to perform at the Midem Festival in France, in the Midem Artist Accelerator program.
He released his 2nd Album titled 'KOK' in 2017, and went on to win both the Rapper & Artist of the year Award, at the Eastern Music Awards.
 Bookings: +233244939112
New Comments(
1

)
FAQs about Koo Ntakra
Where is Koo Ntakra from?
He is from Ghana.
What are the latest songs of Koo Ntakra?
The latest songs of Koo Ntakra are Gyal You Hotter, Medaase and Bad Figure 8.
What are the best songs of Koo Ntakra?
The best songs of Koo Ntakra are Fud Up, Wonnya ft. Amerado and Move Back (feat. Yaa Pono).
What are the best albums of Koo Ntakra?
The best albums of Koo Ntakra are Akuaba, Fud Up and JUMAPO TO ACCRA.
How to download songs of Koo Ntakra?
You can download songs of Koo Ntakra from Boomplay App for free.
Firstly, install Boomplay app on your mobile phone.
Secondly, navigate to the song you would like to download.
Thirdly, Tap on More > Download.