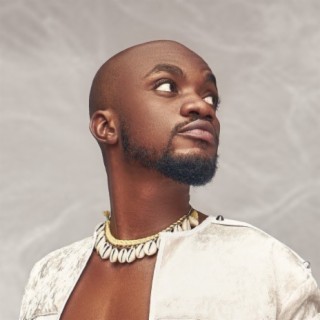 Mr Drew
Current #1,886

All Time #1,153

Andrews Commey Otoo popularly known by his stage name Mr Drew was born on 10th June 1996 in Greater Accra Region. He is a young budding Ghanaian Highlife, Afrobeat musician, and Dancer/ Choreographer who placed first runner-up at Mtn Hitmaker 6 in 2017.

He was also nominated as Unsung Artist during Ghana's Prestigious Awards Vodafone Ghana Music Awards 2019. He grew up in the neighbourhood of Dansoman, Kaneshie, and finally settled in Mallam in Greater Accra - Ghana. He is an old student of Achimota Secondary School. Mr Drew started off his career as a dancer and then later pursued music at the tertiary level.

Mr Drew is also into theatre, video editing, and video directing. He looks up to musicians like Kojo Antwi, Michael Jackson, Chris Brown, Slim Buster, and Terry BonChaka. Many of Mr Drew songs become very popular and trendy online with great number of streaming and downloads on Boomplay.

Mr Drew is currently signed to the Highly Spiritual Music Label. Mr Drew is here to entertain and raise the flag of Ghana high with his amazing stagecraft. He is simply a representation of African music and dance. His song with Label Mate Krymi which features BET award-winning artiste, Sarkodie title "Dw3" has been the number one song in Ghana since January 2020.

Follow Boomplay and keep up to date with latest Mr Drew songs and information.

Mr Drew Songs
• Shuperu ft. KiDi
• Shuperu
• Mood
• Somebody's Bae
• Fo
• Pains
• Wild
• One by One
• Good Vibes
• Falaa
• Party
• Some More
• Letter
• Yaayaa
• Zombie
• Filomina
• Ewurama
• Baby
• African Woman
• E Choke
• Mewu
• Ghetto Love
• Fine Girl
• Funky People
• S3k3
• Medikal
• Never Humble
• Bass Ass Glicht

Mr Drew songs are included in Boomplay music playlists. Search to stream and download Mr Drew songs MP3/ single/ albums on the Boomplay....more

Country/Region : Ghana
Listen to Mr Drew's new songs including "Shuperu ft. KiDi", "Fo (Cry) ft. Kwabena Kwabena", "One By One ft. Victor AD" and many more. Enjoy Mr Drew's latest songs and explore the Mr Drew's new music albums. If you want to download Mr Drew songs MP3, use the Boomplay App to download the Mr Drew songs for free. Discover Mr Drew's latest songs, popular songs, trending songs all on Boomplay.
Andrews Commey Otoo popularly known by his stage name Mr Drew was born on 10th June 1996 in Greater Accra Region. He is a young budding Ghanaian Highlife, Afrobeat musician, and Dancer/ Choreographer who placed first runner-up at Mtn Hitmaker 6 in 2017.

He was also nominated as Unsung Artist during Ghana's Prestigious Awards Vodafone Ghana Music Awards 2019. He grew up in the neighbourhood of Dansoman, Kaneshie, and finally settled in Mallam in Greater Accra - Ghana. He is an old student of Achimota Secondary School. Mr Drew started off his career as a dancer and then later pursued music at the tertiary level.

Mr Drew is also into theatre, video editing, and video directing. He looks up to musicians like Kojo Antwi, Michael Jackson, Chris Brown, Slim Buster, and Terry BonChaka. Many of Mr Drew songs become very popular and trendy online with great number of streaming and downloads on Boomplay.

Mr Drew is currently signed to the Highly Spiritual Music Label. Mr Drew is here to entertain and raise the flag of Ghana high with his amazing stagecraft. He is simply a representation of African music and dance. His song with Label Mate Krymi which features BET award-winning artiste, Sarkodie title "Dw3" has been the number one song in Ghana since January 2020.

Follow Boomplay and keep up to date with latest Mr Drew songs and information.

Mr Drew Songs
• Shuperu ft. KiDi
• Shuperu
• Mood
• Somebody's Bae
• Fo
• Pains
• Wild
• One by One
• Good Vibes
• Falaa
• Party
• Some More
• Letter
• Yaayaa
• Zombie
• Filomina
• Ewurama
• Baby
• African Woman
• E Choke
• Mewu
• Ghetto Love
• Fine Girl
• Funky People
• S3k3
• Medikal
• Never Humble
• Bass Ass Glicht

Mr Drew songs are included in Boomplay music playlists. Search to stream and download Mr Drew songs MP3/ single/ albums on the Boomplay.
New Comments(
133

)
FAQs about Mr Drew
Where is Mr Drew from?
He is from Ghana.
What are the latest songs of Mr Drew?
The latest songs of Mr Drew are Eat (Mixed) ft. Stonebwoy, Dayana (Mixed) and Let Me Know (Mixed).
What are the best songs of Mr Drew?
The best songs of Mr Drew are Shuperu ft. KiDi, S3k3 ft. Medikal and Mood.
What are the best albums of Mr Drew?
The best albums of Mr Drew are Alpha, S3k3 and Mood.
How to download songs of Mr Drew?
You can download songs of Mr Drew from Boomplay App for free.
Firstly, install Boomplay app on your mobile phone.
Secondly, navigate to the song you would like to download.
Thirdly, Tap on More > Download.