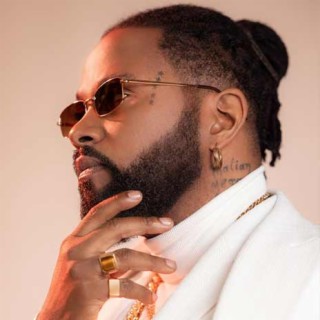 Ferre Gola
Current #101

All Time #78

Ferré Gola, also Ferre Gola, whose full name is Hervé NGola Bataringe, is a DR Congolese recording artist, 'GOLA is just an achronym or short form of his real name:NGOLA'vocalist, and entertainer. Many of Ferre Gola songs become very popular and trendy online with a great number of streaming and downloads on Boomplay. He at one time was a member of the Congolese band Quartier Latin International, founded and led since 1986, by Koffi Olomide.

He was born on 3 March 1976, in Kinshasa, the largest city and capital of the Democratic Republic of the Congo. From an early age, he was passionate about becoming a professional musician. Ferré gola began his career in a band in Bandalungwa commune called "Rumba des Jeunes" before making his historic entry in "Wenge Musica" in 1995. At the dislocation of this group, Ferré Gola joined Werrason in "Maison mère" for 7 years, before creating with Bill Cliton and Jus d'été "Marquess of Maison mère". But, "Les Marquis" burst out a few months later after the triumphant release of the opus "Miracles", best album at the KORA awards 2005 in Africa South.

CAREER
In 1995 during at a talent fair in Bandalungwa, a district in the city of Kinshasa, he was spotted and recruited by Werrason into the group Wenge Musica 4*4. When that band broke up, Gola ,werrason ,didie' masela,adolphe created the group Wenge Musica Maison Mère where he spent seven years from 1997 to 2004. He left the group Werrason in 2004 to found The Marquis of Mother House with JDT Mulopwe and Bill Clinton Kalonji who also left Werrason. In 2005, Gola joined the group Quartier Latin International, of Koffi Olomide, leaving for a solo career in 2006, the same year Fally Ipupa left.

While at Quartier Latin, one of the memorable hits he produced was the song Sisi Silvie Remix where he pairs with Olomide. With his real name Hervé Gola BATERINGE, Ferré has made an exceptional artistic journey which has earned him his current success. Referring to his eye-catching historical past, all the young people of his generation who

The same name as Hervé is nicknamed GOLA. He is well-known for his work, and is surrounded by a team of young ladies and gentlemen who are well-established both in his administration and in his orchestra, among others: Chikito, Kunzardo, Charly solo, mark house, Guy digital, De Gaulle and others.

Currently, Ferré Gola has "3 albums including Sens interdit (2007), Qui est derrière toi (2009) and Boîte noire. He also released a single titled Avant avant, a song in support of his sponsor the Bralima entitled Lubukulukumu and a song about peace in the east of the DRC.

Follow Boomplay and keep up-to-date with the latest Ferre Gola songs and information.

Ferre Gola Songs
• Royaume Kunga
• Vita imana
• Jugement
• Rumba Trap
• Ekoti ya Nzube
• Ma meilleure chemise
• Porte-monnaie
• Mea Culpa
• 3ème doigt
• Pyromane
• Toc Toc
• Carte Rose
• Bayuma Bavida Kala
• Tucheze

Achievement
WatsUp TV Africa Music Video Awards 2016 Tucheze Best Central African Video Won

Ferre Gola songs are included in Boomplay music playlists. Search to stream and download Ferre Gola songs MP3/ single/ albums on the platform....more

Country/Region : Democratic Republic of the Congo
Listen to Ferre Gola's new songs including "New 100 Kilos", "Bizorbi", and many more. Enjoy Ferre Gola's latest songs and explore the Ferre Gola's new music albums. If you want to download Ferre Gola songs MP3, use the Boomplay App to download the Ferre Gola songs for free. Discover Ferre Gola's latest songs, popular songs, trending songs all on Boomplay.
Ferré Gola, also Ferre Gola, whose full name is Hervé NGola Bataringe, is a DR Congolese recording artist, 'GOLA is just an achronym or short form of his real name:NGOLA'vocalist, and entertainer. Many of Ferre Gola songs become very popular and trendy online with a great number of streaming and downloads on Boomplay. He at one time was a member of the Congolese band Quartier Latin International, founded and led since 1986, by Koffi Olomide.

He was born on 3 March 1976, in Kinshasa, the largest city and capital of the Democratic Republic of the Congo. From an early age, he was passionate about becoming a professional musician. Ferré gola began his career in a band in Bandalungwa commune called "Rumba des Jeunes" before making his historic entry in "Wenge Musica" in 1995. At the dislocation of this group, Ferré Gola joined Werrason in "Maison mère" for 7 years, before creating with Bill Cliton and Jus d'été "Marquess of Maison mère". But, "Les Marquis" burst out a few months later after the triumphant release of the opus "Miracles", best album at the KORA awards 2005 in Africa South.

CAREER
In 1995 during at a talent fair in Bandalungwa, a district in the city of Kinshasa, he was spotted and recruited by Werrason into the group Wenge Musica 4*4. When that band broke up, Gola ,werrason ,didie' masela,adolphe created the group Wenge Musica Maison Mère where he spent seven years from 1997 to 2004. He left the group Werrason in 2004 to found The Marquis of Mother House with JDT Mulopwe and Bill Clinton Kalonji who also left Werrason. In 2005, Gola joined the group Quartier Latin International, of Koffi Olomide, leaving for a solo career in 2006, the same year Fally Ipupa left.

While at Quartier Latin, one of the memorable hits he produced was the song Sisi Silvie Remix where he pairs with Olomide. With his real name Hervé Gola BATERINGE, Ferré has made an exceptional artistic journey which has earned him his current success. Referring to his eye-catching historical past, all the young people of his generation who

The same name as Hervé is nicknamed GOLA. He is well-known for his work, and is surrounded by a team of young ladies and gentlemen who are well-established both in his administration and in his orchestra, among others: Chikito, Kunzardo, Charly solo, mark house, Guy digital, De Gaulle and others.

Currently, Ferré Gola has "3 albums including Sens interdit (2007), Qui est derrière toi (2009) and Boîte noire. He also released a single titled Avant avant, a song in support of his sponsor the Bralima entitled Lubukulukumu and a song about peace in the east of the DRC.

Follow Boomplay and keep up-to-date with the latest Ferre Gola songs and information.

Ferre Gola Songs
• Royaume Kunga
• Vita imana
• Jugement
• Rumba Trap
• Ekoti ya Nzube
• Ma meilleure chemise
• Porte-monnaie
• Mea Culpa
• 3ème doigt
• Pyromane
• Toc Toc
• Carte Rose
• Bayuma Bavida Kala
• Tucheze

Achievement
WatsUp TV Africa Music Video Awards 2016 Tucheze Best Central African Video Won

Ferre Gola songs are included in Boomplay music playlists. Search to stream and download Ferre Gola songs MP3/ single/ albums on the platform.
FAQs about Ferre Gola
Where is Ferre Gola from?
He is from Democratic Republic of the Congo.
What are the latest songs of Ferre Gola?
The latest songs of Ferre Gola are Bizorbi, Liberté and Ekoyebana.
What are the best songs of Ferre Gola?
The best songs of Ferre Gola are Pyromane, Liberté and Regarde-Moi.
What are the best albums of Ferre Gola?
The best albums of Ferre Gola are Dynastie, Qui est derrière toi ? and Pyromane.
How to download songs of Ferre Gola?
You can download songs of Ferre Gola from Boomplay App for free.
Firstly, install Boomplay app on your mobile phone.
Secondly, navigate to the song you would like to download.
Thirdly, Tap on More > Download.