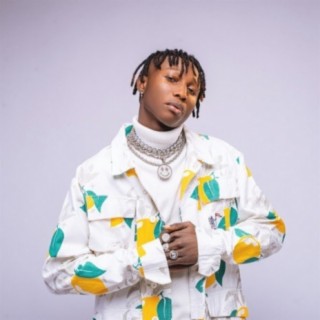 Dagizah
Current #8,771

All Time #6,336

Abubakar Abdullahi is a fast-rising artiste who goes by the stage name, Dagizah. Many of Dagizah's Songs became very popular and trendy on social media in line with a great number of streaming and downloads on Boomplay.

The last born of 6 children, Dagizah was born and raised in Abeokuta, Ogun state. Dagizah is one of the greatest Nigerian artistes who transitioned from playing football to being signed by Grammy-nominated singer, and music executive Bankulli. His music is a mixture of fusion of the "foreign sound" and our own indigenous sound (African).

Career
Before getting his stage name Dagizah, he used to go by the name Bupato but later changed it to his current Dagizah name after he was trying to create an email and the only name that came in mind was Dagizah and ever since he has used that name. when he was young, he really adored football before music, he even played for his school team and trained with "Samba F.C" where they used to pay to train and because back then there was a preference for those with money to pay for the training sessions.

He didn't get enough time because he couldn't match up with those people with money to pay. His elder brother was his strong influence to music career, he used to buy him CDs of Usher and Saheed Osupa, he started becoming a huge fan of them both and from there his love for music started growing which pushed him to discover his musical talent drifting away from football. During his musical journey, his music label boss took him to meet Abu Abel and from there Abu introduced them to Bankulli.

His music is basically inspired by listening to instrumentals at loud volumes precisely. His EP Zero Your Mind is a feel-good project to make people happy and serve as a "happy pill" so to speak, though he made it from his own experience of facing mental health challenges, the franchise became a success. He eyes at doing a collabo with Davido because he looks up to him as his inspirator due to his hardwork and great voice. Dagizah aspires to get where Davido is in future with music. He is signed to his record label, Chippy Records.

Follow Boomplay and keep up to date with the latest songs of Dagizah and information.

Dagizah's Songs
• Presidential
• Who Goes There
• Somebody
• Speedometer
• 2XO
• Ja Fun Mi
• Joromi
• Jaiye
• Cashless
• Oyojo Reloaded

Dagizah Songs are included in Boomplay music playlists. Search, stream, and download Dagizah Songs, her latest singles and albums in MP3 only on the Boomplay platform for free....more

Country/Region : Nigeria
Songs

(8)

Albums

(3)

Playlists

(0)
Listen to Dagizah's new songs including "Speedometer", "Joromi ft. Mohbad", "Presidential" and many more. Enjoy Dagizah's latest songs and explore the Dagizah's new music albums. If you want to download Dagizah songs MP3, use the Boomplay App to download the Dagizah songs for free. Discover Dagizah's latest songs, popular songs, trending songs all on Boomplay.
Abubakar Abdullahi is a fast-rising artiste who goes by the stage name, Dagizah. Many of Dagizah's Songs became very popular and trendy on social media in line with a great number of streaming and downloads on Boomplay.

The last born of 6 children, Dagizah was born and raised in Abeokuta, Ogun state. Dagizah is one of the greatest Nigerian artistes who transitioned from playing football to being signed by Grammy-nominated singer, and music executive Bankulli. His music is a mixture of fusion of the "foreign sound" and our own indigenous sound (African).

Career
Before getting his stage name Dagizah, he used to go by the name Bupato but later changed it to his current Dagizah name after he was trying to create an email and the only name that came in mind was Dagizah and ever since he has used that name. when he was young, he really adored football before music, he even played for his school team and trained with "Samba F.C" where they used to pay to train and because back then there was a preference for those with money to pay for the training sessions.

He didn't get enough time because he couldn't match up with those people with money to pay. His elder brother was his strong influence to music career, he used to buy him CDs of Usher and Saheed Osupa, he started becoming a huge fan of them both and from there his love for music started growing which pushed him to discover his musical talent drifting away from football. During his musical journey, his music label boss took him to meet Abu Abel and from there Abu introduced them to Bankulli.

His music is basically inspired by listening to instrumentals at loud volumes precisely. His EP Zero Your Mind is a feel-good project to make people happy and serve as a "happy pill" so to speak, though he made it from his own experience of facing mental health challenges, the franchise became a success. He eyes at doing a collabo with Davido because he looks up to him as his inspirator due to his hardwork and great voice. Dagizah aspires to get where Davido is in future with music. He is signed to his record label, Chippy Records.

Follow Boomplay and keep up to date with the latest songs of Dagizah and information.

Dagizah's Songs
• Presidential
• Who Goes There
• Somebody
• Speedometer
• 2XO
• Ja Fun Mi
• Joromi
• Jaiye
• Cashless
• Oyojo Reloaded

Dagizah Songs are included in Boomplay music playlists. Search, stream, and download Dagizah Songs, her latest singles and albums in MP3 only on the Boomplay platform for free.