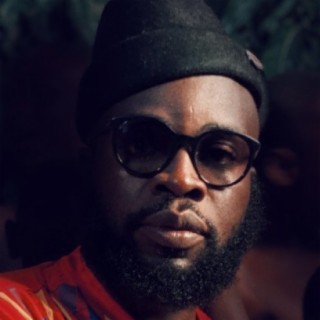 M.anifest
Current #6,794

All Time #2,958

M.anifest (born Kwame Ametepee Tsikata, 20 November, 1982) is a Ghanaian rapper, singer and songwriter. Many M.anifest songs become very popular and trendy online with a great number of streaming and downloads on Boomplay.

M.anifest is the son of Ghanaian lawyer and academician Tsatsu Tsikata and Reverend Dr Priscilla Naana Nketia, a lawyer and pastor.

His maternal grandfather Joseph Hanson Kwabena Nketia was a composer, professor and ethnomusicologist. M.anifest migrated to the Twin Cities (Minneapolis-St Paul, USA) in 2001 to attend Macalester College, where he graduated in 2005 with a Bachelor of Arts in economics.

M.anifest went to high school at SOS-Hermann Gmeiner International College in Tema. He was the entertainment prefect of his school known as Amet Tsikata. He has had artist residencies and given lectures in St. Lawrence University, University of Ghana, and spoken to several classes in Hamline University, Macalester College (his Alma Mater), Penumbra Theater's Summer Arts Institute, Ashesi University.

Career
In his time in the Twin Cities, M.anifest learnt to adopt the do-it-yourself credo and the know-how in becoming an independent musician. He released his first solo album, Manifestations, in 2007 funded by royalties he received from lending his voice to a Pepsi jingle that played nationally on U.S radio.

Manifestations earned him Songwriter of the year Honors in the City Pages as well as top five albums of the year recognition in the Star Tribune.

In 2009 he released a free album, the Birds and the Beats, to raise awareness and funds for the work of a non-profit, Young Entrepreneurs Africa.

In 2010 M.anifest linked up with Africa Express and played gigs in France and Spain with them in the same year. He caught the attention of Africa Express co-founder Damon Albarn who thereafter invited M.anifest to be a collaborator on Rocket Juice & the Moon in 2011.

In September 2012, M.anifest joined the Africa Express train touring the UK. He wrote for The Huffington Post about these experiences.

He released his sophomore album Immigrant Chronicles: Coming to America in September 2011, which included the singles "Suffer", "Asa" and "Blue (Chale What Dey Happen)". It marked a decade of his life in the U.S. and the beginning of his transition back to Ghana.

In 2012, M.anifest began making major inroads in Africa performing on The Big Brother Africa stage as well at the Channel O Music Video Awards in South Africa. The video for his single "Makaa Maka" also got him nominated for Most Gifted Hip-Hop Video at the 2012 Channel O Music Awards and won him Best Hip-Hop Video at the 4syte Music Video Awards. M.anifest produced and co-wrote an independence mini Hip-Hopera for Channel O and also performed a piece, at the first-ever Ghana Music Week, detailing the history of Ghanaian music.

M.anifest is the co-founder of Giant Steps, an interactive conference for entrepreneurial creatives and creative entrepreneurs. He is also included in the feature-length documentary We Rock Long Distance by filmmaker Justin Schell.

On 30 June 2016, M.anifest released a diss track to fellow rapper Sarkodie titled "god MC". Sarkodie replied within two days with a diss track of his own called "Kanta", which was a Panda cover. M.anifest's god MC went on to win Hip Hop Song of the year in the Ghana Music Award the following year.

Two years later on 24 December 2018, the two officially squashed their beef with Sarkodie performing at M.anifest's yearly Manifestivies concert in Accra.

On June 18, 2020, the two cemented their friendship with Sarkodie featuring M.anifest on his politically conscious track, Brown Paper Bag. The song was met with mixed reaction, with popular music critic, Gabriel Myers Hansen, bemoaning its lack of dance rhythm.

"Bereft of hooks, the instrumentation of the song is crafted with chords that fend off dance: instead inducing a frightful, contemplative atmosphere complete with doomy humming and the blast of gunshots. Insofar as this facilitates the discussion it hosts, it is fit for purpose. After all, this is not a forum for the fainthearted.

Follow Boomplay and keep up-to-date with the latest M.anifest songs and information.

Achievement
He won Best Rapper and Hip-Hop song of the year at the 2013 and 2017 Ghana Music Awards respectively.

He also won the Best Special Effects Video (2016) - 4syte Music Video Awards, Best Individual Style (2016) - Glitz Style Awards, Midem Best Artist (2017) at the International Midem Awards, France and Best artiste in African Hip Hop award (AFRIMA 2018).

M.anifest Songs
• Babylon
• Breakdown
• Gentleman
• Coming to
• America
• Suffer
• Asa" feat.
• Efya
• Makaa Maka
• Blue (Chale What
• Dey Happen)
• Ebei
• Mind Games

M.anifest songs are included in Boomplay music playlists. Search to stream and download M.anifest songs MP3/ single/ albums on the platform....more

Country/Region : Ghana
Listen to M.anifest's new songs including "Me Ne Woa ft. King Promise (Explicit)", "Big Mad ft. Simi", "Feels ft. Kwesi Arthur" and many more. Enjoy M.anifest's latest songs and explore the M.anifest's new music albums. If you want to download M.anifest songs MP3, use the Boomplay App to download the M.anifest songs for free. Discover M.anifest's latest songs, popular songs, trending songs all on Boomplay.
M.anifest (born Kwame Ametepee Tsikata, 20 November, 1982) is a Ghanaian rapper, singer and songwriter. Many M.anifest songs become very popular and trendy online with a great number of streaming and downloads on Boomplay.

M.anifest is the son of Ghanaian lawyer and academician Tsatsu Tsikata and Reverend Dr Priscilla Naana Nketia, a lawyer and pastor.

His maternal grandfather Joseph Hanson Kwabena Nketia was a composer, professor and ethnomusicologist. M.anifest migrated to the Twin Cities (Minneapolis-St Paul, USA) in 2001 to attend Macalester College, where he graduated in 2005 with a Bachelor of Arts in economics.

M.anifest went to high school at SOS-Hermann Gmeiner International College in Tema. He was the entertainment prefect of his school known as Amet Tsikata. He has had artist residencies and given lectures in St. Lawrence University, University of Ghana, and spoken to several classes in Hamline University, Macalester College (his Alma Mater), Penumbra Theater's Summer Arts Institute, Ashesi University.

Career
In his time in the Twin Cities, M.anifest learnt to adopt the do-it-yourself credo and the know-how in becoming an independent musician. He released his first solo album, Manifestations, in 2007 funded by royalties he received from lending his voice to a Pepsi jingle that played nationally on U.S radio.

Manifestations earned him Songwriter of the year Honors in the City Pages as well as top five albums of the year recognition in the Star Tribune.

In 2009 he released a free album, the Birds and the Beats, to raise awareness and funds for the work of a non-profit, Young Entrepreneurs Africa.

In 2010 M.anifest linked up with Africa Express and played gigs in France and Spain with them in the same year. He caught the attention of Africa Express co-founder Damon Albarn who thereafter invited M.anifest to be a collaborator on Rocket Juice & the Moon in 2011.

In September 2012, M.anifest joined the Africa Express train touring the UK. He wrote for The Huffington Post about these experiences.

He released his sophomore album Immigrant Chronicles: Coming to America in September 2011, which included the singles "Suffer", "Asa" and "Blue (Chale What Dey Happen)". It marked a decade of his life in the U.S. and the beginning of his transition back to Ghana.

In 2012, M.anifest began making major inroads in Africa performing on The Big Brother Africa stage as well at the Channel O Music Video Awards in South Africa. The video for his single "Makaa Maka" also got him nominated for Most Gifted Hip-Hop Video at the 2012 Channel O Music Awards and won him Best Hip-Hop Video at the 4syte Music Video Awards. M.anifest produced and co-wrote an independence mini Hip-Hopera for Channel O and also performed a piece, at the first-ever Ghana Music Week, detailing the history of Ghanaian music.

M.anifest is the co-founder of Giant Steps, an interactive conference for entrepreneurial creatives and creative entrepreneurs. He is also included in the feature-length documentary We Rock Long Distance by filmmaker Justin Schell.

On 30 June 2016, M.anifest released a diss track to fellow rapper Sarkodie titled "god MC". Sarkodie replied within two days with a diss track of his own called "Kanta", which was a Panda cover. M.anifest's god MC went on to win Hip Hop Song of the year in the Ghana Music Award the following year.

Two years later on 24 December 2018, the two officially squashed their beef with Sarkodie performing at M.anifest's yearly Manifestivies concert in Accra.

On June 18, 2020, the two cemented their friendship with Sarkodie featuring M.anifest on his politically conscious track, Brown Paper Bag. The song was met with mixed reaction, with popular music critic, Gabriel Myers Hansen, bemoaning its lack of dance rhythm.

"Bereft of hooks, the instrumentation of the song is crafted with chords that fend off dance: instead inducing a frightful, contemplative atmosphere complete with doomy humming and the blast of gunshots. Insofar as this facilitates the discussion it hosts, it is fit for purpose. After all, this is not a forum for the fainthearted.

Follow Boomplay and keep up-to-date with the latest M.anifest songs and information.

Achievement
He won Best Rapper and Hip-Hop song of the year at the 2013 and 2017 Ghana Music Awards respectively.

He also won the Best Special Effects Video (2016) - 4syte Music Video Awards, Best Individual Style (2016) - Glitz Style Awards, Midem Best Artist (2017) at the International Midem Awards, France and Best artiste in African Hip Hop award (AFRIMA 2018).

M.anifest Songs
• Babylon
• Breakdown
• Gentleman
• Coming to
• America
• Suffer
• Asa" feat.
• Efya
• Makaa Maka
• Blue (Chale What
• Dey Happen)
• Ebei
• Mind Games

M.anifest songs are included in Boomplay music playlists. Search to stream and download M.anifest songs MP3/ single/ albums on the platform.
New Comments(
52

)
FAQs about M.anifest
Where is M.anifest from?
He is from Ghana.
How to download songs of M.anifest?
You can download songs of M.anifest from Boomplay App for free.
Firstly, install Boomplay app on your mobile phone.
Secondly, navigate to the song you would like to download.
Thirdly, Tap on More > Download.