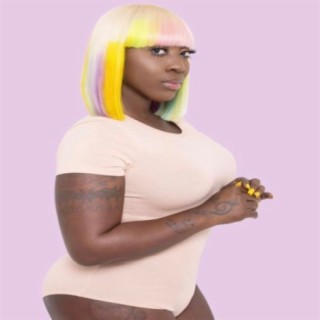 Spice
Current #2,084

All Time #3,483

Grace Latoya Hamilton (born 6 August 1982), known professionally as Spice, is a Jamaican dancehall recording artist, singer and songwriter. Many Spice songs become very popular and trendy online with a great number of streaming and downloads on Boomplay.

Spice was born in Spanish Town, St. Catherine, Jamaica and raised in Portmore. Her father died when she was nine years old. As a child, she used to attend her church regularly and lead the choir.

She had spent part of her childhood living with her grandparents in Finsbury Park, London, where she also attended school before returning to Jamaica. Referred to as the "Queen of Dancehall", Spice is recognised as one of the most prominent dancehall artists in the world.

Career
Beginning her career in the early 2000s, Spice had her first major success with the controversial single "Romping Shop" with Vybz Kartel in 2009. She subsequently signed with VP Records, and released her debut EP, So Mi Like It (2014), which was preceded by the single of the same name. In 2018, she joined the cast of VH1's reality television series Love & Hip Hop: Atlanta in season seven, after appearing as a guest star in season six.

Spice made her debut when she was given the opportunity to perform at the annual dancehall festival Sting in 2000. It was her first major appearance on a stage show, where she earned several encores from the crowd. During this early stage of her career, Spice went on to gain a reputation for her performing abilities, despite not having any hit record.

Spice's first full-length project, a mixtape titled Captured (2018), was released independently and debuted at number one on the Billboard Reggae Albums chart. Her long-delayed debut studio album, 10 (2021), was nominated for Best Reggae Album at the 64th Grammy Awards in 2022.

While a student in St. Catherine High School, she frequently participated in the Jamaica Cultural Development Commission (JCDC) festival in the music category and earned several medals throughout the years.

Although she wanted to become a chartered accountant, she decided to pursue a music career. Following that, she enrolled at the Edna Manley College of the Visual and Performing Arts to study music and drama. She then began experimenting with dancehall music and soon after generated interest in her community and its environs with her deejaying abilities at local stage shows.

While on tour in the UK, Spice earned the attention of Baby Cham, who later introduced her to renowned record producer Dave Kelly. From there, she released her first single for Kelly's Madhouse Records label entitled "Complain", then followed by her singles on the Bad Gal riddim, "Right There" with Toi and "Hype". At that time, she was featured on Jimmy Cliff's "I Want I Do I Get" from his album Black Magic (2004) and on Beenie Man's "Hot" from his album Concept of Life (2006).

For her first hit single, Spice used the popular Eighty Five riddim to create "Fight Over Man", which became popular in the dancehall scene. In 2007, she went on a hiatus due to the birth of her son but soon returned to performing.
Follow Boomplay and keep up-to-date with the latest Spice songs and information.

Other Infos
In 2009, Spice launched her clothing boutique chain Spicey Couture in Jamaica. The chain had branches in Kingston, May Pen and Montego Bay. As of 2020, the chain is no longer active.

In 2010, Spice opened a beauty salon called Spicey Salon in Kingston. She also opened a sports bar and lounge called 8 Ball in her hometown of Portmore.

In May 2019, Spice launched Faces & Laces, an online beauty store that initially offered a line of wigs. Later that year, cosmetic products were added to the beauty line.

In October 2020, Spice launched her clothing line called Graci Noir.

In 2018, Spice founded the Grace Hamilton Women Empowerment Foundation (GHWEF), which aims to enrich women through education, business and entrepreneurship. In August 2019, Spice hosted a back-to-school giveaway in Kingston through the foundation, providing school supplies to more than 500 children.

In 2009, Spice became engaged to her boyfriend Nicholas Lall, whom she had been dating since 2006. The couple called off the engagement and ended their relationship in 2016. They have two children, a son named Nicholas Jr., born 22 August 2007 and a daughter named Nicholas, born 21 January 2011. Marion Hall, formerly known by the stage name Lady Saw, was appointed the godmother of Nicholas Jr.

In 2020, Spice began dating American cinematographer Justin Budd, whom she met on the set of Love & Hip Hop: Atlanta.

Spice Songs and Albums
• 10 (Album)
• Captured (Album)
• Go Down Deh (feat. Shaggy and Sean Paul)
• Needle Eye
• Tables Turn
• Frenz
• Cool It

Spice songs are included in Boomplay music playlists. Search to stream and download Spice songs MP3/ single/ albums on the platform....more

Country : Jamaica
Songs

(33)

Albums

(17)

Playlists

(10)
1

2

3

4

5

6

7

8

9

10

11

12

13

14

15

16

17

18

19

20

21

22

23

24

25

26

27

28

29

30

31

32

33
Listen to Spice's new songs including "Conjugal Vist", "Love Triangle (Pum Pum)", "Gum" and many more. Enjoy Spice's latest songs and explore the Spice's new music albums. If you want to download Spice songs MP3, use the Boomplay App to download the Spice songs for free. Discover Spice's latest songs, popular songs, trending songs all on Boomplay.
Grace Latoya Hamilton (born 6 August 1982), known professionally as Spice, is a Jamaican dancehall recording artist, singer and songwriter. Many Spice songs become very popular and trendy online with a great number of streaming and downloads on Boomplay.

Spice was born in Spanish Town, St. Catherine, Jamaica and raised in Portmore. Her father died when she was nine years old. As a child, she used to attend her church regularly and lead the choir.

She had spent part of her childhood living with her grandparents in Finsbury Park, London, where she also attended school before returning to Jamaica. Referred to as the "Queen of Dancehall", Spice is recognised as one of the most prominent dancehall artists in the world.

Career
Beginning her career in the early 2000s, Spice had her first major success with the controversial single "Romping Shop" with Vybz Kartel in 2009. She subsequently signed with VP Records, and released her debut EP, So Mi Like It (2014), which was preceded by the single of the same name. In 2018, she joined the cast of VH1's reality television series Love & Hip Hop: Atlanta in season seven, after appearing as a guest star in season six.

Spice made her debut when she was given the opportunity to perform at the annual dancehall festival Sting in 2000. It was her first major appearance on a stage show, where she earned several encores from the crowd. During this early stage of her career, Spice went on to gain a reputation for her performing abilities, despite not having any hit record.

Spice's first full-length project, a mixtape titled Captured (2018), was released independently and debuted at number one on the Billboard Reggae Albums chart. Her long-delayed debut studio album, 10 (2021), was nominated for Best Reggae Album at the 64th Grammy Awards in 2022.

While a student in St. Catherine High School, she frequently participated in the Jamaica Cultural Development Commission (JCDC) festival in the music category and earned several medals throughout the years.

Although she wanted to become a chartered accountant, she decided to pursue a music career. Following that, she enrolled at the Edna Manley College of the Visual and Performing Arts to study music and drama. She then began experimenting with dancehall music and soon after generated interest in her community and its environs with her deejaying abilities at local stage shows.

While on tour in the UK, Spice earned the attention of Baby Cham, who later introduced her to renowned record producer Dave Kelly. From there, she released her first single for Kelly's Madhouse Records label entitled "Complain", then followed by her singles on the Bad Gal riddim, "Right There" with Toi and "Hype". At that time, she was featured on Jimmy Cliff's "I Want I Do I Get" from his album Black Magic (2004) and on Beenie Man's "Hot" from his album Concept of Life (2006).

For her first hit single, Spice used the popular Eighty Five riddim to create "Fight Over Man", which became popular in the dancehall scene. In 2007, she went on a hiatus due to the birth of her son but soon returned to performing.
Follow Boomplay and keep up-to-date with the latest Spice songs and information.

Other Infos
In 2009, Spice launched her clothing boutique chain Spicey Couture in Jamaica. The chain had branches in Kingston, May Pen and Montego Bay. As of 2020, the chain is no longer active.

In 2010, Spice opened a beauty salon called Spicey Salon in Kingston. She also opened a sports bar and lounge called 8 Ball in her hometown of Portmore.

In May 2019, Spice launched Faces & Laces, an online beauty store that initially offered a line of wigs. Later that year, cosmetic products were added to the beauty line.

In October 2020, Spice launched her clothing line called Graci Noir.

In 2018, Spice founded the Grace Hamilton Women Empowerment Foundation (GHWEF), which aims to enrich women through education, business and entrepreneurship. In August 2019, Spice hosted a back-to-school giveaway in Kingston through the foundation, providing school supplies to more than 500 children.

In 2009, Spice became engaged to her boyfriend Nicholas Lall, whom she had been dating since 2006. The couple called off the engagement and ended their relationship in 2016. They have two children, a son named Nicholas Jr., born 22 August 2007 and a daughter named Nicholas, born 21 January 2011. Marion Hall, formerly known by the stage name Lady Saw, was appointed the godmother of Nicholas Jr.

In 2020, Spice began dating American cinematographer Justin Budd, whom she met on the set of Love & Hip Hop: Atlanta.

Spice Songs and Albums
• 10 (Album)
• Captured (Album)
• Go Down Deh (feat. Shaggy and Sean Paul)
• Needle Eye
• Tables Turn
• Frenz
• Cool It

Spice songs are included in Boomplay music playlists. Search to stream and download Spice songs MP3/ single/ albums on the platform.