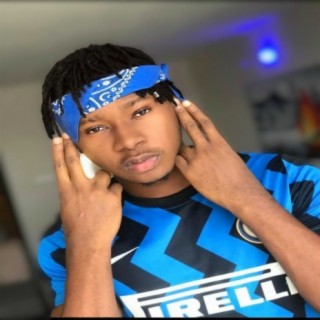 Kolaboy
Current #1,935

All Time #2,868

Kolaboy is a singer-songwriter and rapper from Ugbawka, Nkanu East, Enugu State, Nigeria. The young rapper who predominantly raps in Igbo Language with a blend of English and Pidgin English is notable for songs like "Omalicha", "Debit Alert", "Collect", "Do You Really Like" Me by Ugoccie where he appeared as a featured artist and many more. Kolaboy was born on 2nd May in Onitsha, Anambra State. He attended Okpoko Eleven Primary School before graduating to St. Charles Iwanga International Secondary School.

In 2014, Kolaboy moved to Port-Harcourt City where he rose above the struggles, disappointments and also won many rap battles. Following the success of his song "Oji" which means Kola, he became a household name and as his fans often called him Kolaboy, he considered changing his name from "Onyx" to Kolaboy.

After becoming a viral sensation with "They Didn't Caught Me" in 2018 amongst various freestyles, he went on to have the song remixed with Harrysong and released more tracks that were widely appreciated before his debut EP "The Story Teller". Kolaboy over the years have worked with different outstanding artists within the Nigerian music space in the likes of Zoro, Slow Dog, Jeriq, Ejke Nwamba, Anyidons, Harrysong and many more. He is set to release his second EP titled "Kola From The East" and off the EP is "Normal Thing" featuring Flavour....more

Country/Region : Ghana
Songs

(10)

Albums

(6)

Playlists

(0)
Listen to Kolaboy's new songs including "Ototo Mmiri ft. Anyidons", "Normal Thing ft. Flavour", "Ojadili ft. MC Yom" and many more. Enjoy Kolaboy's latest songs and explore the Kolaboy's new music albums. If you want to download Kolaboy songs MP3, use the Boomplay App to download the Kolaboy songs for free. Discover Kolaboy's latest songs, popular songs, trending songs all on Boomplay.
Kolaboy is a singer-songwriter and rapper from Ugbawka, Nkanu East, Enugu State, Nigeria. The young rapper who predominantly raps in Igbo Language with a blend of English and Pidgin English is notable for songs like "Omalicha", "Debit Alert", "Collect", "Do You Really Like" Me by Ugoccie where he appeared as a featured artist and many more. Kolaboy was born on 2nd May in Onitsha, Anambra State. He attended Okpoko Eleven Primary School before graduating to St. Charles Iwanga International Secondary School.

In 2014, Kolaboy moved to Port-Harcourt City where he rose above the struggles, disappointments and also won many rap battles. Following the success of his song "Oji" which means Kola, he became a household name and as his fans often called him Kolaboy, he considered changing his name from "Onyx" to Kolaboy.

After becoming a viral sensation with "They Didn't Caught Me" in 2018 amongst various freestyles, he went on to have the song remixed with Harrysong and released more tracks that were widely appreciated before his debut EP "The Story Teller". Kolaboy over the years have worked with different outstanding artists within the Nigerian music space in the likes of Zoro, Slow Dog, Jeriq, Ejke Nwamba, Anyidons, Harrysong and many more. He is set to release his second EP titled "Kola From The East" and off the EP is "Normal Thing" featuring Flavour.
New Comments(
34

)