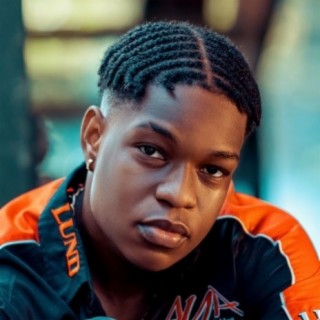 Herman Suede
Current #8,815

All Time #8,995

Jason Herman Bortei- Doku professionally known as Herman Suede is a young Ghanaian musician. Many of Suede's Songs became very popular and trendy on social media in line with a great number of streaming and downloads on Boomplay.

Born on 21 November 2002, the young talented singer is known for his catchy hooks, lyrical ability and unique fashion sense. In his short career, Herman has collaborated with Africa's rap phenom Sarkodie (rapper), RJZ from the La Meme Gang Collective and been endorsed by Ghanaian rapper M.anifest.

His debut EP titled Hi I'm Herman was released in 2019. It has songs like "The Friendzone" and "Knock Knock" featuring the aforementioned RJZ.

Career
Herman Suede discovered his talent for music at the age of 5. Then, he started studying classical music on the piano and took formal music lessons. He started composing his own music shortly after that.

Herman fingers Drake, Maleek Berry, Sarkodie, M.anifest, King Promise, Stonebwoy, Wizkid, Davido, Mr Eazi, Burna Boy and Joey Badass as his biggest musical inspirations. Herman made history by being the youngest Ghanaian musician to organize his own concert dubbed "After Prep" in 2019.

In 2018, he performed in the United Kingdom at the Ghana Party in the Park event. In the same year, he performed on the Tidal Rave stage and capped off the year at Mr Eazi & M.anifest's end-of-year concerts, Detty Rave and Manifestivities respectively.

Achievements
Herman made history by being the youngest Ghanaian musician to organize his own concert dubbed "After Prep" in the year 2019.

Follow Boomplay and keep up-to-date with the latest songs of Herman Suede and information.

Herman Suede's Songs
• One By One
• Naa kwarley
• Star
• My Everything
• Questions
• Muje
• The Friendzone
• Let Loose
• Knock Knock
• Be Mine
• Wavii
• Pretty Mama
• African Prince
• Free
• On My Own
• Medawaase
• Meant for You
• Let It Flow
• Knock Knock
• Down (featured)
• Womba

Suede's Songs are included in Boomplay music playlists. Search, stream, and download Suede's Songs, her latest singles and albums in MP3 only on the Boomplay platform for free....more

Country/Region : Ghana
Listen to Herman Suede's new songs including "One by one", "Naa kwarley", "Star" and many more. Enjoy Herman Suede's latest songs and explore the Herman Suede's new music albums. If you want to download Herman Suede songs MP3, use the Boomplay App to download the Herman Suede songs for free. Discover Herman Suede's latest songs, popular songs, trending songs all on Boomplay.
Jason Herman Bortei- Doku professionally known as Herman Suede is a young Ghanaian musician. Many of Suede's Songs became very popular and trendy on social media in line with a great number of streaming and downloads on Boomplay.

Born on 21 November 2002, the young talented singer is known for his catchy hooks, lyrical ability and unique fashion sense. In his short career, Herman has collaborated with Africa's rap phenom Sarkodie (rapper), RJZ from the La Meme Gang Collective and been endorsed by Ghanaian rapper M.anifest.

His debut EP titled Hi I'm Herman was released in 2019. It has songs like "The Friendzone" and "Knock Knock" featuring the aforementioned RJZ.

Career
Herman Suede discovered his talent for music at the age of 5. Then, he started studying classical music on the piano and took formal music lessons. He started composing his own music shortly after that.

Herman fingers Drake, Maleek Berry, Sarkodie, M.anifest, King Promise, Stonebwoy, Wizkid, Davido, Mr Eazi, Burna Boy and Joey Badass as his biggest musical inspirations. Herman made history by being the youngest Ghanaian musician to organize his own concert dubbed "After Prep" in 2019.

In 2018, he performed in the United Kingdom at the Ghana Party in the Park event. In the same year, he performed on the Tidal Rave stage and capped off the year at Mr Eazi & M.anifest's end-of-year concerts, Detty Rave and Manifestivities respectively.

Achievements
Herman made history by being the youngest Ghanaian musician to organize his own concert dubbed "After Prep" in the year 2019.

Follow Boomplay and keep up-to-date with the latest songs of Herman Suede and information.

Herman Suede's Songs
• One By One
• Naa kwarley
• Star
• My Everything
• Questions
• Muje
• The Friendzone
• Let Loose
• Knock Knock
• Be Mine
• Wavii
• Pretty Mama
• African Prince
• Free
• On My Own
• Medawaase
• Meant for You
• Let It Flow
• Knock Knock
• Down (featured)
• Womba

Suede's Songs are included in Boomplay music playlists. Search, stream, and download Suede's Songs, her latest singles and albums in MP3 only on the Boomplay platform for free.
New Comments(
10

)
FAQs about Herman Suede
Where is Herman Suede from?
He is from Ghana.
How to download songs of Herman Suede?
You can download songs of Herman Suede from Boomplay App for free.
Firstly, install Boomplay app on your mobile phone.
Secondly, navigate to the song you would like to download.
Thirdly, Tap on More > Download.