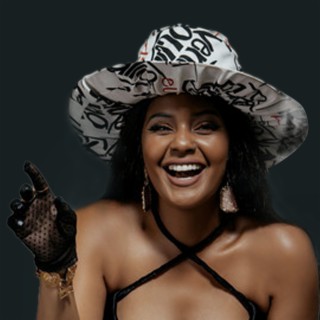 Mimi Mars
Current #3,947

All Time #4,339

Mimi Mars is a Tanzanian singer-songwriter born Marianne Namshali Mdee. She was born in Paris, France on June 21, 1992, and is the youngest sister of Tanzanian pop creator Vanessa Mdee and KTN anchor and Gospel singer, Nancy Hebron. Her musical designs embody Bongo Flava, R&B, and Pop. I am additionally AN actor, MC, YouTuber, and television host.

She was raised in Arusha, Tanzania, and attended Arusha trendy faculty additionally as St. Catherine's Mountain read in national capital, Kenya. She additionally holds a academic degree from Dar atomic number 99 Salaam's national capital University and a graduate in business enterprise management from Malaysia's Nilai University.

Born from a musical family, she and her previous siblings developed a passion for music as kids and performed at totally different family gatherings. In 2018, the 3 worked along to gift a song titled '' Beautiful Jesus ''. Many Mimi Mar's songs become very popular and trendy online with a great number of streaming and downloads on Boomplay.

CAREER
However, she created her debut within the music trade on Washington's Birthday, 2017, with the discharge of her 1st single '' Sugar '', that quickly climbed to the highest of charts in the geographic region.

With songs like "Niguse," "One Night" with creator Kagwe Mungai, "Ringtone," "Mua," "Leave ME," and "Younger" with Second Nikki, her music has dominated the charts of geographic region. alternative notable songs embody "Kodoo," "I Don't want," "Papara," "Dedee," and "Down," that she projected to figure with fast Rocka.

Follow Boomplay and keep up-to-date with the latest Mimi Mar's songs and information.

ACHIEVEMENT
In late 2018, Mimi launched her debut song project 'The Road' that was later promoted in 2019 throughout her visit to African country. The debut album contains duets with Kagwe Mungai (Kenya) and Nikki WA Pili (Tanzania).

She participated in Coke Studio continent 2019 as an enormous Break creator and performed aboard King Saha (Uganda) and Yared Negu (Ethiopia).

She is signed with Tanzanian company Mdee Music, that is managed by East Africa's foremost girl of pop Vanessa Mdee.

MIMI MAR'S SONGS
• Wenge
• Una
• Mia
• It doesn't matter
• Sitamani
• Kodoo
• Dedee
• Sugar
• Mia
• Niguse
• Niache

Mimi Mar's songs are included in Boomplay music playlists. Search to stream and download Mimi Mar's songs MP3/Single/Albums on the platform....more

Country/Region : Tanzania
Listen to Mimi Mars's new songs including "Una ft. Young Lunya & Marioo", "Wenge", "Mua" and many more. Enjoy Mimi Mars's latest songs and explore the Mimi Mars's new music albums. If you want to download Mimi Mars songs MP3, use the Boomplay App to download the Mimi Mars songs for free. Discover Mimi Mars's latest songs, popular songs, trending songs all on Boomplay.
Mimi Mars is a Tanzanian singer-songwriter born Marianne Namshali Mdee. She was born in Paris, France on June 21, 1992, and is the youngest sister of Tanzanian pop creator Vanessa Mdee and KTN anchor and Gospel singer, Nancy Hebron. Her musical designs embody Bongo Flava, R&B, and Pop. I am additionally AN actor, MC, YouTuber, and television host.

She was raised in Arusha, Tanzania, and attended Arusha trendy faculty additionally as St. Catherine's Mountain read in national capital, Kenya. She additionally holds a academic degree from Dar atomic number 99 Salaam's national capital University and a graduate in business enterprise management from Malaysia's Nilai University.

Born from a musical family, she and her previous siblings developed a passion for music as kids and performed at totally different family gatherings. In 2018, the 3 worked along to gift a song titled '' Beautiful Jesus ''. Many Mimi Mar's songs become very popular and trendy online with a great number of streaming and downloads on Boomplay.

CAREER
However, she created her debut within the music trade on Washington's Birthday, 2017, with the discharge of her 1st single '' Sugar '', that quickly climbed to the highest of charts in the geographic region.

With songs like "Niguse," "One Night" with creator Kagwe Mungai, "Ringtone," "Mua," "Leave ME," and "Younger" with Second Nikki, her music has dominated the charts of geographic region. alternative notable songs embody "Kodoo," "I Don't want," "Papara," "Dedee," and "Down," that she projected to figure with fast Rocka.

Follow Boomplay and keep up-to-date with the latest Mimi Mar's songs and information.

ACHIEVEMENT
In late 2018, Mimi launched her debut song project 'The Road' that was later promoted in 2019 throughout her visit to African country. The debut album contains duets with Kagwe Mungai (Kenya) and Nikki WA Pili (Tanzania).

She participated in Coke Studio continent 2019 as an enormous Break creator and performed aboard King Saha (Uganda) and Yared Negu (Ethiopia).

She is signed with Tanzanian company Mdee Music, that is managed by East Africa's foremost girl of pop Vanessa Mdee.

MIMI MAR'S SONGS
• Wenge
• Una
• Mia
• It doesn't matter
• Sitamani
• Kodoo
• Dedee
• Sugar
• Mia
• Niguse
• Niache

Mimi Mar's songs are included in Boomplay music playlists. Search to stream and download Mimi Mar's songs MP3/Single/Albums on the platform.
New Comments(
96

)
FAQs about Mimi Mars
Where is Mimi Mars from?
She is from Tanzania.
What are the latest songs of Mimi Mars?
The latest songs of Mimi Mars are Ohoo ft. Baddest 47, Mi Casa Su Casa and La La ft. Marioo.
What are the best songs of Mimi Mars?
The best songs of Mimi Mars are La La ft. Marioo, Una ft. Young Lunya & Marioo and Wenge.
What are the best albums of Mimi Mars?
The best albums of Mimi Mars are La La, Una and Wenge.
How to download songs of Mimi Mars?
You can download songs of Mimi Mars from Boomplay App for free.
Firstly, install Boomplay app on your mobile phone.
Secondly, navigate to the song you would like to download.
Thirdly, Tap on More > Download.