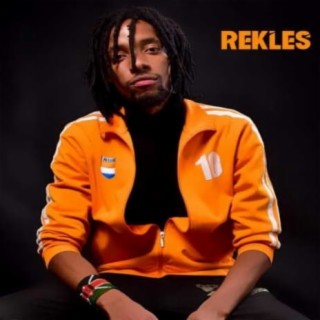 Rekles
Current #5,082

All Time #3,667

He is the main man. Rumors abounded that he was leaving the group to pursue a solo career. These rumors were given credence when Reckless released a collabo 'Kesi Baadaye' with Kanari and Shigha Ree-both upstart artistes. Their official DJ, DJ Kasha, rubbished the talks saying the group was intact.

All that is known is that he was born on April 24, but the year is unknown. The Ethic Entertainment group is renowned in Kenya as the four ghetto kids that became a national phenomenon, meaning that their upbringing was probably in the same area. Not much is known about Rekless from Ethic background and personal life aside from the fact that he hails from the renowned "Eastlands" region of Nairobi.

Ordinarily, Rekless stands out in every crowd he hangs out with, even in music videos with his unique style of a bandana and local boy vibe. In his music, Rekless speaks about poverty, and the plights of numerous artists under the current set-up. His conscious style of music, which he probably moulded from his influence growing up, is quite remarkable. Many Reckless songs become very popular and trendy online with a great number of streaming and downloads on Boomplay.

CAREER AND ACHIEVEMENTS
Rekless went to school with Seska Rekless and Seska have known each other for a long time. Interestingly, they went to school together and probably grew up in the same neighbourhood. Without a doubt, the two are the most recognizable members of the group and loved by many fans. Their similarity, of course, might be because of their long history together.

Rekless and Seska chose to begin music together after realizing that they are heavily talented and would make it big in the entertainment industry. However, the duo never knew that they would rise to their current stature, which has more to do with releasing the appropriate music at the right time.

One of the most recent ones that has already garnered more than 200,000 views on YouTube is Deep Down. He released this song on September 17, and it has a fantastic video that represents his rapping style pretty well. The song has a hip hop, and dancehall vibe and the audio is mastered by Motif di Don, one of Kenya's most significant producers.

You have probably heard him mentioned in various songs by Kaligraph Jones in the beginning section. Deep Down is the first single under House of Badass. Another of Rekless' great hit, although it lacks a video is Staki Staki that was mixed and mastered at Blawckwhite Records.

Other great Rekless songs in the popular artist's solo project are "Geezer," and Ghost Ya Amina Dada. Of course, Rekless has been part of Ethic entertainment significant hits including Lamba Lolo, that created a lot of controversy in Kenya. At this time, people hadn't come around the Gengetone ideology that mostly included raw songs and upcoming artists sinning and rapping in vulgar language.

Follow Boomplay and keep up-to-date with the latest Reckless songs and information.

Rekless Songs
• SOTA
• Bazenga
• Pandana
• Tarimbo
• Dondoka
• Zamani
• Daktari
• Thao
• Figa
• Bloody War
• Chapa Chapa
• Aweh Di Gyal
• Gengetone Cypher
• Weka Piano
• Kondiko
• Soko
• Chingri
• Wasikuchoche
• Lawama
• Beer Mbili
• Staki Staki
• Katika
• Toto La Mdose
• Pandana Instrumental
• Lawama II
• ToTo
• Daktari Instrumental
• Fatuma
• Blanda
• How Do You Know
• Chapa Chapa Instrumental
• Sugua
• Staga Nikimedi

Reckless songs are included in Boomplay music playlists. Search to stream and download Reckless songs MP3/ single/ albums on the platform....more

Country/Region : Kenya
Listen to Rekles's new songs including "SOTA", "Zamani ft. Odi wa Murang'a & NELLY THE GOON", "Blanda" and many more. Enjoy Rekles's latest songs and explore the Rekles's new music albums. If you want to download Rekles songs MP3, use the Boomplay App to download the Rekles songs for free. Discover Rekles's latest songs, popular songs, trending songs all on Boomplay.
He is the main man. Rumors abounded that he was leaving the group to pursue a solo career. These rumors were given credence when Reckless released a collabo 'Kesi Baadaye' with Kanari and Shigha Ree-both upstart artistes. Their official DJ, DJ Kasha, rubbished the talks saying the group was intact.

All that is known is that he was born on April 24, but the year is unknown. The Ethic Entertainment group is renowned in Kenya as the four ghetto kids that became a national phenomenon, meaning that their upbringing was probably in the same area. Not much is known about Rekless from Ethic background and personal life aside from the fact that he hails from the renowned "Eastlands" region of Nairobi.

Ordinarily, Rekless stands out in every crowd he hangs out with, even in music videos with his unique style of a bandana and local boy vibe. In his music, Rekless speaks about poverty, and the plights of numerous artists under the current set-up. His conscious style of music, which he probably moulded from his influence growing up, is quite remarkable. Many Reckless songs become very popular and trendy online with a great number of streaming and downloads on Boomplay.

CAREER AND ACHIEVEMENTS
Rekless went to school with Seska Rekless and Seska have known each other for a long time. Interestingly, they went to school together and probably grew up in the same neighbourhood. Without a doubt, the two are the most recognizable members of the group and loved by many fans. Their similarity, of course, might be because of their long history together.

Rekless and Seska chose to begin music together after realizing that they are heavily talented and would make it big in the entertainment industry. However, the duo never knew that they would rise to their current stature, which has more to do with releasing the appropriate music at the right time.

One of the most recent ones that has already garnered more than 200,000 views on YouTube is Deep Down. He released this song on September 17, and it has a fantastic video that represents his rapping style pretty well. The song has a hip hop, and dancehall vibe and the audio is mastered by Motif di Don, one of Kenya's most significant producers.

You have probably heard him mentioned in various songs by Kaligraph Jones in the beginning section. Deep Down is the first single under House of Badass. Another of Rekless' great hit, although it lacks a video is Staki Staki that was mixed and mastered at Blawckwhite Records.

Other great Rekless songs in the popular artist's solo project are "Geezer," and Ghost Ya Amina Dada. Of course, Rekless has been part of Ethic entertainment significant hits including Lamba Lolo, that created a lot of controversy in Kenya. At this time, people hadn't come around the Gengetone ideology that mostly included raw songs and upcoming artists sinning and rapping in vulgar language.

Follow Boomplay and keep up-to-date with the latest Reckless songs and information.

Rekless Songs
• SOTA
• Bazenga
• Pandana
• Tarimbo
• Dondoka
• Zamani
• Daktari
• Thao
• Figa
• Bloody War
• Chapa Chapa
• Aweh Di Gyal
• Gengetone Cypher
• Weka Piano
• Kondiko
• Soko
• Chingri
• Wasikuchoche
• Lawama
• Beer Mbili
• Staki Staki
• Katika
• Toto La Mdose
• Pandana Instrumental
• Lawama II
• ToTo
• Daktari Instrumental
• Fatuma
• Blanda
• How Do You Know
• Chapa Chapa Instrumental
• Sugua
• Staga Nikimedi

Reckless songs are included in Boomplay music playlists. Search to stream and download Reckless songs MP3/ single/ albums on the platform.
New Comments(
120

)
FAQs about Rekles
Where is Rekles from?
He is from Kenya.
What are the latest songs of Rekles?
The latest songs of Rekles are Shot Ya Whisky, Polythene Bag and Distance ft. Nay Wa Mitego.
What are the best songs of Rekles?
The best songs of Rekles are Kalale ft. Ssaru, willis raburu, BreederLw & Mejja, SOTA and Zamani ft. Odi wa Murang'a & NELLY THE GOON.
What are the best albums of Rekles?
The best albums of Rekles are Sota, Zamani and Blanda.
How to download songs of Rekles?
You can download songs of Rekles from Boomplay App for free.
Firstly, install Boomplay app on your mobile phone.
Secondly, navigate to the song you would like to download.
Thirdly, Tap on More > Download.