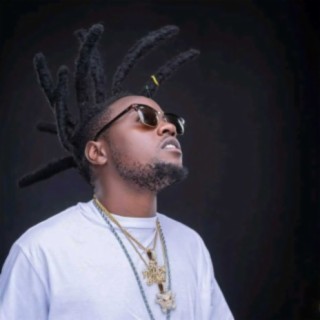 Parroty
Current #13.6k

All Time #4,990

Parroty popularly known as Mr Vunulu or in othr simpler terms The Voice Killer is Kenyan a Rapper, Songwriter, Producer And a Recording artist currently based in kenya. Parroty is a derived name from a bird(Parrot) meaning he likes to talk more. Many of Parroty's Songs became very popular and trendy on social media in line with a great number of streaming and downloads on Boomplay.

Career.
Parroty got his major Hit song success with Nyonya, Pu Pu Pu, Niko Thirsty, Tuko Locked and Recent hit Lewa. Parroty hails From Wakanda Nation also known as the Luhya Nation from the Western Parts of Kenya and most of his music is a blend of Gengetone and vernacular Luhya language.

He is a Co-Founder of Wanati Movement with Dmore and Nelly the Goon of the famous gengetone group Ochungulo Family, the Voice of the Ghetto. Wanati is a music platform that focuses on mentoring young upcoming artists to limelight through recordings and promotions.

Through WANATI new talent has been discovered especially in the streets of Nairobi e.g Ssaru, Adi Chokoch, Kappy and Vintage Clan. At a tender age, Parroty used to do freestyles and make his own beats whenever he was bored and this really boosted his talent and passion for music.

He is featured on Boomplays playlist Focus: Parroty where all his songs have been promoted gaining over 3k streams. He has had quite a success on Boomplay with his total jams gaining massive hits of over 2.6 Million streams. Follow Boomplay and keep up-to-date with the latest songs of Parroty and information.

Parroty's Songs
• Vunulu
• Sheshe
• Joni ft Kabagazi, Mejja and Oneboy
• Nyonya ft Dmore, Seska and Kappy
• Lewa ft Mejja, Kabagazi and Oneboy
• Zimenyinyo ft Naiboi
• Chamama Na Chababa
• Pum Pum Pekee ft Dmore and Addi Chokoch
• Kamanyatin ft Kabagazi and Oneboy
• Kanuthu
• Rithem

Parroty's Songs are included in Boomplay music playlists. Search, stream, and download Parroty's Songs, his latest singles and albums in MP3 only on the Boomplay platform for free....more

Country/Region : Kenya
Songs

(29)

Albums

(23)

Playlists

(19)
1

2

3

4

5

6

7

8

9

10

11

12

13

14

15

16

17

18

19

20

21

22

23

24

25

26

27

28

29
Listen to Parroty's new songs including "Joni ft. Kabagazi, Mejja & Oneboi", "Nyonya ft. Dmore, Seska & Kappy", "Lewa ft. Mejja, Kabagazi & Oneboy 🅴" and many more. Enjoy Parroty's latest songs and explore the Parroty's new music albums. If you want to download Parroty songs MP3, use the Boomplay App to download the Parroty songs for free. Discover Parroty's latest songs, popular songs, trending songs all on Boomplay.
Parroty popularly known as Mr Vunulu or in othr simpler terms The Voice Killer is Kenyan a Rapper, Songwriter, Producer And a Recording artist currently based in kenya. Parroty is a derived name from a bird(Parrot) meaning he likes to talk more. Many of Parroty's Songs became very popular and trendy on social media in line with a great number of streaming and downloads on Boomplay.

Career.
Parroty got his major Hit song success with Nyonya, Pu Pu Pu, Niko Thirsty, Tuko Locked and Recent hit Lewa. Parroty hails From Wakanda Nation also known as the Luhya Nation from the Western Parts of Kenya and most of his music is a blend of Gengetone and vernacular Luhya language.

He is a Co-Founder of Wanati Movement with Dmore and Nelly the Goon of the famous gengetone group Ochungulo Family, the Voice of the Ghetto. Wanati is a music platform that focuses on mentoring young upcoming artists to limelight through recordings and promotions.

Through WANATI new talent has been discovered especially in the streets of Nairobi e.g Ssaru, Adi Chokoch, Kappy and Vintage Clan. At a tender age, Parroty used to do freestyles and make his own beats whenever he was bored and this really boosted his talent and passion for music.

He is featured on Boomplays playlist Focus: Parroty where all his songs have been promoted gaining over 3k streams. He has had quite a success on Boomplay with his total jams gaining massive hits of over 2.6 Million streams. Follow Boomplay and keep up-to-date with the latest songs of Parroty and information.

Parroty's Songs
• Vunulu
• Sheshe
• Joni ft Kabagazi, Mejja and Oneboy
• Nyonya ft Dmore, Seska and Kappy
• Lewa ft Mejja, Kabagazi and Oneboy
• Zimenyinyo ft Naiboi
• Chamama Na Chababa
• Pum Pum Pekee ft Dmore and Addi Chokoch
• Kamanyatin ft Kabagazi and Oneboy
• Kanuthu
• Rithem

Parroty's Songs are included in Boomplay music playlists. Search, stream, and download Parroty's Songs, his latest singles and albums in MP3 only on the Boomplay platform for free.
New Comments(
16

)