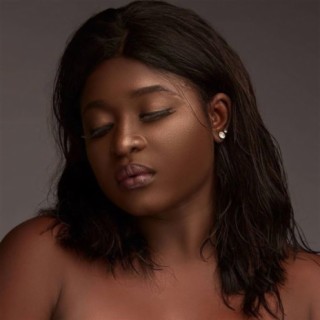 Verony
Current #20.4k

All Time #10.7k

Agatha Veronica Swatson, popularly known as Verony, is a Ghanaian soul fusion artist.
Many Verony songs become very popular and trendy online with a great number of streaming and downloads on Boomplay.


Career
She is gradually making her name in the music industry. Her first attempt at music was in 2016 when she tried out the MTN hits Maker season5 while studying at the National Film and Television Institute (NAFTI). She sailed through till the semi-finals then got eliminated.

She then took up music as a career and went on to better her craft, voice and skills in music. She put together a live band and her soothing voice and performance in no time got her the chance to perform at hotels, weddings, parties, within which she had the chance to perform for the Spanish ambassador and her entourage at the James town cafe.
After years perfecting her craft, Verony then tried out in 2018 the Vodafone icons.
Her first performance of "Beneath Your Beautiful" by Labrinth featuring Emely Sanders, broke the internet, which earned her a spot as the first runner up in the competition.
Follow Boomplay and keep up to date with the latest Verony songs and information.


Songs and Albums
• Naked
• Sex
• Not Tonight
• Back To You
• African Loving
• Ecstasy
• Sexxx (Album)
• We Outside
• Alomo


Verony songs are included in Boomplay music playlists. Search to stream and download Verony songs MP3/ single/ albums on the platform....more

Country/Region : Ghana
Songs

(10)

Albums

(4)

Playlists

(28)
Listen to Verony's new songs including "Ecstacy ft. OV", "Oh Baby", "Sex" and many more. Enjoy Verony's latest songs and explore the Verony's new music albums. If you want to download Verony songs MP3, use the Boomplay App to download the Verony songs for free. Discover Verony's latest songs, popular songs, trending songs all on Boomplay.
Agatha Veronica Swatson, popularly known as Verony, is a Ghanaian soul fusion artist.
Many Verony songs become very popular and trendy online with a great number of streaming and downloads on Boomplay.


Career
She is gradually making her name in the music industry. Her first attempt at music was in 2016 when she tried out the MTN hits Maker season5 while studying at the National Film and Television Institute (NAFTI). She sailed through till the semi-finals then got eliminated.

She then took up music as a career and went on to better her craft, voice and skills in music. She put together a live band and her soothing voice and performance in no time got her the chance to perform at hotels, weddings, parties, within which she had the chance to perform for the Spanish ambassador and her entourage at the James town cafe.
After years perfecting her craft, Verony then tried out in 2018 the Vodafone icons.
Her first performance of "Beneath Your Beautiful" by Labrinth featuring Emely Sanders, broke the internet, which earned her a spot as the first runner up in the competition.
Follow Boomplay and keep up to date with the latest Verony songs and information.


Songs and Albums
• Naked
• Sex
• Not Tonight
• Back To You
• African Loving
• Ecstasy
• Sexxx (Album)
• We Outside
• Alomo


Verony songs are included in Boomplay music playlists. Search to stream and download Verony songs MP3/ single/ albums on the platform.
New Comments(
7

)
FAQs about Verony
Where is Verony from?
She is from Ghana.
What are the latest songs of Verony?
The latest songs of Verony are All I Want (Acoustic), Oh Baby and Ashi Me.
What are the best songs of Verony?
The best songs of Verony are Ecstacy ft. OV, Alomo and Oh Baby.
What are the best albums of Verony?
The best albums of Verony are SEXXX, Alomo and Oh Baby.
How to download songs of Verony?
You can download songs of Verony from Boomplay App for free.
Firstly, install Boomplay app on your mobile phone.
Secondly, navigate to the song you would like to download.
Thirdly, Tap on More > Download.