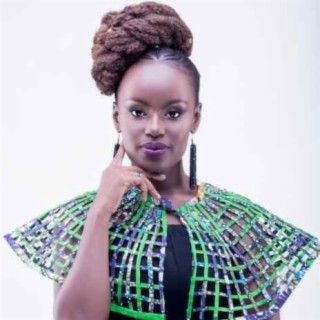 Makena (KE)
Current #25.4k

All Time #17.2k

Yvonne Makena professionally known as Makena is a Kenyan gospel singer, songwriter, worship leader and television personality. Makena is popularly known for her 2012 hit Hautaniacha which has since become a gospel classic being covered numerous times by various artists. Many of Makena's songs become very popular and trendy online with a great number of streaming and downloads on Boomplay.

Yvonne holds a Bachelor degree in Health Services Management. She made her first debut as a TV host in 2013 and 2014 for Citizen TV for the seasonal morning show Pambazuka, alongside Dj Touch. This, as well as numerous concerts, Christian missions, and corporate events she has participated in, have been major highlights on her musical journey.

CAREER
Makena gained popularity in 2012 when she released her hit song titled 'Najua Hutaniacha' which was well received by fans many praising its hopeful message. She followed it up with a soulful prayer, 'Nilinde' which also won the hearts of many. It speaks of the protection of God in life's journey despite numerous attacks by the enemy to steal, kill and destroy.

Makena Songs
Makena has only released 4 songs throughout her career which include;
• 'Najua Hutaniacha'
• 'Nilinde'
• 'Narudi'
• 'Kwa Jina Lako'

Follow Boomplay and keep up-to-date with the latest Makena's songs and information.

ACHIEVEMENTS
• 'Najua Hutaniacha', bagged Worship Song Of The Year at the annual Groove awards in 2013.
• Makena has surpassed over 350,000 streams on Boomplay and 344,000 views on Youtube.

Makena's songs are included in Boomplay music playlists. Search to stream and download Makena's songs MP3/ single/ albums on the platform....more

Country/Region : Kenya
Songs

(3)

Albums

(3)

Playlists

(10)
Listen to Makena (KE)'s new songs including "Najua Hutaniacha", "Nilinde", "Narudi" and many more. Enjoy Makena (KE)'s latest songs and explore the Makena (KE)'s new music albums. If you want to download Makena (KE) songs MP3, use the Boomplay App to download the Makena (KE) songs for free. Discover Makena (KE)'s latest songs, popular songs, trending songs all on Boomplay.
Yvonne Makena professionally known as Makena is a Kenyan gospel singer, songwriter, worship leader and television personality. Makena is popularly known for her 2012 hit Hautaniacha which has since become a gospel classic being covered numerous times by various artists. Many of Makena's songs become very popular and trendy online with a great number of streaming and downloads on Boomplay.

Yvonne holds a Bachelor degree in Health Services Management. She made her first debut as a TV host in 2013 and 2014 for Citizen TV for the seasonal morning show Pambazuka, alongside Dj Touch. This, as well as numerous concerts, Christian missions, and corporate events she has participated in, have been major highlights on her musical journey.

CAREER
Makena gained popularity in 2012 when she released her hit song titled 'Najua Hutaniacha' which was well received by fans many praising its hopeful message. She followed it up with a soulful prayer, 'Nilinde' which also won the hearts of many. It speaks of the protection of God in life's journey despite numerous attacks by the enemy to steal, kill and destroy.

Makena Songs
Makena has only released 4 songs throughout her career which include;
• 'Najua Hutaniacha'
• 'Nilinde'
• 'Narudi'
• 'Kwa Jina Lako'

Follow Boomplay and keep up-to-date with the latest Makena's songs and information.

ACHIEVEMENTS
• 'Najua Hutaniacha', bagged Worship Song Of The Year at the annual Groove awards in 2013.
• Makena has surpassed over 350,000 streams on Boomplay and 344,000 views on Youtube.

Makena's songs are included in Boomplay music playlists. Search to stream and download Makena's songs MP3/ single/ albums on the platform.
New Comments(
8

)