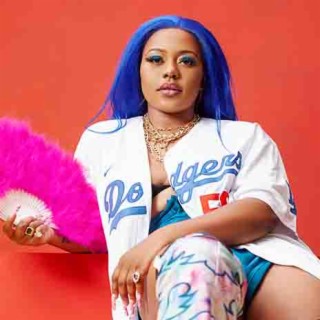 Towela Kaira
Current #11.7k

All Time #9,496

Towela Kaira is a recording artist based in Lusaka Zambia. does live music and is a music enthusiast. Many of Towela's Songs became very popular and trendy on social media in line with a great number of streaming and downloads on Boomplay. She was born in Lusaka and raised together with her superstar brothers Macky 2 and Chef 187.

Career
From a young age, Towela loved music. She was following in the steps of her elder brothers Macky 2 and Chef 187 who had also started music at an early age. While in high school in Ndola, she did a lot of freestyle music from inspiration by Macky 2 who had just released his first album and was getting a lot of love.

In 2010, Towela joined the University of Zambia and pursued a degree in Microbiology which she completed in 2014. All this time, she still did a little bit of music while focusing on her studies. It is after completing her degree that she dived into professional music although not immediately. She backed artists and performed a lot of live concerts.

In 2019, she released her first single dubbed 'Gold' and it was well received. A while later, she featured in Yo Maps' song 'One Day'. Towela also worked with her two brothers; Chef and Macky 2. She featured in Chef's 'Bon Appetit' album and had a collabo with Macky 2 dubbed 'Delay'. Towela has worked with many other artistes such as Bow Chase, Tim and T-Sean. In 2020, she signed up with Nexus Music and has released two singles so far. Follow Boomplay and keep up to date with the latest songs of Towela Kaira and information.

Towela Top Songs
• Lover
• Nalema
• Manana
• No Drama
• Mankangala
• You

Towela's Songs are included in Boomplay music playlists. Search, stream, and download Towela's Songs, the latest singles and albums in MP3 only on the Boomplay platform for free....more

Country : Zambia
Songs

(0)

Albums

(0)

Playlists

(0)

Similar Artists

(10)
Listen to Towela Kaira's new songs including and many more. Enjoy Towela Kaira's latest songs and explore the Towela Kaira's new music albums. If you want to download Towela Kaira songs MP3, use the Boomplay App to download the Towela Kaira songs for free. Discover Towela Kaira's latest songs, popular songs, trending songs all on Boomplay.
Towela Kaira is a recording artist based in Lusaka Zambia. does live music and is a music enthusiast. Many of Towela's Songs became very popular and trendy on social media in line with a great number of streaming and downloads on Boomplay. She was born in Lusaka and raised together with her superstar brothers Macky 2 and Chef 187.

Career
From a young age, Towela loved music. She was following in the steps of her elder brothers Macky 2 and Chef 187 who had also started music at an early age. While in high school in Ndola, she did a lot of freestyle music from inspiration by Macky 2 who had just released his first album and was getting a lot of love.

In 2010, Towela joined the University of Zambia and pursued a degree in Microbiology which she completed in 2014. All this time, she still did a little bit of music while focusing on her studies. It is after completing her degree that she dived into professional music although not immediately. She backed artists and performed a lot of live concerts.

In 2019, she released her first single dubbed 'Gold' and it was well received. A while later, she featured in Yo Maps' song 'One Day'. Towela also worked with her two brothers; Chef and Macky 2. She featured in Chef's 'Bon Appetit' album and had a collabo with Macky 2 dubbed 'Delay'. Towela has worked with many other artistes such as Bow Chase, Tim and T-Sean. In 2020, she signed up with Nexus Music and has released two singles so far. Follow Boomplay and keep up to date with the latest songs of Towela Kaira and information.

Towela Top Songs
• Lover
• Nalema
• Manana
• No Drama
• Mankangala
• You

Towela's Songs are included in Boomplay music playlists. Search, stream, and download Towela's Songs, the latest singles and albums in MP3 only on the Boomplay platform for free.
New Comments(
11

)