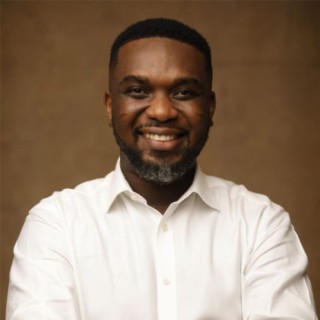 Joe Mettle
Current #1,860

All Time #1,013

Joe although a marketer by profession, is a worshiper by calling. He was born to Florence Addo and Emmanuel Mettle and is the eldest of six children. Joe started his education at the Richard Akwei Memorial School and later moved to Kade 1&2 Primary School (Kade) where he spent about a year before returning to Accra, to the St. Michael's and All Angels.

He continued to Korle Gonno 3 Junior High School (JHS) and obtained his Senior High School Certificate from the His Majesty Academy. Prior to His Majesty Academy, he studied draftsmanship at the Modern School of Draftsmanship (MODESCO). He then attended the Pentecost University College, a private Christian university college located at Sowutuom in Accra.

Many of Joe Mettle songs, like Yesu Mo, become very popular and trendy online with great number of streaming and downloads on Boomplay now.

CAREER AND ACHIEVEMENTS
During his early days of singing, he worked as a backing vocalist for some Ghanaian Gospel greats including Cindy Thompson, late Danny Nettey, and Reverend Tom Bright Davies. Joe Mettle was the lead singer for the indigenous multicultural music group, Soul Winners. He has won the Artiste of the Year, Gospel Artiste of the Year and the Male Vocalist Artiste of the Year at the 2017 Vodafone Ghana Music Awards (VGMA).

His award for Artiste of the Year was considered historical as he was the first Gospel artiste to win in this category since the conception of these awards. Joe has also won over 10 local and international awards.

Joe Mettle has won several awards at Africa Gospel Music Awards, Gospel industry Awards, African Gospel Awards (UK), CCML Ghana Gospel Awards, Bass Awards and RIGA Awards (South Africa). Joe has featured on the popular South African Broadcasting Corporation's TV show titled, "Gospel Classics" which also highlighted Donnie McClurkin. He received the Best Male Gospel Artiste in Africa at the Trumpet Gospel Awards held in South Africa.

He has many nationwide hit songs including "Nhyira" (meaning-Blessing), "Medɔ Wo", "Akokyem Nyame", "Mensuro" (meaning-I will not fear), "Turning Around" and "Yesu Adi Nkunim" (meaning-Christ is Victorious) to his credit. His latest hit that earned him nominations at 2017's VGMA is titled "Ɔnwanwani" (meaning-God of Wonders). He has five albums to his credit. They are "My Gratitude" (2011), "Sound of Praise" (2013),"The Encounter" (2015),"God of Miracles" (2017) and "Wind Of Revival" (2019). He was together with Diana Hamilton opened the second day of the 2021 VGMA awards with a performance.

In 2007, Joe Mettle Ministries was founded. The Ministry has two major annual headline events; Praiz Reloaded, midyear and Lovegift in December every year.

Joe is the manager at Reverb Studios, which is a rehearsal and recording studio in Accra. The company provides musical equipment rental, as well as music and marketing consultancy services. Joe married Salomey Selassie Dzisa in a traditional marriage ceremony in Accra on August 13, 2020 and followed with an official wedding ceremony in Tema.

Follow Boomplay and keep up to date with latest Joe Mettle songs and information. Joe Mettle songs are included in Boomplay music playlists. Search to stream and download Joe Mettle songs MP3/ single/ albums on the Boomplay....more

Country/Region : Ghana
Listen to Joe Mettle's new songs including "Nkwagye Kuruwa", "Me Dan Wo (feat. Kweku Teye)", "Ye Obua Mi" and many more. Enjoy Joe Mettle's latest songs and explore the Joe Mettle's new music albums. If you want to download Joe Mettle songs MP3, use the Boomplay App to download the Joe Mettle songs for free. Discover Joe Mettle's latest songs, popular songs, trending songs all on Boomplay.
Joe although a marketer by profession, is a worshiper by calling. He was born to Florence Addo and Emmanuel Mettle and is the eldest of six children. Joe started his education at the Richard Akwei Memorial School and later moved to Kade 1&2 Primary School (Kade) where he spent about a year before returning to Accra, to the St. Michael's and All Angels.

He continued to Korle Gonno 3 Junior High School (JHS) and obtained his Senior High School Certificate from the His Majesty Academy. Prior to His Majesty Academy, he studied draftsmanship at the Modern School of Draftsmanship (MODESCO). He then attended the Pentecost University College, a private Christian university college located at Sowutuom in Accra.

Many of Joe Mettle songs, like Yesu Mo, become very popular and trendy online with great number of streaming and downloads on Boomplay now.

CAREER AND ACHIEVEMENTS
During his early days of singing, he worked as a backing vocalist for some Ghanaian Gospel greats including Cindy Thompson, late Danny Nettey, and Reverend Tom Bright Davies. Joe Mettle was the lead singer for the indigenous multicultural music group, Soul Winners. He has won the Artiste of the Year, Gospel Artiste of the Year and the Male Vocalist Artiste of the Year at the 2017 Vodafone Ghana Music Awards (VGMA).

His award for Artiste of the Year was considered historical as he was the first Gospel artiste to win in this category since the conception of these awards. Joe has also won over 10 local and international awards.

Joe Mettle has won several awards at Africa Gospel Music Awards, Gospel industry Awards, African Gospel Awards (UK), CCML Ghana Gospel Awards, Bass Awards and RIGA Awards (South Africa). Joe has featured on the popular South African Broadcasting Corporation's TV show titled, "Gospel Classics" which also highlighted Donnie McClurkin. He received the Best Male Gospel Artiste in Africa at the Trumpet Gospel Awards held in South Africa.

He has many nationwide hit songs including "Nhyira" (meaning-Blessing), "Medɔ Wo", "Akokyem Nyame", "Mensuro" (meaning-I will not fear), "Turning Around" and "Yesu Adi Nkunim" (meaning-Christ is Victorious) to his credit. His latest hit that earned him nominations at 2017's VGMA is titled "Ɔnwanwani" (meaning-God of Wonders). He has five albums to his credit. They are "My Gratitude" (2011), "Sound of Praise" (2013),"The Encounter" (2015),"God of Miracles" (2017) and "Wind Of Revival" (2019). He was together with Diana Hamilton opened the second day of the 2021 VGMA awards with a performance.

In 2007, Joe Mettle Ministries was founded. The Ministry has two major annual headline events; Praiz Reloaded, midyear and Lovegift in December every year.

Joe is the manager at Reverb Studios, which is a rehearsal and recording studio in Accra. The company provides musical equipment rental, as well as music and marketing consultancy services. Joe married Salomey Selassie Dzisa in a traditional marriage ceremony in Accra on August 13, 2020 and followed with an official wedding ceremony in Tema.

Follow Boomplay and keep up to date with latest Joe Mettle songs and information. Joe Mettle songs are included in Boomplay music playlists. Search to stream and download Joe Mettle songs MP3/ single/ albums on the Boomplay.
FAQs about Joe Mettle
Where is Joe Mettle from?
He is from Ghana.
What are the latest songs of Joe Mettle?
The latest songs of Joe Mettle are Me Dan Wo (feat. Kweku Teye), New Halleluyah and The Word ft. Prophet Edem.
What are the best songs of Joe Mettle?
The best songs of Joe Mettle are Yesu Mo, My Everything and Ye Obua Mi (My Help).
What are the best albums of Joe Mettle?
The best albums of Joe Mettle are Wind of Revival, The Kadosh (Live) and The Experience.
How to download songs of Joe Mettle?
You can download songs of Joe Mettle from Boomplay App for free.
Firstly, install Boomplay app on your mobile phone.
Secondly, navigate to the song you would like to download.
Thirdly, Tap on More > Download.