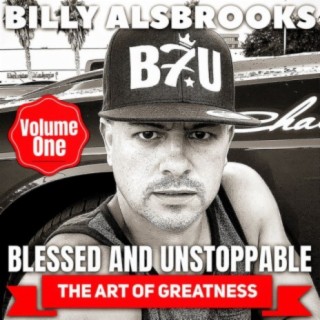 Billy Alsbrooks
Current #99k+

All Time #20.2k

TO BOOK BILLY TO SPEAK AT YOUR NEXT EVENT CALL: 407-310-3275

World Influencer Dr. Billy Alsbrooks, Jr.is a former Billboard recording artist, songwriter, and hit music producer who became a born again Christian in 2008.

Since graduating from FCU, with a major in Bible Ministry, Billy has become a powerful and passionate motivational speaker, top selling author, thought surgeon, and success engineer. His viral inspirational videos have currently been viewed more than 30 MILLION times on Youtube https://YouTube.com/billyalsbrooks His life changing book Blessed And Unstoppable has been sold in over 28 countries. Billy is also the founder of B7U Clothing. His motivational based apparel focuses on designs that uplift, motivate, and inspire people to greatness. Billy was recently awarded an Honorary Doctorate of Humanities for his positive Impact across the globe.

Billy is one of the most sought after speakers in the world because when he speaks, he doesn't just speak to the mind, ears, or the heart of the audience, he speaks directly to their spirit. His charismatic booming voice, profound delivery, and thought provoking words shake the foundation of every venue which he speaks. This is why NFL Teams and major corporations all over the world pay Billy to come speak to their organizations....more

Country : United States
Songs

(0)

Albums

(0)

Playlists

(0)
Listen to Billy Alsbrooks's new songs including and many more. Enjoy Billy Alsbrooks's latest songs and explore the Billy Alsbrooks's new music albums. If you want to download Billy Alsbrooks songs MP3, use the Boomplay App to download the Billy Alsbrooks songs for free. Discover Billy Alsbrooks's latest songs, popular songs, trending songs all on Boomplay.
TO BOOK BILLY TO SPEAK AT YOUR NEXT EVENT CALL: 407-310-3275

World Influencer Dr. Billy Alsbrooks, Jr.is a former Billboard recording artist, songwriter, and hit music producer who became a born again Christian in 2008.

Since graduating from FCU, with a major in Bible Ministry, Billy has become a powerful and passionate motivational speaker, top selling author, thought surgeon, and success engineer. His viral inspirational videos have currently been viewed more than 30 MILLION times on Youtube https://YouTube.com/billyalsbrooks His life changing book Blessed And Unstoppable has been sold in over 28 countries. Billy is also the founder of B7U Clothing. His motivational based apparel focuses on designs that uplift, motivate, and inspire people to greatness. Billy was recently awarded an Honorary Doctorate of Humanities for his positive Impact across the globe.

Billy is one of the most sought after speakers in the world because when he speaks, he doesn't just speak to the mind, ears, or the heart of the audience, he speaks directly to their spirit. His charismatic booming voice, profound delivery, and thought provoking words shake the foundation of every venue which he speaks. This is why NFL Teams and major corporations all over the world pay Billy to come speak to their organizations.