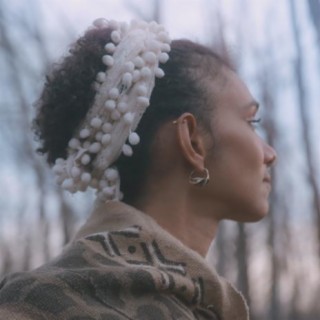 Amai Kuda Et Les Bois
Current #27.5k

All Time #8,336

Described by NOW magazine as a "tantalizing Afro-soul combo of folk, roots, desert blues and African continental music," AfroSoul Volume Volume III: Re' is the new EP from Amai Kuda et Les Bois. It is the follow-up to their full length release, AfroSoul Volume II: MaZai, hailed as "earthy and rootsy and good for your ears" by CBC's Errol Nazareth. Amai Kuda's debut album, Sand from the Sea, was considered "one of the year's most exciting discoveries" in 2012 (Nicholas Jennings - Canada's foremost music journalist and historian).

Amai Kuda et Les Bois have been featured in NOW magazine and on CBC's Canada Live and Big City Small World, as well as performed at venues like the Jane Mallett Theatre, Harbourfront, The Rivoli, and festivals such as Luminato, Kultrun, and Small World Music Festival. They've give workshops on music, decolonization, and African cultural knowledge at schools, universities, and community centres internationally. Selected as one of the '101 Standout Artists' during the nationwide CBC Searchlight competition (2015), they have opened for Joel Plaskett, Kellylee Evans and Sarah Slean, and collaborated with M1 of Dead Prez. Most recently the group won the Best Folk/Roots award and also placed 2nd for the Best Song across all categories at the Toronto Independent Music Awards. Whether on the street, the stage or in the studio, for Amai Kuda et Les Bois, music is about healing –the healing of the earth, our ancestors and ourselves. ynamai.com...more

Country/Region : United States
Songs

(21)

Albums

(6)

Playlists

(0)
1

2

3

4

5

6

7

8

9

10

11

12

13

14

15

16

17

18

19

20

21
Listen to Amai Kuda Et Les Bois's new songs including "Ecouché", "Eshu", "Cave" and many more. Enjoy Amai Kuda Et Les Bois's latest songs and explore the Amai Kuda Et Les Bois's new music albums. If you want to download Amai Kuda Et Les Bois songs MP3, use the Boomplay App to download the Amai Kuda Et Les Bois songs for free. Discover Amai Kuda Et Les Bois's latest songs, popular songs, trending songs all on Boomplay.
Described by NOW magazine as a "tantalizing Afro-soul combo of folk, roots, desert blues and African continental music," AfroSoul Volume Volume III: Re' is the new EP from Amai Kuda et Les Bois. It is the follow-up to their full length release, AfroSoul Volume II: MaZai, hailed as "earthy and rootsy and good for your ears" by CBC's Errol Nazareth. Amai Kuda's debut album, Sand from the Sea, was considered "one of the year's most exciting discoveries" in 2012 (Nicholas Jennings - Canada's foremost music journalist and historian).

Amai Kuda et Les Bois have been featured in NOW magazine and on CBC's Canada Live and Big City Small World, as well as performed at venues like the Jane Mallett Theatre, Harbourfront, The Rivoli, and festivals such as Luminato, Kultrun, and Small World Music Festival. They've give workshops on music, decolonization, and African cultural knowledge at schools, universities, and community centres internationally. Selected as one of the '101 Standout Artists' during the nationwide CBC Searchlight competition (2015), they have opened for Joel Plaskett, Kellylee Evans and Sarah Slean, and collaborated with M1 of Dead Prez. Most recently the group won the Best Folk/Roots award and also placed 2nd for the Best Song across all categories at the Toronto Independent Music Awards. Whether on the street, the stage or in the studio, for Amai Kuda et Les Bois, music is about healing –the healing of the earth, our ancestors and ourselves. ynamai.com
New Comments(
0

)

What do you think of this artist?