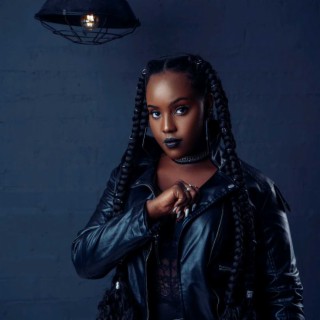 Nikita Kering'
Current #10.5k

All Time #4,914

Nikita Chepchumba Kering popularly known for her stage name Nikita Kering is a Kenyan musician, actress and media personality born on 26th Feb 2002 in Nairobi, Kenya. She attended Riara Springs Academy, Kilimani Junior Academy and Brookhouse International School were she completed her A-level studies from a partial scholarship given to support her musical career.

Many of Nikita's Songs became very popular and trendy on social media in line with a great number of streaming and downloads on Boomplay.
Career

Nikita started her career at an early age like in 2012, during an album launch by Emmy Kosgey, she sang to a huge audience and was critically acclaimed for her performance.

After signing a record deal with EmPawa Africa, she was selected to undergo an international training and mentoring program. She became a finalist during the concert but was deemed too young to perform at the highest stage.

Achievements
Nikita has no doubt achieved a great deal in music after and before her exposure to the world. She is known for her limelight song "Ex" which has over 1.3M streams on Boomplay.Nikita managed to be ranked on the list of most popular gospel singer and famous celebrity born in Kenya.

She earned a scholarship to study at the Brook House international school.She performed at Emmy Kosgei's album launch on National TV in 2011.She got the award for Best New Artiste on Pulse Music Video Awards in 2018.

She also got an award in 2019 for Best Female Artiste in Eastern Africa in the All African Music Awards.

In 2021, she got two awards in the All African Music Awards for Best RnB and Soul Artist and Best Female Artiste East Africa
Follow Boomplay and keep up-to-date with the latest songs of Nikita Kering and information.

Nikita Kering Songs
• Ex
• Crossing Lines
• A Side of Me
• Awesome
• Better Than Me
• Where You Been
• Never Let You Go
• Happy With Me

Nikita is one of the richest Gospel Singer in her tender age and her net worth is estimated to be 1.5 Million and has managed to get over 2.3M streams in total of all her songs on Boomplay. Follow her and stream her music also download them for free only on Boomplay.

Nikita's Songs are included in Boomplay music playlists. Search, stream, and download Nikita's Songs, his latest singles and albums in MP3 only on the Boomplay platform for free....more

Country/Region : Kenya
Listen to Nikita Kering''s new songs including and many more. Enjoy Nikita Kering''s latest songs and explore the Nikita Kering''s new music albums. If you want to download Nikita Kering' songs MP3, use the Boomplay App to download the Nikita Kering' songs for free. Discover Nikita Kering''s latest songs, popular songs, trending songs all on Boomplay.
Nikita Chepchumba Kering popularly known for her stage name Nikita Kering is a Kenyan musician, actress and media personality born on 26th Feb 2002 in Nairobi, Kenya. She attended Riara Springs Academy, Kilimani Junior Academy and Brookhouse International School were she completed her A-level studies from a partial scholarship given to support her musical career.

Many of Nikita's Songs became very popular and trendy on social media in line with a great number of streaming and downloads on Boomplay.
Career

Nikita started her career at an early age like in 2012, during an album launch by Emmy Kosgey, she sang to a huge audience and was critically acclaimed for her performance.

After signing a record deal with EmPawa Africa, she was selected to undergo an international training and mentoring program. She became a finalist during the concert but was deemed too young to perform at the highest stage.

Achievements
Nikita has no doubt achieved a great deal in music after and before her exposure to the world. She is known for her limelight song "Ex" which has over 1.3M streams on Boomplay.Nikita managed to be ranked on the list of most popular gospel singer and famous celebrity born in Kenya.

She earned a scholarship to study at the Brook House international school.She performed at Emmy Kosgei's album launch on National TV in 2011.She got the award for Best New Artiste on Pulse Music Video Awards in 2018.

She also got an award in 2019 for Best Female Artiste in Eastern Africa in the All African Music Awards.

In 2021, she got two awards in the All African Music Awards for Best RnB and Soul Artist and Best Female Artiste East Africa
Follow Boomplay and keep up-to-date with the latest songs of Nikita Kering and information.

Nikita Kering Songs
• Ex
• Crossing Lines
• A Side of Me
• Awesome
• Better Than Me
• Where You Been
• Never Let You Go
• Happy With Me

Nikita is one of the richest Gospel Singer in her tender age and her net worth is estimated to be 1.5 Million and has managed to get over 2.3M streams in total of all her songs on Boomplay. Follow her and stream her music also download them for free only on Boomplay.

Nikita's Songs are included in Boomplay music playlists. Search, stream, and download Nikita's Songs, his latest singles and albums in MP3 only on the Boomplay platform for free.
New Comments(
73

)
FAQs about Nikita Kering'
Where is Nikita Kering' from?
She is from Kenya.