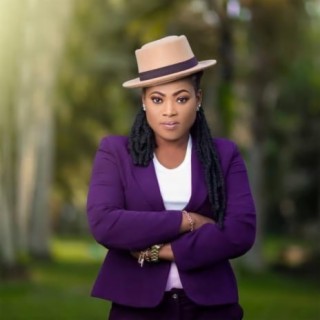 Joyce Blessing
Current #2,173

All Time #1,325

Joyce Blessing is a Ghanaian Gospel singer who shot to fame in the year 2013 on the media excel productions. She ended that year on a glorious note winning several awards at the Adom FM organized Ghana Gospel Industry Awards. Many of Joyce Blessing songs become very popular and trendy online with great number of streaming and downloads on Boomplay now.

CAREER AND ACHIEVEMENTS
The talented gospel singer won five awards in the recent Gospel Music Awards held on December 23rd, 2014, Accra International Conference with her debut album. She had been a backing vocalist for musicians such as Joel Arcah, Mary Gansah, Ernest Opoku, Diana Asamoah and a host of others.

She has so far received seven nominations and managed to win five key awards including The vocalist, popular video, artist of the year, the song of the year and album of the year.

Follow Boomplay and keep up to date with latest Joyce Blessing songs and information.

Joyce Blessing Songs
• Adam Nana
• Oluwa Is Involve
• I Swerve
• Yendanase
• Boot for Boot
• Trending
• Monko Mo Akyi
• Repent
• Mmrane
• Onyankopon
• Heavy Price
• Me Nsei Da
• Aseda Nkoaa
• Talk & Do
• Menka Nkyere Obia
• La Mia Praise
• Nyame Guama
• Kantamanto
• Odomankoma : Yesu / Yehowah / Yen To Nnwom / Me Wo Nkwa / Adom Mmbroso / Odomakoma / Still God / Fire Fire
• Nhyira
• Nyame Egwamaaa
• Running Over
• I Surrender Medley
• Adom
• Efata Wo
• Boot 4 Boot
• Come into My Heart
• Awawa Do
• Odo Bam
• The Lord's Prayer
• Di Asa

Joyce Blessing songs are included in Boomplay music playlists. Search to stream and download Joyce Blessing songs MP3/ single/ albums on the Boomplay....more

Country/Region : Ghana
Listen to Joyce Blessing's new songs including "Adam Nana", "Repent", "Thousand Tongues" and many more. Enjoy Joyce Blessing's latest songs and explore the Joyce Blessing's new music albums. If you want to download Joyce Blessing songs MP3, use the Boomplay App to download the Joyce Blessing songs for free. Discover Joyce Blessing's latest songs, popular songs, trending songs all on Boomplay.
Joyce Blessing is a Ghanaian Gospel singer who shot to fame in the year 2013 on the media excel productions. She ended that year on a glorious note winning several awards at the Adom FM organized Ghana Gospel Industry Awards. Many of Joyce Blessing songs become very popular and trendy online with great number of streaming and downloads on Boomplay now.

CAREER AND ACHIEVEMENTS
The talented gospel singer won five awards in the recent Gospel Music Awards held on December 23rd, 2014, Accra International Conference with her debut album. She had been a backing vocalist for musicians such as Joel Arcah, Mary Gansah, Ernest Opoku, Diana Asamoah and a host of others.

She has so far received seven nominations and managed to win five key awards including The vocalist, popular video, artist of the year, the song of the year and album of the year.

Follow Boomplay and keep up to date with latest Joyce Blessing songs and information.

Joyce Blessing Songs
• Adam Nana
• Oluwa Is Involve
• I Swerve
• Yendanase
• Boot for Boot
• Trending
• Monko Mo Akyi
• Repent
• Mmrane
• Onyankopon
• Heavy Price
• Me Nsei Da
• Aseda Nkoaa
• Talk & Do
• Menka Nkyere Obia
• La Mia Praise
• Nyame Guama
• Kantamanto
• Odomankoma : Yesu / Yehowah / Yen To Nnwom / Me Wo Nkwa / Adom Mmbroso / Odomakoma / Still God / Fire Fire
• Nhyira
• Nyame Egwamaaa
• Running Over
• I Surrender Medley
• Adom
• Efata Wo
• Boot 4 Boot
• Come into My Heart
• Awawa Do
• Odo Bam
• The Lord's Prayer
• Di Asa

Joyce Blessing songs are included in Boomplay music playlists. Search to stream and download Joyce Blessing songs MP3/ single/ albums on the Boomplay.