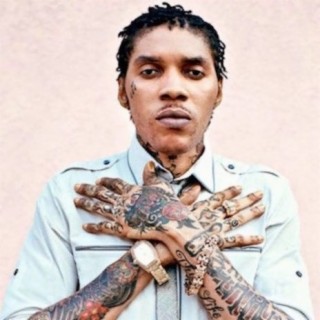 Vybz Kartel
Current #242

All Time #129

Adidja Azim Palmer (born 7 January 1976), better known as Vybz Kartel, is a Jamaican reggae and dancehall recording artist, composer, record producer, entrepreneur. Among his various nicknames, he is referred to as "Worl' Boss". Many of Kartel songs become very popular and trendy online with a great number of streaming and downloads on Boomplay.

Born and raised in the Waterford district of Jamaica, Kartel was only 12 when he released his first single, "Fat Women, "under the name Adi Banton. In 1996, he formed Vibes Cartel with his friends Mr. Lee and Escobar, but the group quickly dissolved.

Vybz would keep the group's name in altered form and became a solo artist; he soon became the protégé of popular dancehall singer Bounty Killer. Kartel began writing for artists on Bounty's Alliance management roster, including the Killer himself, along with the Scare Dem Crew featuring Elephant Man.

Career
Vybz Kartel started his career as a teenager, in 1993 with his first recording "Love Fat Woman", which he released on Alvin Reid's label "One Heart" using the moniker "Adi Banton" as homage to Buju Banton. Palmer was later part of the three-member group "Vybz Cartel", keeping the name after the group split up, and became a protege of Bounty Killer. With this group, he claims to have written nearly 30 songs with them, including the song "Gal Clown".

As summarized by Rolling Stone, he "attained folk-hero status in Jamaica with provocative lyrics, and a mischievous public persona", and "few have captivated [the dancehall] audience – or offended the sensibilities of its detractors – as consistently and thoroughly as Kartel."

Kartel's singles include "Romping Shop" (2009), "Dancehall Hero" (2010), and "Summer Time" (2011). Having collaborated with a number of hip hop and R&B artists such as Major Lazer, Rihanna, Jay Z, Digga D, and Unknown T, he has also been credited as an inspiration for the dancehall-infused work of a number of Western artists, including Drake, who has cited Kartel as being one of his "biggest inspirations".

In 2014, Kartel was sentenced to life imprisonment for the murder of his associate Clive "Lizard" Williams. He will be eligible for parole once he has served a minimum of 35 years in prison. Despite being imprisoned, Kartel continues to release new music prolifically, releasing over 50 new songs in 2016 alone. His hit song "Fever" was certified Gold in June 2020.

Vybz Kartel's first child was born on 18 April 2003, when he was 27 years old. This child, along with two other children, he had with longtime girlfriend Tanesha 'Shorty' Johnson. Kartel also has six more children from other relationships.

On 29 September 2011, Kartel was arrested by police for cannabis possession. Jamaica's Major Investigation Taskforce (MIT) later charged him with the murder of Jamaican businessman Barrington Burton, conspiracy and illegal possession of a firearm.

Follow Boomplay and keep up to date with the latest Kartel songs and information.

Songs and Albums
• Up 2 Di Time (Album)
• Timeless (Album)
• More Up 2 Di Time (Album)
• J.M.T. (Album)
• The Teacher's Back (Album)
• Tekk Buddy
• Picture This
• Ramping Shop (featuring Spice)
• Life Sweet
• Go Fi Dem Anyweh
• Last Man Standing
• Clarks Again
• Know Bout Me
• Like Xmas
• All Out
• Step Up Inna Life
• Tell You Say
• Sex & the City
• Slew Dem Like David
• Go Go Wine
• Yuh Love
• Summertime
• Party Me Say
• Reparation
• Street Vybz Girl
• Good Father

Achievements
• He won DJ of the Year at Stone Love's 30th Anniversary
• He was also awarded at the 2008 CUMA (Caribbean Urban Music Awards)
• He received three awards at the 2009 EME Awards Which are:
• Male DJ of the Year
• Lyricist/Songwriter of the Year
• Song of the Year (Romping Shop ft. Spice)

Kartel songs are included in Boomplay music playlists. Search to stream and download Kartel songs MP3/ single/ albums on the platform....more

Country/Region : Jamaica
Listen to Vybz Kartel's new songs including "Colouring This Life", "Best Friend", "Wine To The Top ft. ft. Wizkid" and many more. Enjoy Vybz Kartel's latest songs and explore the Vybz Kartel's new music albums. If you want to download Vybz Kartel songs MP3, use the Boomplay App to download the Vybz Kartel songs for free. Discover Vybz Kartel's latest songs, popular songs, trending songs all on Boomplay.
Adidja Azim Palmer (born 7 January 1976), better known as Vybz Kartel, is a Jamaican reggae and dancehall recording artist, composer, record producer, entrepreneur. Among his various nicknames, he is referred to as "Worl' Boss". Many of Kartel songs become very popular and trendy online with a great number of streaming and downloads on Boomplay.

Born and raised in the Waterford district of Jamaica, Kartel was only 12 when he released his first single, "Fat Women, "under the name Adi Banton. In 1996, he formed Vibes Cartel with his friends Mr. Lee and Escobar, but the group quickly dissolved.

Vybz would keep the group's name in altered form and became a solo artist; he soon became the protégé of popular dancehall singer Bounty Killer. Kartel began writing for artists on Bounty's Alliance management roster, including the Killer himself, along with the Scare Dem Crew featuring Elephant Man.

Career
Vybz Kartel started his career as a teenager, in 1993 with his first recording "Love Fat Woman", which he released on Alvin Reid's label "One Heart" using the moniker "Adi Banton" as homage to Buju Banton. Palmer was later part of the three-member group "Vybz Cartel", keeping the name after the group split up, and became a protege of Bounty Killer. With this group, he claims to have written nearly 30 songs with them, including the song "Gal Clown".

As summarized by Rolling Stone, he "attained folk-hero status in Jamaica with provocative lyrics, and a mischievous public persona", and "few have captivated [the dancehall] audience – or offended the sensibilities of its detractors – as consistently and thoroughly as Kartel."

Kartel's singles include "Romping Shop" (2009), "Dancehall Hero" (2010), and "Summer Time" (2011). Having collaborated with a number of hip hop and R&B artists such as Major Lazer, Rihanna, Jay Z, Digga D, and Unknown T, he has also been credited as an inspiration for the dancehall-infused work of a number of Western artists, including Drake, who has cited Kartel as being one of his "biggest inspirations".

In 2014, Kartel was sentenced to life imprisonment for the murder of his associate Clive "Lizard" Williams. He will be eligible for parole once he has served a minimum of 35 years in prison. Despite being imprisoned, Kartel continues to release new music prolifically, releasing over 50 new songs in 2016 alone. His hit song "Fever" was certified Gold in June 2020.

Vybz Kartel's first child was born on 18 April 2003, when he was 27 years old. This child, along with two other children, he had with longtime girlfriend Tanesha 'Shorty' Johnson. Kartel also has six more children from other relationships.

On 29 September 2011, Kartel was arrested by police for cannabis possession. Jamaica's Major Investigation Taskforce (MIT) later charged him with the murder of Jamaican businessman Barrington Burton, conspiracy and illegal possession of a firearm.

Follow Boomplay and keep up to date with the latest Kartel songs and information.

Songs and Albums
• Up 2 Di Time (Album)
• Timeless (Album)
• More Up 2 Di Time (Album)
• J.M.T. (Album)
• The Teacher's Back (Album)
• Tekk Buddy
• Picture This
• Ramping Shop (featuring Spice)
• Life Sweet
• Go Fi Dem Anyweh
• Last Man Standing
• Clarks Again
• Know Bout Me
• Like Xmas
• All Out
• Step Up Inna Life
• Tell You Say
• Sex & the City
• Slew Dem Like David
• Go Go Wine
• Yuh Love
• Summertime
• Party Me Say
• Reparation
• Street Vybz Girl
• Good Father

Achievements
• He won DJ of the Year at Stone Love's 30th Anniversary
• He was also awarded at the 2008 CUMA (Caribbean Urban Music Awards)
• He received three awards at the 2009 EME Awards Which are:
• Male DJ of the Year
• Lyricist/Songwriter of the Year
• Song of the Year (Romping Shop ft. Spice)

Kartel songs are included in Boomplay music playlists. Search to stream and download Kartel songs MP3/ single/ albums on the platform.
FAQs about Vybz Kartel
Where is Vybz Kartel from?
He is from Jamaica.
How to download songs of Vybz Kartel?
You can download songs of Vybz Kartel from Boomplay App for free.
Firstly, install Boomplay app on your mobile phone.
Secondly, navigate to the song you would like to download.
Thirdly, Tap on More > Download.