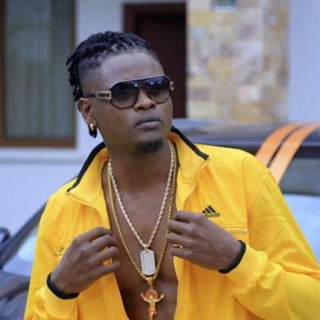 Pallaso
Current #1,747

All Time #571

Pius Mayanja known by his stage name Pallaso is a Ugandan recording artist, songwriter, producer and videographer. Many of Pallaso's Songs became very popular and trendy on social media in line with a great number of streaming and downloads on Boomplay.

He was born on 5 September 1987 at Mulago Hospital, Uganda. He sings in Luganda, mixes with English and sometimes Kiswahili. His music genre specialty is Afrobeats, Hip hop, Dancehall, Afropop, and RnB. Pallaso comes from a musical family with three of his brothers Chameleon, Weasel and the late AK47 Mayanja running reputable musical careers in Uganda.

Career
His musical journey started back in 2000 under the stage name, Lizard. He started out at Leone Island, a musical group that is owned by his older brother, Dr. Jose Chameleone.

His first single was Mudigidde in 2003 which was produced by his brother Dr. Jose Chameleone. He later moved to the US In 2006, where he lived for 10 years and re-branded himself from Lizard to Pallaso, before returning to Uganda.

In 2014, Pallaso teamed with Shaggy and DJ Hidrro they released the song "Remain in Our Hearts" which was dedicated to the fallen heroes mainly Michael Jackson, Bob Marley and The Notorious B.I.G.

Later that year after returning to Uganda from the States, Pallaso did a collabo with Goodlyfe Crew titled "Amaaso".The song became a chart topper and was featured on various TV and Radio musical charts for several weeks. Pallaso later worked on several solo musical projects including "Wekoledewo kaki", "Omugongo" and many others.

He then teamed up with Ugandan artiste, Sheebah Karungi and begun the musical group, Team No Sleep, with prominent musical manager, Jeff Kiwa coming on board as the group's manager. The Team No Sleep group would later be joined by the likes of King Saha, Ak47 and other rising musicians.

Together with Sheebah, the duo released their first single "Mundongo", followed by "Go Down Low" which won the HiPipo Music Awards as Best Afro Pop Song 2015.

Pallaso later co-produced the single "Tamale Mirundi" with King Saha and several other singles which include "Kilabe embaliga" and "Sanyu lyange", which was a remake of a classic by another Ugandan artiste, Sweet Kid. In November 2014, he started working on a collaboration with the Nigerian musician Davido for the single "Twatoba", which was released in January 2015.

He released it alongside his other 2015 songs which include "Ffe tuliko", "Tiwa Savage", "Mubambazanga", "Tebakusobolola" and many others. On 19 May 2015, Pallaso left Team No Sleep to form his independent group, Team Good Music which seems to be working well in the Uganda Music Industry.

Follow Boomplay and keep up-to-date with the latest songs of Pallaso and information.

Pallaso's Songs
• Mpa Love
• Nalonda Nemala
• Bareke Abo
• Mukyakale
• Malamu
• Nsaba
• Kiliza
• Hana
• Katonda
• Mpeke
• What Is Money
• Sherry

Pallaso's Songs are included in Boomplay music playlists. Search, stream, and download Pallaso's Songs, her latest singles and albums in MP3 only on the Boomplay platform for free....more

Country/Region : Uganda
Listen to Pallaso's new songs including "Nsaba ft. Ratigun Era", "Zari", "Mundongo" and many more. Enjoy Pallaso's latest songs and explore the Pallaso's new music albums. If you want to download Pallaso songs MP3, use the Boomplay App to download the Pallaso songs for free. Discover Pallaso's latest songs, popular songs, trending songs all on Boomplay.
Pius Mayanja known by his stage name Pallaso is a Ugandan recording artist, songwriter, producer and videographer. Many of Pallaso's Songs became very popular and trendy on social media in line with a great number of streaming and downloads on Boomplay.

He was born on 5 September 1987 at Mulago Hospital, Uganda. He sings in Luganda, mixes with English and sometimes Kiswahili. His music genre specialty is Afrobeats, Hip hop, Dancehall, Afropop, and RnB. Pallaso comes from a musical family with three of his brothers Chameleon, Weasel and the late AK47 Mayanja running reputable musical careers in Uganda.

Career
His musical journey started back in 2000 under the stage name, Lizard. He started out at Leone Island, a musical group that is owned by his older brother, Dr. Jose Chameleone.

His first single was Mudigidde in 2003 which was produced by his brother Dr. Jose Chameleone. He later moved to the US In 2006, where he lived for 10 years and re-branded himself from Lizard to Pallaso, before returning to Uganda.

In 2014, Pallaso teamed with Shaggy and DJ Hidrro they released the song "Remain in Our Hearts" which was dedicated to the fallen heroes mainly Michael Jackson, Bob Marley and The Notorious B.I.G.

Later that year after returning to Uganda from the States, Pallaso did a collabo with Goodlyfe Crew titled "Amaaso".The song became a chart topper and was featured on various TV and Radio musical charts for several weeks. Pallaso later worked on several solo musical projects including "Wekoledewo kaki", "Omugongo" and many others.

He then teamed up with Ugandan artiste, Sheebah Karungi and begun the musical group, Team No Sleep, with prominent musical manager, Jeff Kiwa coming on board as the group's manager. The Team No Sleep group would later be joined by the likes of King Saha, Ak47 and other rising musicians.

Together with Sheebah, the duo released their first single "Mundongo", followed by "Go Down Low" which won the HiPipo Music Awards as Best Afro Pop Song 2015.

Pallaso later co-produced the single "Tamale Mirundi" with King Saha and several other singles which include "Kilabe embaliga" and "Sanyu lyange", which was a remake of a classic by another Ugandan artiste, Sweet Kid. In November 2014, he started working on a collaboration with the Nigerian musician Davido for the single "Twatoba", which was released in January 2015.

He released it alongside his other 2015 songs which include "Ffe tuliko", "Tiwa Savage", "Mubambazanga", "Tebakusobolola" and many others. On 19 May 2015, Pallaso left Team No Sleep to form his independent group, Team Good Music which seems to be working well in the Uganda Music Industry.

Follow Boomplay and keep up-to-date with the latest songs of Pallaso and information.

Pallaso's Songs
• Mpa Love
• Nalonda Nemala
• Bareke Abo
• Mukyakale
• Malamu
• Nsaba
• Kiliza
• Hana
• Katonda
• Mpeke
• What Is Money
• Sherry

Pallaso's Songs are included in Boomplay music playlists. Search, stream, and download Pallaso's Songs, her latest singles and albums in MP3 only on the Boomplay platform for free.
New Comments(
128

)