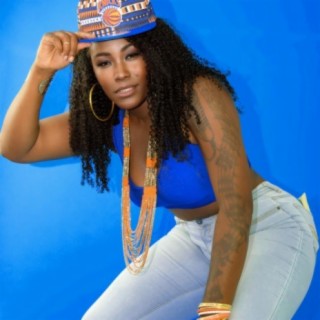 Beema
Current #99k+

All Time #101.3k

Florida is a very competitive state when it comes to hip-hop and very few female artists have had the ability to shine like Fort Pierce native, Beema Monroe.

Beema began her musical path in 2003 which was spawned by her love for poetry. The published poet spent an adequate amount of time honing her craft and was ready to pursue music as a career in 2013.

Her versatile style is described as a clever mixture of lyrical, hardcore, and sexy. Her ability to adjust her voice inflection on each track and to address a wide range of subjects is two reasons why she is quickly becoming a fan-favorite.

". . . Music is my passion and it's the way I express things best. . " said Beema. Her musical influences include the likes of Lauryn Hill, Kendrick, T.I., Pac, Nipsey, Missy, and many many more dope, talented artists.
 
Beema has an extensive catalog of music dating back to her 2009 debut mixtape, Beauty and the Beast, hosted by the world-renown DJ Smallz. Her singles "I Got It" and "White Gyrl Swagg" quickly snatched the attention of fans and unbelievers alike.The savvy-minded artist followed up with releases in 2011, 2012, 2013, 2014, and her latest, Scuse Me 2wice (2016).

As the CEO of Boss Baby Records (2015), Beema continues to push towards her musical aspirations while perfecting her unique style of art....more

Country/Region : United States
Songs

(1)

Albums

(0)

Playlists

(0)
Listen to Beema's new songs including "Unbelievable", and many more. Enjoy Beema's latest songs and explore the Beema's new music albums. If you want to download Beema songs MP3, use the Boomplay App to download the Beema songs for free. Discover Beema's latest songs, popular songs, trending songs all on Boomplay.
Florida is a very competitive state when it comes to hip-hop and very few female artists have had the ability to shine like Fort Pierce native, Beema Monroe.

Beema began her musical path in 2003 which was spawned by her love for poetry. The published poet spent an adequate amount of time honing her craft and was ready to pursue music as a career in 2013.

Her versatile style is described as a clever mixture of lyrical, hardcore, and sexy. Her ability to adjust her voice inflection on each track and to address a wide range of subjects is two reasons why she is quickly becoming a fan-favorite.

". . . Music is my passion and it's the way I express things best. . " said Beema. Her musical influences include the likes of Lauryn Hill, Kendrick, T.I., Pac, Nipsey, Missy, and many many more dope, talented artists.
 
Beema has an extensive catalog of music dating back to her 2009 debut mixtape, Beauty and the Beast, hosted by the world-renown DJ Smallz. Her singles "I Got It" and "White Gyrl Swagg" quickly snatched the attention of fans and unbelievers alike.The savvy-minded artist followed up with releases in 2011, 2012, 2013, 2014, and her latest, Scuse Me 2wice (2016).

As the CEO of Boss Baby Records (2015), Beema continues to push towards her musical aspirations while perfecting her unique style of art.
New Comments(
0

)

What do you think of this artist?