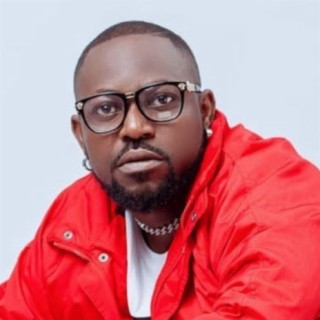 Yaa Pono
Current #6,160

All Time #5,080

Solomon Adu Antwi popularly known as Yaa Pono, a Tema resident from birth, he has quickly risen to become not just Ghana's but one of Africa's premier and best-loved freestyle hip-hop artists. His first name Yaa means a female born on Thursday and his adopted name PONO means Prince Of No Origin.

Many of Yaa Pono Songs became very popular and trendy on social media in line with a great number of streaming and downloads on Boomplay.

Career
His fast wit, natural charisma, use of the Akan language and sharp social observations are some of the reasons behind Pono's championing on the social media site, YouTube, by his legion of fans. Blending these elements with highlife, hip-hop, dancehall and afrobeat rhythms demonstrates Pono's true versatility.

His re-emergence as Ghana's most respected rapper (and singer) is set. After appearing on several local radio shows and competitions, Yaa Pono entered the studio in 1995. He also did a mix tape in 2007 which was received well in Ghana and was a big hit.

He can count artists such as Sarkodie, Stay Jay, Guru, D Cryme and Chris Waddle among his contemporaries as they often appeared together at gigs. Dr Duncan's 'Kasahari Level' show proved the platform for bringing Pono's unparalleled skill to the World.

Joining Ghana's esteemed Pidgen Music record label in 2009, offered Pono more opportunities to develop and broaden his creative repertoire whilst working with the finest producers in the country. "Yaa Pono is one of the best live performer in the whole World if not the best!

This is not an exaggeration!" Yaa Pono's biggest hit was in 2013, a song named "Amen", which was a tribute to the famous afrobeat king Fela Anikulapo Kuti. He also released an album in 2013 called "Sea Blue". His recent songs include Sokoo, Streetboy, Gbe Naabu, Noko and Sika Duro. Follow Boomplay and keep up-to-date with the latest songs of Yaa Pono and information.

Yaa Pono's Songs
• Love For You ft Sarkodie
• Obia Wone Master
• Facts
• Smoke Proud
• No Trouble
• Kpefu
• Too Deep
• Street Boy
• Noko
• Gbee Naabu
• Too Big
• Nyame Nwom
• High Grade

Yaa Pono Songs are included in Boomplay music playlists. Search, stream, and download Yaa Pono Songs, her latest singles and albums in MP3 only on the Boomplay platform for free....more

Country/Region : Ghana
Songs

(19)

Albums

(5)

Playlists

(6)
1

2

3

4

5

6

7

8

9

10

11

12

13

14

15

16

17

18

19
Listen to Yaa Pono's new songs including "Fa Adwen ft. Flowking Stone", "21 Gun Salute", "Breaking Curses" and many more. Enjoy Yaa Pono's latest songs and explore the Yaa Pono's new music albums. If you want to download Yaa Pono songs MP3, use the Boomplay App to download the Yaa Pono songs for free. Discover Yaa Pono's latest songs, popular songs, trending songs all on Boomplay.
Solomon Adu Antwi popularly known as Yaa Pono, a Tema resident from birth, he has quickly risen to become not just Ghana's but one of Africa's premier and best-loved freestyle hip-hop artists. His first name Yaa means a female born on Thursday and his adopted name PONO means Prince Of No Origin.

Many of Yaa Pono Songs became very popular and trendy on social media in line with a great number of streaming and downloads on Boomplay.

Career
His fast wit, natural charisma, use of the Akan language and sharp social observations are some of the reasons behind Pono's championing on the social media site, YouTube, by his legion of fans. Blending these elements with highlife, hip-hop, dancehall and afrobeat rhythms demonstrates Pono's true versatility.

His re-emergence as Ghana's most respected rapper (and singer) is set. After appearing on several local radio shows and competitions, Yaa Pono entered the studio in 1995. He also did a mix tape in 2007 which was received well in Ghana and was a big hit.

He can count artists such as Sarkodie, Stay Jay, Guru, D Cryme and Chris Waddle among his contemporaries as they often appeared together at gigs. Dr Duncan's 'Kasahari Level' show proved the platform for bringing Pono's unparalleled skill to the World.

Joining Ghana's esteemed Pidgen Music record label in 2009, offered Pono more opportunities to develop and broaden his creative repertoire whilst working with the finest producers in the country. "Yaa Pono is one of the best live performer in the whole World if not the best!

This is not an exaggeration!" Yaa Pono's biggest hit was in 2013, a song named "Amen", which was a tribute to the famous afrobeat king Fela Anikulapo Kuti. He also released an album in 2013 called "Sea Blue". His recent songs include Sokoo, Streetboy, Gbe Naabu, Noko and Sika Duro. Follow Boomplay and keep up-to-date with the latest songs of Yaa Pono and information.

Yaa Pono's Songs
• Love For You ft Sarkodie
• Obia Wone Master
• Facts
• Smoke Proud
• No Trouble
• Kpefu
• Too Deep
• Street Boy
• Noko
• Gbee Naabu
• Too Big
• Nyame Nwom
• High Grade

Yaa Pono Songs are included in Boomplay music playlists. Search, stream, and download Yaa Pono Songs, her latest singles and albums in MP3 only on the Boomplay platform for free.
New Comments(
31

)