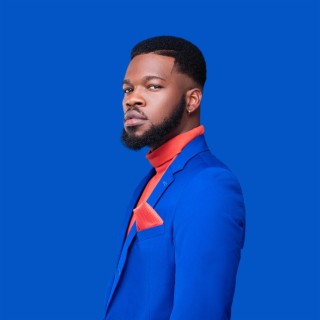 Broda Shaggi
Current #9,487

All Time #2,775

Samuel Animashaun Perry (born September 19, 1993), better known as Broda Shaggi, is a Nigerian comedian, actor, songwriter and musician. At a young age, he took an interest in acting drama as influenced by his late father who was a drama teacher. He is notable for his satire plays which he shared on Instagram however came through with his parody drama "Jesu in Mushin".

Broda Shaggi is a graduate of Creative Arts from the University of Lagos, his late father was a Drama instructor at Junior School, Ikenne, Ogun state.

Many Broda Shaggi songs become very popular and trendy online with a great number of streaming and downloads on Boomplay.

Career
He began comedy acts numerous years back while in the University. He made a great deal of characters before he later settled on the name of Broda shaggi. Broda Shaggi has been perceived in the business for his comedy and uniqueness of character.

Follow Boomplay and keep up-to-date with the latest Broda Shaggi songs and information.

Achievement.
He has various awards, for example, The Future Awards Africa Nigeria Prize for Comedy and City People Music Award for Comedy Act of the Year.

With over 2.2 million stream at Boomplay he was one of the top artist in Boomplay with many album which includes:
• Oya Hit Me Skits, Vol. 1 (2019)
• Extended Plays
• Fine Boy Agbero, Vol. 1 (2019)
• Weekend Vibe (2020)

Broda Shaggi Songs
• "Ori" (2019)
• "Bushman" (2019)
• "Shi" (2019)
• "Serere" (2019)
• "Nor Nor" (2019)
• "Wake up" (2019)
• "Black Skin Boy" (2019)
• "Bolanle" (2019)
• "Amarachi" feat. Johnny Drille(2020)
• "Toi Toi" (2019)
• "Star" feat. Asake (2019)
• "Boredom 101" (2020)
• "Kwarantine" (2020)
• "Okoto" feat. Zlatan (2020)
• "Happy Day" (2020)
• Filmography Edit
• Ghetto Bred - 2018
• Aiyetoro Town - 2019
• Fate of Alakada: The Party Planner - 2020
• Namaste Wahala - 2020
• Dwindle - 2021
• Day Of Destiny - 2021
• The Miracle Centre - 2020
• chief daddy - 2022

Here is one of the most hottest playlist at Boomplay which is specially create with only his songs: https://www.boomplaymusic.com/share/playlist/14574118

2021 he was nominated as Net Honoured Most Popular Comedian

Broda Shaggi whose real name is Samuel perry has a net worth of $200,000 dollars

Broda Shaggi songs are included in Boomplay music playlists. Search to stream and download Broda Shaggi songs MP3/ single/ albums on the platform....more

Country/Region : Nigeria
Songs

(19)

Albums

(18)

Playlists

(1)
1

2

3

4

5

6

7

8

9

10

11

12

13

14

15

16

17

18

19
Listen to Broda Shaggi's new songs including "Cross My Lane ft. Falz", "Okoto ft. Zlatan", "Amarachi ft. Johnny Drille" and many more. Enjoy Broda Shaggi's latest songs and explore the Broda Shaggi's new music albums. If you want to download Broda Shaggi songs MP3, use the Boomplay App to download the Broda Shaggi songs for free. Discover Broda Shaggi's latest songs, popular songs, trending songs all on Boomplay.
Samuel Animashaun Perry (born September 19, 1993), better known as Broda Shaggi, is a Nigerian comedian, actor, songwriter and musician. At a young age, he took an interest in acting drama as influenced by his late father who was a drama teacher. He is notable for his satire plays which he shared on Instagram however came through with his parody drama "Jesu in Mushin".

Broda Shaggi is a graduate of Creative Arts from the University of Lagos, his late father was a Drama instructor at Junior School, Ikenne, Ogun state.

Many Broda Shaggi songs become very popular and trendy online with a great number of streaming and downloads on Boomplay.

Career
He began comedy acts numerous years back while in the University. He made a great deal of characters before he later settled on the name of Broda shaggi. Broda Shaggi has been perceived in the business for his comedy and uniqueness of character.

Follow Boomplay and keep up-to-date with the latest Broda Shaggi songs and information.

Achievement.
He has various awards, for example, The Future Awards Africa Nigeria Prize for Comedy and City People Music Award for Comedy Act of the Year.

With over 2.2 million stream at Boomplay he was one of the top artist in Boomplay with many album which includes:
• Oya Hit Me Skits, Vol. 1 (2019)
• Extended Plays
• Fine Boy Agbero, Vol. 1 (2019)
• Weekend Vibe (2020)

Broda Shaggi Songs
• "Ori" (2019)
• "Bushman" (2019)
• "Shi" (2019)
• "Serere" (2019)
• "Nor Nor" (2019)
• "Wake up" (2019)
• "Black Skin Boy" (2019)
• "Bolanle" (2019)
• "Amarachi" feat. Johnny Drille(2020)
• "Toi Toi" (2019)
• "Star" feat. Asake (2019)
• "Boredom 101" (2020)
• "Kwarantine" (2020)
• "Okoto" feat. Zlatan (2020)
• "Happy Day" (2020)
• Filmography Edit
• Ghetto Bred - 2018
• Aiyetoro Town - 2019
• Fate of Alakada: The Party Planner - 2020
• Namaste Wahala - 2020
• Dwindle - 2021
• Day Of Destiny - 2021
• The Miracle Centre - 2020
• chief daddy - 2022

Here is one of the most hottest playlist at Boomplay which is specially create with only his songs: https://www.boomplaymusic.com/share/playlist/14574118

2021 he was nominated as Net Honoured Most Popular Comedian

Broda Shaggi whose real name is Samuel perry has a net worth of $200,000 dollars

Broda Shaggi songs are included in Boomplay music playlists. Search to stream and download Broda Shaggi songs MP3/ single/ albums on the platform.
New Comments(
59

)
FAQs about Broda Shaggi
Where is Broda Shaggi from?
He is from Nigeria.
How to download songs of Broda Shaggi?
You can download songs of Broda Shaggi from Boomplay App for free.
Firstly, install Boomplay app on your mobile phone.
Secondly, navigate to the song you would like to download.
Thirdly, Tap on More > Download.