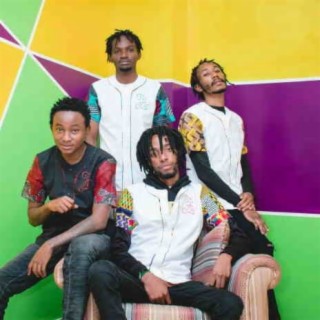 Ethic
Current #10.3k

All Time #5,570

Ethic Entertainment is a Kenyan-Afro music group popular known as a gengetone group formed in the streets of Nairobi in 2018 by four members namely; Rekles, SWAT Mtoto wa Eunice, Seska and Zilla. The group released a video for Lamba Lolo in May 2018 which became an instant hit and viral sensation. Many of Ethic's Songs became very popular and trendy on social media in line with a great number of streaming and downloads on Boomplay.

Career
The group was formed in 2018 after they released their debut "Lamba Lolo". The low-budget video was shot in Umoja where members of the group grew up before the fame. They revealed that they were engaging in various side-hustles before Lamba Lolo, with SWAT having been a tattoo artist, Zilla at a movie shop and Seska doing various jobs including working at a car-wash.

Rekles was already actively in the studio and was recording hardcore hip-hop singles. Since then, the group has gone on to establish themselves at the top of the game with several hit singles and videos as well as performances at major events. Since their breakthrough in music, they have had features with various other Kenyan artists including Otile Brown,

The Kansoul and Boondocks Gang. The group has also faced the cruel side of the industy after the Chief Executive Officer of the Kenya Film Classification Board (KFCB) Ezekiel Mutua banned Ethic's new song dubbed 'Tarimbo' for claims of its unauthorized language/content for younger viewers and the community.

He also added that the song promoted violence among women, something which should be discouraged. He further told the Directorate of Criminal Investigations (DCI) to apprehend members of the Ethic Entertainment band for promoting violence against women by rape through their music.

Achievements
They Boy Band group was actually one of the founding fathers of the gengetone wave that took Kenyan music by storm for 4 years gathering more fan love than before from the youths and all the genge lovers.

The group was also nominated for MTV's MAMA Awards in 2020 alongside Sauti Sol in the category of Best Music Group and Khaligraph Jones for Best Hip Hop Act alongside Nasty C and Kwesi Arthur. They also won a YouTube Silver Creator award for hitting the 100K subscribers mark.

Follow Boomplay and keep up-to-date with the latest songs of Ethic and information.

Ethic's Latest Songs
• Lamba Lolo
• Position
• Saba
• Instagram
• Pandana
• Chapa Chapa
• Thao
• Tarimbo
• Daktari
• Quarantei
• Dondoka
• Bazenga
• Figa
• Soko
• Kondiko
• Katika
• Toto La Mdose
• Staga Nikimedi
• Fanya

Ethic's Songs are included in Boomplay music playlists. Search, stream, and download Ethic's Songs, his latest singles and albums in MP3 only on the Boomplay platform for free....more

Country/Region : Kenya
Listen to Ethic's new songs including "Fanya", "BIZZ NI BIZZ", "MIMI" and many more. Enjoy Ethic's latest songs and explore the Ethic's new music albums. If you want to download Ethic songs MP3, use the Boomplay App to download the Ethic songs for free. Discover Ethic's latest songs, popular songs, trending songs all on Boomplay.
Ethic Entertainment is a Kenyan-Afro music group popular known as a gengetone group formed in the streets of Nairobi in 2018 by four members namely; Rekles, SWAT Mtoto wa Eunice, Seska and Zilla. The group released a video for Lamba Lolo in May 2018 which became an instant hit and viral sensation. Many of Ethic's Songs became very popular and trendy on social media in line with a great number of streaming and downloads on Boomplay.

Career
The group was formed in 2018 after they released their debut "Lamba Lolo". The low-budget video was shot in Umoja where members of the group grew up before the fame. They revealed that they were engaging in various side-hustles before Lamba Lolo, with SWAT having been a tattoo artist, Zilla at a movie shop and Seska doing various jobs including working at a car-wash.

Rekles was already actively in the studio and was recording hardcore hip-hop singles. Since then, the group has gone on to establish themselves at the top of the game with several hit singles and videos as well as performances at major events. Since their breakthrough in music, they have had features with various other Kenyan artists including Otile Brown,

The Kansoul and Boondocks Gang. The group has also faced the cruel side of the industy after the Chief Executive Officer of the Kenya Film Classification Board (KFCB) Ezekiel Mutua banned Ethic's new song dubbed 'Tarimbo' for claims of its unauthorized language/content for younger viewers and the community.

He also added that the song promoted violence among women, something which should be discouraged. He further told the Directorate of Criminal Investigations (DCI) to apprehend members of the Ethic Entertainment band for promoting violence against women by rape through their music.

Achievements
They Boy Band group was actually one of the founding fathers of the gengetone wave that took Kenyan music by storm for 4 years gathering more fan love than before from the youths and all the genge lovers.

The group was also nominated for MTV's MAMA Awards in 2020 alongside Sauti Sol in the category of Best Music Group and Khaligraph Jones for Best Hip Hop Act alongside Nasty C and Kwesi Arthur. They also won a YouTube Silver Creator award for hitting the 100K subscribers mark.

Follow Boomplay and keep up-to-date with the latest songs of Ethic and information.

Ethic's Latest Songs
• Lamba Lolo
• Position
• Saba
• Instagram
• Pandana
• Chapa Chapa
• Thao
• Tarimbo
• Daktari
• Quarantei
• Dondoka
• Bazenga
• Figa
• Soko
• Kondiko
• Katika
• Toto La Mdose
• Staga Nikimedi
• Fanya

Ethic's Songs are included in Boomplay music playlists. Search, stream, and download Ethic's Songs, his latest singles and albums in MP3 only on the Boomplay platform for free.