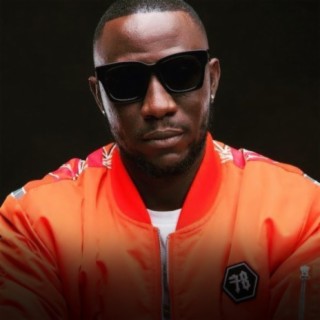 Seriki
Current #3,628

All Time #4,921

Seriki full name is Ibiyemi Seriki is an Indigenous rapper who hail from Nigeria. Many of Seriki's Songs became very popular and trendy on social media in line with a great number of streaming and downloads on Boomplay. Ibiyemi Seriki is the second out of the family of three. And most of awful and beautiful part is that he is the blackest out of the family. He is a Nigerian Hip-hop rapper, who raps mostly in Yoruba. Seriki is presently signed to Eedohwoo Records.

Career
Seriki music adventure began when he was very young, he started by sings to himself, then, he never knew he would ever sing professionally, he did it then, because he felt good whenever he sings. Until when he got into secondary school, that was when he discovered that he could not do without singing. he won a couple competitions back then that gave him the confidence to move ahead. He was called by my surname, which He is stocked with till date"; these are the words ok Seriki Omo Owo. Seriki mentioned that "God has been a major source of inspiration to him. He also inspired by his environment; the many things he sees, hear and feel are mostly transcribed in my songs".

Follow Boomplay and keep up to date with the latest songs of Seriki and information.

Seriki's Songs
• Sakamanje
• Inshi Gini
• Agbalumo
• Owo Dollar
• Baba O
• Feyinti
• Good Life
• Turkey and Malt
• Gogo
• Sbm

Seriki's Songs are included in Boomplay music playlists. Search, stream, and download Seriki's Songs, her latest singles and albums in MP3 only on the Boomplay platform for free....more

Country/Region : Nigeria
Songs

(8)

Albums

(5)

Playlists

(2)
Listen to Seriki's new songs including "Owo Dollar ft. Obesere", "Saka Manje ft. Reminisce", "Sugar Daddy ft. Chinko Ekun and Mustee" and many more. Enjoy Seriki's latest songs and explore the Seriki's new music albums. If you want to download Seriki songs MP3, use the Boomplay App to download the Seriki songs for free. Discover Seriki's latest songs, popular songs, trending songs all on Boomplay.
Seriki full name is Ibiyemi Seriki is an Indigenous rapper who hail from Nigeria. Many of Seriki's Songs became very popular and trendy on social media in line with a great number of streaming and downloads on Boomplay. Ibiyemi Seriki is the second out of the family of three. And most of awful and beautiful part is that he is the blackest out of the family. He is a Nigerian Hip-hop rapper, who raps mostly in Yoruba. Seriki is presently signed to Eedohwoo Records.

Career
Seriki music adventure began when he was very young, he started by sings to himself, then, he never knew he would ever sing professionally, he did it then, because he felt good whenever he sings. Until when he got into secondary school, that was when he discovered that he could not do without singing. he won a couple competitions back then that gave him the confidence to move ahead. He was called by my surname, which He is stocked with till date"; these are the words ok Seriki Omo Owo. Seriki mentioned that "God has been a major source of inspiration to him. He also inspired by his environment; the many things he sees, hear and feel are mostly transcribed in my songs".

Follow Boomplay and keep up to date with the latest songs of Seriki and information.

Seriki's Songs
• Sakamanje
• Inshi Gini
• Agbalumo
• Owo Dollar
• Baba O
• Feyinti
• Good Life
• Turkey and Malt
• Gogo
• Sbm

Seriki's Songs are included in Boomplay music playlists. Search, stream, and download Seriki's Songs, her latest singles and albums in MP3 only on the Boomplay platform for free.
New Comments(
10

)
FAQs about Seriki
Where is Seriki from?
He is from Nigeria.
How to download songs of Seriki?
You can download songs of Seriki from Boomplay App for free.
Firstly, install Boomplay app on your mobile phone.
Secondly, navigate to the song you would like to download.
Thirdly, Tap on More > Download.