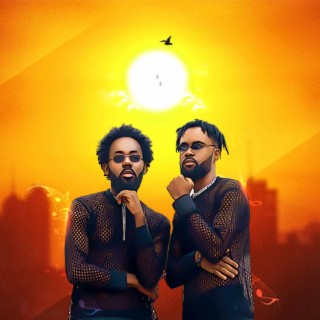 Dead Peepol
Current #9,143

All Time #3,746

Mark A Frimpong and Richard Owusu moved to Accra to pursue their musical career after they had break away from their old group of 5 known as CREATURES.

Being a Son of a Pastor and a Son of strictly religious parents respectively, their journey of becoming circular musicians was highly opposed by their parents. Nevertheless, they stood against all odds to follow their passion.

Having recorded couple of songs as solo artist, with Mark A Frimpong doubling as the producer and beat maker, they came together in November 2019 to form a group known as "DEAD PEEPOL".

They unofficially released their first single "BOA ME NNE" which gained a little attention because it wasn't an official released song.

They then recorded two albums which consist of 22 and 11 songs respectively which are still under final production.

In June 2020, they released their first official single OTAN HUNU with Rich Kent which is now biggest song in Ghana and West Africa at large....more

Boom ID : 99052031 Country : Ghana Gender : Group
Listen to Dead Peepol's new songs including "Otan Hunu (Remix) ft. Rich Kent, Malcolm Nuna, Kuami Eugene, Medikal, Bosom P-Yung, Tulenkey, Deon Bokaye & Fameye", "Otan Hunu ft. Rich Kent", "Against" and many more. Enjoy Dead Peepol's latest songs and explore the Dead Peepol's new music albums. If you want to download Dead Peepol songs MP3, use the Boomplay App to download the Dead Peepol songs for free. Discover Dead Peepol's latest songs, popular songs, trending songs all on Boomplay.
Mark A Frimpong and Richard Owusu moved to Accra to pursue their musical career after they had break away from their old group of 5 known as CREATURES.

Being a Son of a Pastor and a Son of strictly religious parents respectively, their journey of becoming circular musicians was highly opposed by their parents. Nevertheless, they stood against all odds to follow their passion.

Having recorded couple of songs as solo artist, with Mark A Frimpong doubling as the producer and beat maker, they came together in November 2019 to form a group known as "DEAD PEEPOL".

They unofficially released their first single "BOA ME NNE" which gained a little attention because it wasn't an official released song.

They then recorded two albums which consist of 22 and 11 songs respectively which are still under final production.

In June 2020, they released their first official single OTAN HUNU with Rich Kent which is now biggest song in Ghana and West Africa at large.
New Comments(
41

)