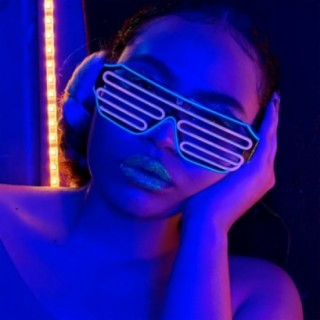 Moliy
Current #0

All Time #7,882

Molly Ama Montgomery, better known by her stage name Moliy, is a singer and songwriter of Ghanaian and American heritage. Many of Moliy songs become very popular and trendy online with a great number of streaming and downloads on Boomplay.

Moliy spent her upbringing in Accra and Orlando, Florida, where the musical sounds of Afrobeats, Reggae, Soul, Jazz, and Hip-Hop inspired her creative interests at a young age.Moliy was born on october 5, 2001, and was raised by in accra ghana and orlando florida by her parents.

Career
With a seductive and engaging voice, she makes her debut as an Afro-Fusion Artist who delivers all kinds of flames to Ghana's alternative music industry. Moliy takes use of the worldwide internet realm to present her creative variety and voice through provocative freestyles on social media, self-identifying as a genre-bender who enjoys all genres of music.

Moliy's major goal as one of Ghana's most promising upcoming musicians is to establish herself among the new generation of lively female stars making a way for herself in a largely male-dominated business. Moliy will be seen and heard on venues and platforms all over the world for years to come, thanks to Ghanaian music's global development.

Her profound love for music was also inspired by frequent Karaoke performances alongside family and friends, which gradually developed her unique musical prowess with vocals and melodies that are deeply rooted in soul. Self-identifying as a genre-bender who embraces all forms of music, Moliy took advantage of the global digital space to introduce her creative versatility and sound through provocative freestyles on social platforms.

Despite a year beset with a global pandemic in 2020, Moliy captured audiences by strategically releasing Wondergirl, an impressive body of 6 tracks that lends itself to a distinctive Afro-Fusion sound which boldly launched a defining moment in her career. The EP has successfully cut across the shores of Ghana to gain airplay in The Gambia as well as Kenya. Moliy's musical skill and vivacious personality afforded her the opportunity to perform as a special guest on MTV Base's Lounge; a musical series that showcases intimate virtual performances by African artists.

In the latter portion of 2020, Moliy collaborated on Amaarae's omnivorous debut album, The Angel You Don't Know. As a female and Ghanaian performer, she boldly showcases her impressive diversity on the tracks, Feel Away and Sad Girlz Love Money, firmly establishing herself as an artist to be reckoned with.

As one of Ghana's foremost new artists, Moliy's main objective is to authenticate herself in the new crop of vibrant female singers that are carving a path for themselves in the mostly male-dominated industry. With Ghanaian music on the global rise, expect to see and hear Moliy on stages and platforms worldwide for years to come.

Follow Boomplay and keep up to date with the latest Moliy songs and information.

Moliy Songs
• Loud
• My Way
• Cool It Down
• Wondergirl
• Ghana Bop
• Jonny
• Wondergirl EP

Moliy songs are included in Boomplay music playlists. Search to stream and download Moliy songs MP3/ single/ albums on the platform....more

Country/Region : Ghana
Listen to Moliy's new songs including "Deja Vu", "Hard ft. Moonchild Sanelly", "Love Doc" and many more. Enjoy Moliy's latest songs and explore the Moliy's new music albums. If you want to download Moliy songs MP3, use the Boomplay App to download the Moliy songs for free. Discover Moliy's latest songs, popular songs, trending songs all on Boomplay.
Molly Ama Montgomery, better known by her stage name Moliy, is a singer and songwriter of Ghanaian and American heritage. Many of Moliy songs become very popular and trendy online with a great number of streaming and downloads on Boomplay.

Moliy spent her upbringing in Accra and Orlando, Florida, where the musical sounds of Afrobeats, Reggae, Soul, Jazz, and Hip-Hop inspired her creative interests at a young age.Moliy was born on october 5, 2001, and was raised by in accra ghana and orlando florida by her parents.

Career
With a seductive and engaging voice, she makes her debut as an Afro-Fusion Artist who delivers all kinds of flames to Ghana's alternative music industry. Moliy takes use of the worldwide internet realm to present her creative variety and voice through provocative freestyles on social media, self-identifying as a genre-bender who enjoys all genres of music.

Moliy's major goal as one of Ghana's most promising upcoming musicians is to establish herself among the new generation of lively female stars making a way for herself in a largely male-dominated business. Moliy will be seen and heard on venues and platforms all over the world for years to come, thanks to Ghanaian music's global development.

Her profound love for music was also inspired by frequent Karaoke performances alongside family and friends, which gradually developed her unique musical prowess with vocals and melodies that are deeply rooted in soul. Self-identifying as a genre-bender who embraces all forms of music, Moliy took advantage of the global digital space to introduce her creative versatility and sound through provocative freestyles on social platforms.

Despite a year beset with a global pandemic in 2020, Moliy captured audiences by strategically releasing Wondergirl, an impressive body of 6 tracks that lends itself to a distinctive Afro-Fusion sound which boldly launched a defining moment in her career. The EP has successfully cut across the shores of Ghana to gain airplay in The Gambia as well as Kenya. Moliy's musical skill and vivacious personality afforded her the opportunity to perform as a special guest on MTV Base's Lounge; a musical series that showcases intimate virtual performances by African artists.

In the latter portion of 2020, Moliy collaborated on Amaarae's omnivorous debut album, The Angel You Don't Know. As a female and Ghanaian performer, she boldly showcases her impressive diversity on the tracks, Feel Away and Sad Girlz Love Money, firmly establishing herself as an artist to be reckoned with.

As one of Ghana's foremost new artists, Moliy's main objective is to authenticate herself in the new crop of vibrant female singers that are carving a path for themselves in the mostly male-dominated industry. With Ghanaian music on the global rise, expect to see and hear Moliy on stages and platforms worldwide for years to come.

Follow Boomplay and keep up to date with the latest Moliy songs and information.

Moliy Songs
• Loud
• My Way
• Cool It Down
• Wondergirl
• Ghana Bop
• Jonny
• Wondergirl EP

Moliy songs are included in Boomplay music playlists. Search to stream and download Moliy songs MP3/ single/ albums on the platform.
FAQs about Moliy
Where is Moliy from?
She is from Ghana.
What are the latest songs of Moliy?
The latest songs of Moliy are Hard ft. Moonchild Sanelly and Human ft. Mellissa & DJ Radix.
What are the best songs of Moliy?
The best songs of Moliy are Deja Vu, Love Doc and Hard ft. Moonchild Sanelly.
What are the best albums of Moliy?
The best albums of Moliy are Honey Doom, Deja Vu and Mahogany St.
How to download songs of Moliy?
You can download songs of Moliy from Boomplay App for free.
Firstly, install Boomplay app on your mobile phone.
Secondly, navigate to the song you would like to download.
Thirdly, Tap on More > Download.