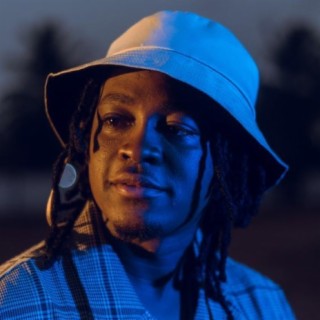 KRYMI
Current #31.2k

All Time #17.5k

Henry Nuamah, popularly known in the music circles as Krymi. Krymi is a young Ghanaian Highlife, Afrobeat musician and a live performer. Many of Krymi's Songs became very popular and trendy on social media in line with a great number of streaming and downloads on Boomplay.

He went to Opoku Ware Secondary School and later graduated with a Bachelor of Technology in Civil Engineering and an HND (Higher National Diploma) in Civil Engineering at the Kumasi Technical University. He is excited over his inclusion in the camp of « Highly Spiritual Music » label, as he seeks to make significant strides in his career.

Career
Before venturing into mainstream music, Krymi started as a Guitarist believed to be a true representation of soul African music and creativity, Krymi shot to fame after taking part in the MTN Hitmaker 6 in 2017. After the competition, Krymi under memorandum of understanding between both parties was signed on to Highly Spiritual Music Record Label.

He is well known for his biggest hit song titled 'Dw3' which features Ghanaian top rapper, Sarkodie and singer Mr Drew, which is also a signee under the same label. Monitoring how Krymi and Mr Drew correlate, it is believe they're more and less like brothers. Not only is he known for the 'Dw3' song but he has other top songs that are doing well.

They include; Dede, Toffee, So Damn Fine and others. He looks up to musicians like Kojo Antwi, Daddy Lumba, Michael Jackson, Nat King Cole, Chris Brown because they exhibit an amazing craft in their songs full of dexterity. Krymi is fast-becoming one of the most desirable men in the Ghana music industry. Fans love Krymi for his unique soothing voice as well as other more obvious reasons like his good looks.

Achievements
Krymi has been nominated for several awards including 3music awards, Emerging Music Awards, Youth Achievement Awards and is currently the holder of the Uncovered Artiste of the Year at the Ghana Music Awards UK.

Follow Boomplay and keep up-to-date with the latest songs of Kyrmi and information.

Krymi's Songs
• Dw3
• Party Gbee
• Dede
• So Damn Fine
• Toffee
• Wild
• Notty

Krymi's Songs are included in Boomplay music playlists. Search, stream, and download Krymi's Songs, her latest singles and albums in MP3 only on the Boomplay platform for free...more

Country/Region : Ghana
Songs

(0)

Albums

(0)

Playlists

(20)
Listen to KRYMI's new songs including and many more. Enjoy KRYMI's latest songs and explore the KRYMI's new music albums. If you want to download KRYMI songs MP3, use the Boomplay App to download the KRYMI songs for free. Discover KRYMI's latest songs, popular songs, trending songs all on Boomplay.
Henry Nuamah, popularly known in the music circles as Krymi. Krymi is a young Ghanaian Highlife, Afrobeat musician and a live performer. Many of Krymi's Songs became very popular and trendy on social media in line with a great number of streaming and downloads on Boomplay.

He went to Opoku Ware Secondary School and later graduated with a Bachelor of Technology in Civil Engineering and an HND (Higher National Diploma) in Civil Engineering at the Kumasi Technical University. He is excited over his inclusion in the camp of « Highly Spiritual Music » label, as he seeks to make significant strides in his career.

Career
Before venturing into mainstream music, Krymi started as a Guitarist believed to be a true representation of soul African music and creativity, Krymi shot to fame after taking part in the MTN Hitmaker 6 in 2017. After the competition, Krymi under memorandum of understanding between both parties was signed on to Highly Spiritual Music Record Label.

He is well known for his biggest hit song titled 'Dw3' which features Ghanaian top rapper, Sarkodie and singer Mr Drew, which is also a signee under the same label. Monitoring how Krymi and Mr Drew correlate, it is believe they're more and less like brothers. Not only is he known for the 'Dw3' song but he has other top songs that are doing well.

They include; Dede, Toffee, So Damn Fine and others. He looks up to musicians like Kojo Antwi, Daddy Lumba, Michael Jackson, Nat King Cole, Chris Brown because they exhibit an amazing craft in their songs full of dexterity. Krymi is fast-becoming one of the most desirable men in the Ghana music industry. Fans love Krymi for his unique soothing voice as well as other more obvious reasons like his good looks.

Achievements
Krymi has been nominated for several awards including 3music awards, Emerging Music Awards, Youth Achievement Awards and is currently the holder of the Uncovered Artiste of the Year at the Ghana Music Awards UK.

Follow Boomplay and keep up-to-date with the latest songs of Kyrmi and information.

Krymi's Songs
• Dw3
• Party Gbee
• Dede
• So Damn Fine
• Toffee
• Wild
• Notty

Krymi's Songs are included in Boomplay music playlists. Search, stream, and download Krymi's Songs, her latest singles and albums in MP3 only on the Boomplay platform for free
New Comments(
19

)
FAQs about KRYMI
Where is KRYMI from?
He is from Ghana.