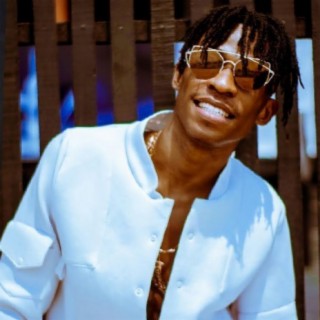 Krizbeatz
Current #1,870

All Time #775

Krizbeatz whose real name is Chris Alvin Sunday is a professional Nigerian music producer, songwriter and sound engineer born on December 25, 1994. He was born to Ebonyi and Ekiti parents and grew up in Ibadan. He studied Linguistics in University of Ibadan and Music Technology in SAE, South Africa. Many of Krizbeatz songs become very popular and trendy online with great number of streaming and downloads on Boomplay.

Career:
Krizbeatz professionally started to produce music in 2014.

He began to get exposure gradually while working with Jahbless on his third studio album and guess what, he produced the biggest song on the album titled "Owambe".


Achievement:
Krizbeatz won the Best Music Producer at the Nigeria Entertainment Awards (2017).

He also got nominations such as Music Producer of the Year at AFRIMA Awards (2017) and Best Music Producer at Nigeria Entertainment Awards (2018).

Follow Boomplay and keep up-to-date with latest Krizbeatz songs and information.

Krizbeatz Songs:
• Time & Place ft. Terri & Victony
• Abi
• African Time
• Ogede
• Toe Toe
• 911
• Time And Place

Net worth:
His net worth has been growing significantly in 2020-2021. So, how much is Krizbeatz worth at the age of 27 years old? Krizbeatz's income source is mostly from being a successful . He is from Nigeria. It has been estimated that vKrizbeatz's net worth is $1 Million - $5 Million.

Krizbeatz songs are included in Boomplay music playlists. Search to stream and download Krizbeatz songs MP3/ single/ albums on the platform....more

Country/Region : Nigeria
Songs

(67)

Albums

(18)

Playlists

(20)
1

2

3

4

5

6

7

8

9

10

11

12

13

14

15

16

17

18

19

20

21

22

23

24

25

26

27

28

29

30

31

32

33

34

35

36

37

38

39

40

41

42

43

44

45

46

47

48

49

50

51

52

53

54

55

56

57

58

59

60

61

62

63

64

65

66

67
Listen to Krizbeatz's new songs including "Wild Party ft. Bella Shmurda & Rayvanny", "Time & Place ft. Terri & Victony", "911 ft. Yemi Alade & Harmonize" and many more. Enjoy Krizbeatz's latest songs and explore the Krizbeatz's new music albums. If you want to download Krizbeatz songs MP3, use the Boomplay App to download the Krizbeatz songs for free. Discover Krizbeatz's latest songs, popular songs, trending songs all on Boomplay.
Krizbeatz whose real name is Chris Alvin Sunday is a professional Nigerian music producer, songwriter and sound engineer born on December 25, 1994. He was born to Ebonyi and Ekiti parents and grew up in Ibadan. He studied Linguistics in University of Ibadan and Music Technology in SAE, South Africa. Many of Krizbeatz songs become very popular and trendy online with great number of streaming and downloads on Boomplay.

Career:
Krizbeatz professionally started to produce music in 2014.

He began to get exposure gradually while working with Jahbless on his third studio album and guess what, he produced the biggest song on the album titled "Owambe".


Achievement:
Krizbeatz won the Best Music Producer at the Nigeria Entertainment Awards (2017).

He also got nominations such as Music Producer of the Year at AFRIMA Awards (2017) and Best Music Producer at Nigeria Entertainment Awards (2018).

Follow Boomplay and keep up-to-date with latest Krizbeatz songs and information.

Krizbeatz Songs:
• Time & Place ft. Terri & Victony
• Abi
• African Time
• Ogede
• Toe Toe
• 911
• Time And Place

Net worth:
His net worth has been growing significantly in 2020-2021. So, how much is Krizbeatz worth at the age of 27 years old? Krizbeatz's income source is mostly from being a successful . He is from Nigeria. It has been estimated that vKrizbeatz's net worth is $1 Million - $5 Million.

Krizbeatz songs are included in Boomplay music playlists. Search to stream and download Krizbeatz songs MP3/ single/ albums on the platform.