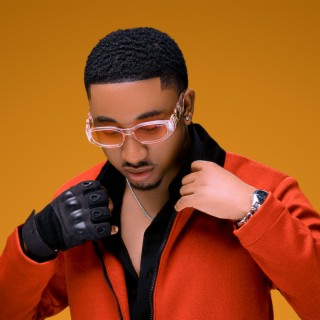 Jay Melody
Current #36

All Time #78

Born Sharif Said Juma famously known as Jay Melody is a Tanzanian Musician Singer and Songwriter. Many of Jay Melody songs become very popular and trendy online with a great number of streaming and downloads on Boomplay.

He was born on 12th June 1997 at Mwananyamala Hospital Dar es salaam Tanzania, the last born from Mr and Mrs Said Juma.
Between 2005 and 2011 he attended his primary education at Muhalitani Primary School in Tandale the Slam area in Dar es salaam. Between 2012 and 2015 went to Bunju A secondary school and completed his secondary education

Career
In 2016 was the first time Jay Melody stepped his foot in the music industry as he was enrolled as a student at Tanzania House of Talent (THT)

After a year of musical learning, Jay Melody was finally signed by Epic Records Tanzania one of the biggest record labels in the country owned by the entertainment Genius Ruge Mutahaba Jay Melody released his debut single Goroka which before released Jay Melody wrote another smashing hit Kivuruge which he decided to give it to Nandy which after release it became the multi-national hit.

Follow Boomplay and keep up to date with the latest Jay Melody songs and information.

Jay Melody Songs
• Sugar
• Huba Hulu
• Samba Loketo
• Ndonga
• Wenge
• Corona Basi
• Me Gusta
• Haiwezekani
• Bojo
• Halafu
• Namwaga Mboga
• Tawire
• Toa Shavu
• Jockin Me

Jay Melody's songs are included in Boomplay music playlists. Search to stream and download Jay Melody songs MP3/ single/ albums on the platform....more

Country/Region : Tanzania
Listen to Jay Melody's new songs including "Nakupenda", "Sawa", "Mbali Nawe" and many more. Enjoy Jay Melody's latest songs and explore the Jay Melody's new music albums. If you want to download Jay Melody songs MP3, use the Boomplay App to download the Jay Melody songs for free. Discover Jay Melody's latest songs, popular songs, trending songs all on Boomplay.
Born Sharif Said Juma famously known as Jay Melody is a Tanzanian Musician Singer and Songwriter. Many of Jay Melody songs become very popular and trendy online with a great number of streaming and downloads on Boomplay.

He was born on 12th June 1997 at Mwananyamala Hospital Dar es salaam Tanzania, the last born from Mr and Mrs Said Juma.
Between 2005 and 2011 he attended his primary education at Muhalitani Primary School in Tandale the Slam area in Dar es salaam. Between 2012 and 2015 went to Bunju A secondary school and completed his secondary education

Career
In 2016 was the first time Jay Melody stepped his foot in the music industry as he was enrolled as a student at Tanzania House of Talent (THT)

After a year of musical learning, Jay Melody was finally signed by Epic Records Tanzania one of the biggest record labels in the country owned by the entertainment Genius Ruge Mutahaba Jay Melody released his debut single Goroka which before released Jay Melody wrote another smashing hit Kivuruge which he decided to give it to Nandy which after release it became the multi-national hit.

Follow Boomplay and keep up to date with the latest Jay Melody songs and information.

Jay Melody Songs
• Sugar
• Huba Hulu
• Samba Loketo
• Ndonga
• Wenge
• Corona Basi
• Me Gusta
• Haiwezekani
• Bojo
• Halafu
• Namwaga Mboga
• Tawire
• Toa Shavu
• Jockin Me

Jay Melody's songs are included in Boomplay music playlists. Search to stream and download Jay Melody songs MP3/ single/ albums on the platform.
FAQs about Jay Melody
Where is Jay Melody from?
He is from Tanzania.
How to download songs of Jay Melody?
You can download songs of Jay Melody from Boomplay App for free.
Firstly, install Boomplay app on your mobile phone.
Secondly, navigate to the song you would like to download.
Thirdly, Tap on More > Download.