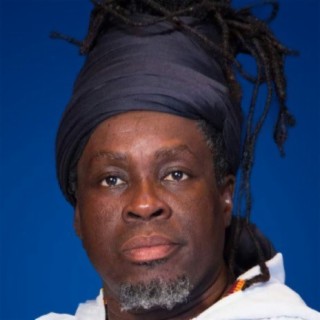 Shasha Marley
Current #18k

All Time #28.9k

Julius Amua-Sekyi commonly known by his stage name, Shasha Marley is a Ghanaian reggae singer. Many of Shasha Marley songs become very popular and trendy online with a great number of streaming and downloads on Boomplay.

Shasha Marley was born in Sekondi-Takoradi, Ghana as Julius Amua-Sekyi. His father was a retired educationist and choirmaster in their local church in Komenda in the Central Region of Ghana.

He studied at St John's Secondary in Sekondi between 1978 and 1983. He played in the school's band known as Mathew Chapter 5. He joined the music industry immediately after his high school education.

Career
He has been in the music industry since his teenage days. He is famous for hit songs such as I'm Not Ashamed of the Gospel, Evil Spirits Walk Away, and Promised Land.

Shasha is also referred to as a monk on the loose due to his stage monk-like outfit. His attire is credited to Franciscan Friars. The singer finds St. Francis of Assisi a true inspiration. He has been in the music industry for quite a while and earned a huge fan base.

The singer was inspired by other famous artists such as Bob Marley, Burning Spear, Steel Paulse, and Jimmy Cliff. He released his debut song, Tell Freedom which became a hit immediately upon its release. He continued to release hit after hit thus gaining popularity in the African music industry.

Follow Boomplay and keep up to date with the latest Shasha Marley songs and information.

Shasha Marley Songs and Albums
• Lost and Found (Album)
• Twin City Mafia
• Maata Family
• Lost and Found
• Eagerness
• Buum Buum - Waa Waa
• So Nyame Mu
• Shame Politicians
• I'm Not Ashamed of the Gospel
• Promised Land (A State of Mind)
• Shasha's Creed
• Queen of Queens
• Evil Spirits Walk Away
• I See No Wrong With Jesus
• Will You Be My Friend

Shasha Marley songs are included in Boomplay music playlists. Search to stream and download Shasha Marley songs MP3/ single/ albums on the platform....more

Country : Ghana
Songs

(0)

Albums

(0)

Playlists

(9)
Listen to Shasha Marley's new songs including and many more. Enjoy Shasha Marley's latest songs and explore the Shasha Marley's new music albums. If you want to download Shasha Marley songs MP3, use the Boomplay App to download the Shasha Marley songs for free. Discover Shasha Marley's latest songs, popular songs, trending songs all on Boomplay.
Julius Amua-Sekyi commonly known by his stage name, Shasha Marley is a Ghanaian reggae singer. Many of Shasha Marley songs become very popular and trendy online with a great number of streaming and downloads on Boomplay.

Shasha Marley was born in Sekondi-Takoradi, Ghana as Julius Amua-Sekyi. His father was a retired educationist and choirmaster in their local church in Komenda in the Central Region of Ghana.

He studied at St John's Secondary in Sekondi between 1978 and 1983. He played in the school's band known as Mathew Chapter 5. He joined the music industry immediately after his high school education.

Career
He has been in the music industry since his teenage days. He is famous for hit songs such as I'm Not Ashamed of the Gospel, Evil Spirits Walk Away, and Promised Land.

Shasha is also referred to as a monk on the loose due to his stage monk-like outfit. His attire is credited to Franciscan Friars. The singer finds St. Francis of Assisi a true inspiration. He has been in the music industry for quite a while and earned a huge fan base.

The singer was inspired by other famous artists such as Bob Marley, Burning Spear, Steel Paulse, and Jimmy Cliff. He released his debut song, Tell Freedom which became a hit immediately upon its release. He continued to release hit after hit thus gaining popularity in the African music industry.

Follow Boomplay and keep up to date with the latest Shasha Marley songs and information.

Shasha Marley Songs and Albums
• Lost and Found (Album)
• Twin City Mafia
• Maata Family
• Lost and Found
• Eagerness
• Buum Buum - Waa Waa
• So Nyame Mu
• Shame Politicians
• I'm Not Ashamed of the Gospel
• Promised Land (A State of Mind)
• Shasha's Creed
• Queen of Queens
• Evil Spirits Walk Away
• I See No Wrong With Jesus
• Will You Be My Friend

Shasha Marley songs are included in Boomplay music playlists. Search to stream and download Shasha Marley songs MP3/ single/ albums on the platform.
New Comments(
9

)