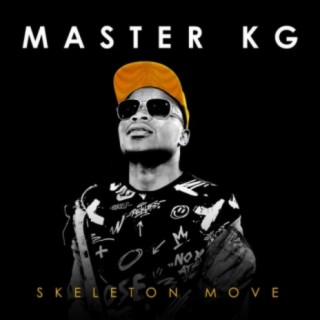 Master KG
Current #427

All Time #693

Kgaogelo Moagi known professionally as Master KG, is a South African musician and record producer born on January 31, 1996 in Tzaneen. Master KG grew up in Calais Village in Limpopo. He started playing with beats at the age of thirteen using a computer that his late uncle bought him.

Master KG's music career started when he got in touch with DJ Maebela and they began experimenting with music software specifically FL Studio. In 2016, after much practice, he released his first single "Situation".

After getting signed to his current record label, Open Mic Productions, he released his chart-topping single "Skeleton Move" featuring Zanda Zakuza.

On September 21, 2018, his debut album 'Skeleton Move' was released. The album features artists including Zanda Zakuza, Makhadzi, Team Mosha and many others. He sings in his local language Khelobedu, a language spoken by Lobedu People.Master KG has performed in a number of other countries including Zambia.

In September 2021, he embarked on the Jerusalem Live Concert Tour to United Kingdom in support of his album, toured alongside with Zanda Zakuza.

Master Kg's debut album 'Skeleton Move' has a total of ten tracks which are;
Waya Waya (feat. Team Mosha), Skeleton Move, Situation, Jesu Wa Makatsa (feat. Zanda Zakuza & Florah Ritshuri), Forgive My Heart, I Want You (feat. Bongo Beats & Soul), Wa Nlebala (feat. Kulture),
Walk With You, House of Swa and Black Drum....more

Country/Region : South Africa
Songs

(0)

Albums

(0)

Playlists

(18)
Listen to Master KG's new songs including and many more. Enjoy Master KG's latest songs and explore the Master KG's new music albums. If you want to download Master KG songs MP3, use the Boomplay App to download the Master KG songs for free. Discover Master KG's latest songs, popular songs, trending songs all on Boomplay.
Kgaogelo Moagi known professionally as Master KG, is a South African musician and record producer born on January 31, 1996 in Tzaneen. Master KG grew up in Calais Village in Limpopo. He started playing with beats at the age of thirteen using a computer that his late uncle bought him.

Master KG's music career started when he got in touch with DJ Maebela and they began experimenting with music software specifically FL Studio. In 2016, after much practice, he released his first single "Situation".

After getting signed to his current record label, Open Mic Productions, he released his chart-topping single "Skeleton Move" featuring Zanda Zakuza.

On September 21, 2018, his debut album 'Skeleton Move' was released. The album features artists including Zanda Zakuza, Makhadzi, Team Mosha and many others. He sings in his local language Khelobedu, a language spoken by Lobedu People.Master KG has performed in a number of other countries including Zambia.

In September 2021, he embarked on the Jerusalem Live Concert Tour to United Kingdom in support of his album, toured alongside with Zanda Zakuza.

Master Kg's debut album 'Skeleton Move' has a total of ten tracks which are;
Waya Waya (feat. Team Mosha), Skeleton Move, Situation, Jesu Wa Makatsa (feat. Zanda Zakuza & Florah Ritshuri), Forgive My Heart, I Want You (feat. Bongo Beats & Soul), Wa Nlebala (feat. Kulture),
Walk With You, House of Swa and Black Drum.
New Comments(
168

)