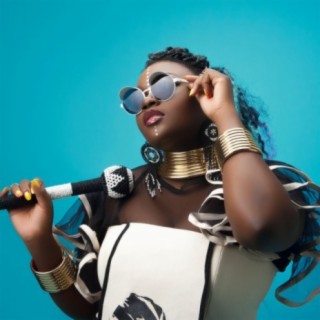 Amanda Black
Current #4,898

All Time #4,128

Born Amanda Benedicta Antony in South Africa's Eastern Cape, Amanda Black is a multi-platinum selling and multiple Award-winning singer/songwriter, an accomplished activist, youth leader and a powerful voice in women empowerment and in the fight against inequality and gender based violence.


Her debut studio album Amazulu was certified platinum three weeks after its official release.
Amanda Black possesses a soothing yet powerful soprano vocal range. She sings in her dialect Xhosa and in English language. In an interview with Patience Bambalele of The Sowetan, she describes her genre of music as Afro-soul with a fusion of hip-hop and a bit of soul and rhythm and blues.


Amanda's music is themed around telling authentic African stories, and is weaved with creative storytelling and poetry, showing the world that Amanda is not only an artist, but one who evokes a unique, strong and timeless voice for this generation....more

Country/Region : South Africa
Songs

(0)

Albums

(0)

Playlists

(0)
Listen to Amanda Black's new songs including and many more. Enjoy Amanda Black's latest songs and explore the Amanda Black's new music albums. If you want to download Amanda Black songs MP3, use the Boomplay App to download the Amanda Black songs for free. Discover Amanda Black's latest songs, popular songs, trending songs all on Boomplay.
Born Amanda Benedicta Antony in South Africa's Eastern Cape, Amanda Black is a multi-platinum selling and multiple Award-winning singer/songwriter, an accomplished activist, youth leader and a powerful voice in women empowerment and in the fight against inequality and gender based violence.


Her debut studio album Amazulu was certified platinum three weeks after its official release.
Amanda Black possesses a soothing yet powerful soprano vocal range. She sings in her dialect Xhosa and in English language. In an interview with Patience Bambalele of The Sowetan, she describes her genre of music as Afro-soul with a fusion of hip-hop and a bit of soul and rhythm and blues.


Amanda's music is themed around telling authentic African stories, and is weaved with creative storytelling and poetry, showing the world that Amanda is not only an artist, but one who evokes a unique, strong and timeless voice for this generation.
FAQs about Amanda Black
Where is Amanda Black from?
She is from South Africa.
What are the latest songs of Amanda Black?
The latest song of Amanda Black is Thank You.
What are the best songs of Amanda Black?
The best songs of Amanda Black are Hamba, Power and Amazulu.
What are the best albums of Amanda Black?
The best albums of Amanda Black are Power, Amazulu and Mnyama.