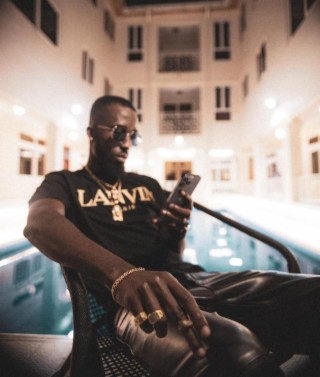 Oseikrom Sikanii
Current #21.1k

All Time #17.2k

"Ransford Brefo popularly Known as Oseikrom Sikanii was born on June 15th 1995 in Menhyia, Kumasi. He is a Ghanaian singer signed in his record label Oseikrom Music. He major's in HipHop. He is best known for his song ""Twetwe Mu.

Many of Oseikrom's Songs became very popular and trendy on social media in line with a great number of streaming and downloads on Boomplay.

Career
Oseikrom Sikanii started his music career singing in the church Wayback at the Royal Family Church in Krofrom. In his Musical journey, he got inspired by late American rapper, Tupac and many others. But Tupac sides is special because both celebrate their birthday on the same day.

He rose to fame in 2020 with his viral funny videos which received wide spread acclaim. He is best known for his hit single ""Twetwe Mu"" in 2021. His debut EP dubbed 'Mix Culture' garnered massive streams in first week of its release.

Achievements
Oseikrom was nominated for the Vodafone Music Awards under the'Unsung Category' back in 2021. He also got nominated again in the Ghana Music Awards UK 2021 under the caterogy of ""Uncovered Artiste Of The Year"". He managed to bag the Ashanti Music Awards 2020 for 'Artiste Of The Year'.

Follow Boomplay and keep up-to-date with the latest songs of Oseikrom and information.

Oseikrom's Songs
• Never Give Up ft. Ypee
• Sika Duro (Remix) ft Medikal
• Yekoo ft Kofi Mole
• No Time ft Kweku Flick
• Twetwe Mu
• Them Bad
• We Outside
• Adwenfii ft Kweku Flick & Black Sherif
• No Dulling ft Strongman & Flowking Stone

Oseikrom's Songs are included in Boomplay music playlists. Search, stream, and download Oseikrom's Songs, her latest singles and albums in MP3 only on the Boomplay platform for free."...more

Country/Region : Ghana
Songs

(10)

Albums

(4)

Playlists

(11)
Listen to Oseikrom Sikanii's new songs including "Twetwe Mu", "Facts", "We outside" and many more. Enjoy Oseikrom Sikanii's latest songs and explore the Oseikrom Sikanii's new music albums. If you want to download Oseikrom Sikanii songs MP3, use the Boomplay App to download the Oseikrom Sikanii songs for free. Discover Oseikrom Sikanii's latest songs, popular songs, trending songs all on Boomplay.
"Ransford Brefo popularly Known as Oseikrom Sikanii was born on June 15th 1995 in Menhyia, Kumasi. He is a Ghanaian singer signed in his record label Oseikrom Music. He major's in HipHop. He is best known for his song ""Twetwe Mu.

Many of Oseikrom's Songs became very popular and trendy on social media in line with a great number of streaming and downloads on Boomplay.

Career
Oseikrom Sikanii started his music career singing in the church Wayback at the Royal Family Church in Krofrom. In his Musical journey, he got inspired by late American rapper, Tupac and many others. But Tupac sides is special because both celebrate their birthday on the same day.

He rose to fame in 2020 with his viral funny videos which received wide spread acclaim. He is best known for his hit single ""Twetwe Mu"" in 2021. His debut EP dubbed 'Mix Culture' garnered massive streams in first week of its release.

Achievements
Oseikrom was nominated for the Vodafone Music Awards under the'Unsung Category' back in 2021. He also got nominated again in the Ghana Music Awards UK 2021 under the caterogy of ""Uncovered Artiste Of The Year"". He managed to bag the Ashanti Music Awards 2020 for 'Artiste Of The Year'.

Follow Boomplay and keep up-to-date with the latest songs of Oseikrom and information.

Oseikrom's Songs
• Never Give Up ft. Ypee
• Sika Duro (Remix) ft Medikal
• Yekoo ft Kofi Mole
• No Time ft Kweku Flick
• Twetwe Mu
• Them Bad
• We Outside
• Adwenfii ft Kweku Flick & Black Sherif
• No Dulling ft Strongman & Flowking Stone

Oseikrom's Songs are included in Boomplay music playlists. Search, stream, and download Oseikrom's Songs, her latest singles and albums in MP3 only on the Boomplay platform for free."