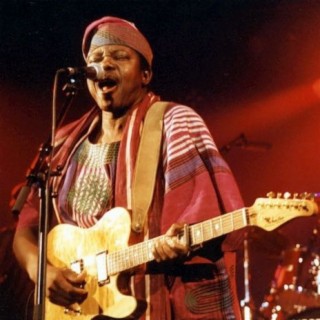 King Sunny Adé
Current #1,445

All Time #954

King Sunday Adeniyi Adegeye MFR (conceived 22 September 1946), referred to expertly as King Sunny Adé, is a Nigerian jùjú vocalist, musician and multi-instrumentalist. He is viewed as perhaps the earliest African pop artist to acquire worldwide achievement, and has been called one of the most persuasive performers ever. Many of King Sunny Adé songs MP3 become very popular and trendy online with great number of streaming and downloads on Boomplay.

Bright Adé shaped his own moving band in 1967, in the long run known as his African Beats. In the wake of making public progress in Nigeria during the 1970s and establishing his own free name, Sunny Adé endorsed to Island Records in 1982 and made global progress with the collections Juju Music (1982) and Synchro System (1983); the last option earned him a Grammy designation, a first for a Nigerian craftsman. His 1998 collection Odu likewise earned a Grammy designation. Radiant Adé right now fills in as administrator of the Musical Copyright Society of Nigeria.

Follow Boomplay and keep up-to-date with latest King Sunny Adé songs and information.

CAREER:
Sunny Adé left grammar school in Ondo City under the misrepresentation of going to the University of Lagos. It was in this way in Lagos that his mixed melodic profession started.

Sunny Adé's melodic sound has developed from the good 'old days. His profession started with Moses Olaiya's Federal Rhythm Dandies, a highlife band. He left to shape another band, The Green Spots, in 1967. Throughout the long term, for different reasons going from changes in his music to business concerns, Sunny Adé's band changed its name a few times, first to African Beats and afterward to Golden Mercury.

King Sunny Ade was affected by Juju pioneer Tunde Nightingale and acquired complex components from his 'So wa mbe' style of juju.

He established the King Sunny Ade Foundation, an association that incorporates a performing expressions focus, a best in class recording studio, and lodging for youthful artists.

He is a meeting speaker at the Obafemi Awolowo University, Ile-Ife and beneficiary of the Order of the Federal Republic.

ACHIEVEMENT:
King Sunny Adé has gotten various honors during his career. In November 2016 he turned into a beneficiary of the AFRIMA grant. In December 2016 he was enlisted into Hard Rock Cafe hall of fame. He was enlisted into the Headies Hall of Fame at The Headies 2020 in February 2021.

SOME OF KING SUNNY ADE SONGS
• Merciful God
• Appreciation
• Eri Okan
• Aye Nreti Eleya

King Sunny Ade songs are included in Boomplay music playlists. Search to stream and download King Sunny Ade songs MP3/ single/ albums on the platform....more

Country/Region : Nigeria
Listen to King Sunny Adé's new songs including "Merciful God", "Kini Ma Fi San Ore", "Appreciation" and many more. Enjoy King Sunny Adé's latest songs and explore the King Sunny Adé's new music albums. If you want to download King Sunny Adé songs MP3, use the Boomplay App to download the King Sunny Adé songs for free. Discover King Sunny Adé's latest songs, popular songs, trending songs all on Boomplay.
King Sunday Adeniyi Adegeye MFR (conceived 22 September 1946), referred to expertly as King Sunny Adé, is a Nigerian jùjú vocalist, musician and multi-instrumentalist. He is viewed as perhaps the earliest African pop artist to acquire worldwide achievement, and has been called one of the most persuasive performers ever. Many of King Sunny Adé songs MP3 become very popular and trendy online with great number of streaming and downloads on Boomplay.

Bright Adé shaped his own moving band in 1967, in the long run known as his African Beats. In the wake of making public progress in Nigeria during the 1970s and establishing his own free name, Sunny Adé endorsed to Island Records in 1982 and made global progress with the collections Juju Music (1982) and Synchro System (1983); the last option earned him a Grammy designation, a first for a Nigerian craftsman. His 1998 collection Odu likewise earned a Grammy designation. Radiant Adé right now fills in as administrator of the Musical Copyright Society of Nigeria.

Follow Boomplay and keep up-to-date with latest King Sunny Adé songs and information.

CAREER:
Sunny Adé left grammar school in Ondo City under the misrepresentation of going to the University of Lagos. It was in this way in Lagos that his mixed melodic profession started.

Sunny Adé's melodic sound has developed from the good 'old days. His profession started with Moses Olaiya's Federal Rhythm Dandies, a highlife band. He left to shape another band, The Green Spots, in 1967. Throughout the long term, for different reasons going from changes in his music to business concerns, Sunny Adé's band changed its name a few times, first to African Beats and afterward to Golden Mercury.

King Sunny Ade was affected by Juju pioneer Tunde Nightingale and acquired complex components from his 'So wa mbe' style of juju.

He established the King Sunny Ade Foundation, an association that incorporates a performing expressions focus, a best in class recording studio, and lodging for youthful artists.

He is a meeting speaker at the Obafemi Awolowo University, Ile-Ife and beneficiary of the Order of the Federal Republic.

ACHIEVEMENT:
King Sunny Adé has gotten various honors during his career. In November 2016 he turned into a beneficiary of the AFRIMA grant. In December 2016 he was enlisted into Hard Rock Cafe hall of fame. He was enlisted into the Headies Hall of Fame at The Headies 2020 in February 2021.

SOME OF KING SUNNY ADE SONGS
• Merciful God
• Appreciation
• Eri Okan
• Aye Nreti Eleya

King Sunny Ade songs are included in Boomplay music playlists. Search to stream and download King Sunny Ade songs MP3/ single/ albums on the platform.